Honorable and Outstanding
Legendary Texas Senator Judith Zaffirini receives Outstanding Alumna Award

During her storied career in the Texas Senate, the Honorable Judith Zaffirini (B.S. '67, M.A. '70, and Ph.D. '78) has embodied effective communication in her politics, public service and profession.
The Laredo native who became the first Hispanic woman senator in Texas attributes her success largely to her skills as a communicator. She says her education from the Moody College of Communication—including her master's in communication and doctorate in journalism—prepared her for the campaign trail and beyond.
During her first Senate campaign in 1986, Zaffirini says she delivered from six to eight speeches daily, and as a candidate for vice chair of the Texas Democratic Party in 1984, she delivered 12 speeches in one day at the state convention.
Outspent by more than two-to-one by each of her first primary and general election opponents, Zaffirini said her cost-effective advantages included being able to write her own speeches and press releases and plan much of her own advertising and public relations campaigns.
Communication skills are integral to her success. Using all possible communication channels effectively with her constituents enables her to advocate for their needs, and her willingness to build consensus and work across the aisle with Republicans has resulted in an immense body of legislation—895 bills and 52 substantive resolutions. Last year "Capitol Inside" reported she had passed more bills than any other legislator not only in 2015, but also in Texas history.
She represents more than 800,000 constituents in Senate District 21, which stretches from the Rio Grande to the Colorado River, and is the second highest-ranking member of the Texas Senate and the highest-ranking woman and Hispanic senator.
In honor of her legacy as a legislator and communications professional, the Moody College of Communication has selected Zaffirini to receive the 2015-16 Outstanding Alumna Award, given annually to one Moody College graduate who has distinguished herself or himself in professional and private life. Previous recipients include storied Texas journalist Wayne Sellers, former U.S. First Lady Lady Bird Johnson and journalist and political consultant Liz Carpenter.
"Public servants who are good communicators are more likely to excel as they strive to explain, analyze, persuade, influence and advocate their perspectives and to respond effectively to opposing viewpoints," said Zaffirini. "Accordingly, the ability to communicate effectively enables a public servant to amplify his or her positive impact on the world and to serve the public interest better."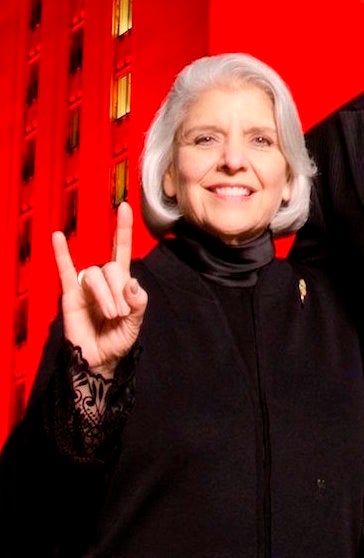 Known to her supporters and Capitol insiders as "Z," she has been at the forefront of efforts to improve higher education in Texas.
Zaffirini is a member of the Senate Health and Human Services Committee, Natural Resources and Economic Development Committee, the Energy Council, and the State Affairs Committee. She is also Senate Chair of the Eagle Ford Shale Legislative Caucus that prioritizes the district's continued prosperity and Vice Chair of the Agriculture, Water and Rural Affairs Committee that helps protect and conserve the district's water resources.
"As a state senator, I am more concerned with facilitating discussion than debate," said Zaffirini. "Effective communicators never overlook the importance of discussion. They understand that discussion builds consensus rather than opposition, which often is created by debate. If more public officials sought discussion and consensus rather than winning points and arguments in debate, our system of government would be much more effective."
In addition to her legislative career, Zaffirini has 13 years of teaching experience, including at the college and university levels, and her business, Zaffirini Communications, provides professional communication services, including consulting, workshops, seminars, one-on-one coaching, keynote addresses and writing.
She has received more than 880 awards and honors for legislative, public service and professional work, including more than 260 in communication alone. She is the namesake of the student success center at Texas A&M International University, a library at Laredo Community College, an elementary school in Laredo, the main road at an international park and a drug rehabilitation center in Edinburg.
"Senator Zaffirini's commitment to the citizens and communities of Texas and her outstanding career as a communication professional has brought great distinction to the Moody College of Communication," said Jay Bernhardt, dean of the Moody College of Communication. "We are extremely proud to count her among our alumni."
Also the wife and mother of Texas Exes, Senator Zaffirini resides in Laredo with Carlos Sr. Their son, Carlos Jr., has endowed scholarships in her name at The University of Texas at Austin as well as other universities around the state.
She will receive the Outstanding Alumna Award at the Moody College Honors Day Convocation on Sunday, April 17, at 10:30 a.m. on campus.
"UT changed my life and empowered me to pursue my professional and public service goals," said Zaffirini. "Receiving the Outstanding Alumna Award from the Moody College of Communication is incredibly meaningful to me because I recognize that my communication education changed and enriched my life."
For more information, visit the story by the Daily Texan and news release from the office of State Senator Judith Zaffirini.