American Advertising Federation honors Stan Richards with Hall of Fame induction
Stan Richards, advertising  icon and namesake of the Richards School of Advertising and Public Relations, has been invited for induction into the American Advertising Hall of Fame on April 25, 2017.
Richards will officially accept his honor at the 67th annual Advertising Hall of Fame Awards at the Waldorf Astoria hotel in New York City. Seven members were previously inducted for 2016 including friend of the Moody College Roy Spence (BA '71), co-founder and chairman of Austin-based advertising firm GSD&M.

"It's no surprise Stan Richards' legacy as a creative force and visionary for the field of advertising is again being recognized," said Moody College Dean Jay M. Bernhardt. "We give our congratulations to Stan and are honored to have him represent the credibility and opportunity available to our students."
The completion of a $10 million fundraising campaign established the Stan Richards School of Advertising and Public Relations in February 2015 to honor Richards, who is founder of Dallas-based advertising agency The Richards Group, the largest independent agency in America with hundreds of employees.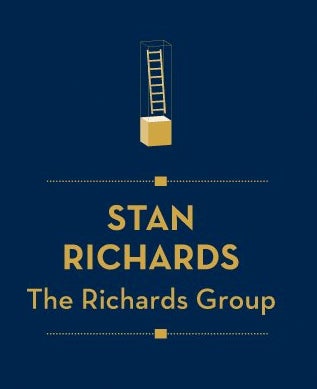 The Richards Group was founded in 1976 and has a portfolio of memorable campaigns including such industry mainstays as the Corona beach ads and the Motel 6 slogan "We'll Leave the Light on for You."
Richards—named one of The Wall Street Journal's "Giants of Our Time" in advertising and one of Adweek's "Top Creatives"—has won virtually every significant creative award in the world of advertising. In 1999, he was inducted into the Art Directors Hall of Fame, where he joined such luminaries as Walt Disney, Norman Rockwell and Andy Warhol.
Richards has also spoken as commencement speaker at Moody College graduation in 2013, made numerous presentations at UT Austin classes, served as an advisory council member and raised funds for scholarships. He is a past recipient of Moody College's Robert C. Jeffrey Benefactor Award (2010) and the Reddick Award for Leadership in Communication (1996).
Founded in 1948, the Advertising Hall of Fame recognizes and celebrates the most accomplished and legendary figures in advertising and gives each honoree a "golden ladder" trophy with an inscription inspired by Isaac Newton which reads, "If we can see further, it is because we stand on the rungs of a ladder built by those who came before us."