Two Richards School students named 2017 Most Promising Multicultural Students

Two students from the Stan Richards School of Advertising and Public Relations were named as "2017 Most Promising Multicultural Students" by the American Advertising Federation (AAF). Advertising executives selected Texas Creative senior Bria Benjamin and Texas Media senior Veronica Penaloza Wolferman among the 50 high-potential undergraduate seniors chosen nationwide. The Most Promising Multicultural Students Program (MPMSP) program took place Feb. 13-16 in New York City and included professional development workshops, agency visits and a recruiter's exposition. 
Benjamin said the week in New York opened her eyes to a range of opportunities within the advertising industry.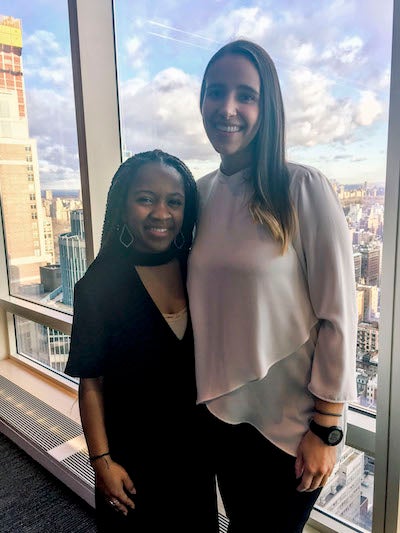 "I've never been so exhausted and so inspired at the same time," said Benjamin. "We all want to make good work and replace stereotypical portrayals of people and marginalized groups and replace them with real people, real stories. At the end of the day—no matter what discipline or title—we are storytellers."
Since its inception in 1997, the MPMSP has helped more than 850 participants pursue careers within advertising, media and marketing. Recipients represent the top of their class and have demonstrated proficiency in internships, leadership activities, community service, innovation and creativity. Students from AAF's college chapter network were selected through a vetted application process that included essays, letters of recommendation, resumés and specific academic requirements. With an average grade point average of 3.6, this year's class of students represented 34 schools and 20 states nationwide.
Executive judges who voted on finalists represent companies such as Arc Worldwide, Bloomberg, Droga5, FCB, fluent360, mcgarrybowen, Momentum Worldwide and Omnicom Health Group.
"The Most Promising Multicultural Students Program has become a very reliable source to find top-tier talent," said Danielle Austen, chair of the AAF Mosaic Center. "These aspiring students of diverse backgrounds represent the future of marketing and advertising. We look forward to them forging their way, finding their voice and making a mark on our industry."