Richards School lecturer and PR veteran shares habits that distinguish leaders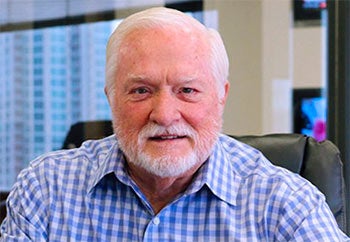 Terry Hemeyer
Stan Richards School of Advertising & Public Relations
On Dec. 12, veteran communications professional and Senior Lecturer Terry Hemeyer served as the keynote speaker at the third annual leadership summit held by the University Leadership Network (ULN), the nationally recognized scholarship program for students with demonstrated financial need.
At the event, Hemeyer discussed the traits that distinguish good leaders in front of more than 400 students from the Moody College of Communication and the ULN. Hemeyer advised students to emulate 14 habits he said the finest leaders demonstrate:
#1 - Making decisions for what's best for the welfare of the group because you can't always make everyone happy.
#2 - Encouraging accessibility to those in your company and showing appreciation and concern for all.
#3 - Listening to experts, but taking their advice with a grain of salt.
#4 - Paying attention to all the details of a project and delegating authority to people they trust.
#5 - Asking forgiveness rather than permission if immediate action is necessary.
#6 - Paying attention to big data to paint a picture but realizing people will always be the key to solutions.
#7 - Looking outside the organization chart to find the best person for a project.
#8 - Adapting to change and embracing innovation for new and more effective strategies.
#9 - Knowing that speed is often more critical in effective decision-making than waiting for all the data.
#10 - Practicing perpetual optimism, even if they don't feel it at times.
#11 - Surrounding themselves with analytical people who are common-sense problem solvers who can anticipate the future consequences of decisions.
#12 - Keeping it simple and responding to critics with clarity and firm resolve.
#13 - Taking time off to recharge and have fun.
#14 - Understanding it's a lot of responsibility and lonely at the top of any organization.
---
---
Hemeyer has worked in high-level management, public relations and crisis communication for the U.S. Air Force, the Pentagon, Pennzoil Company, Edelmann and Service Corporation International.
As part of an upper-level public relations strategies course created in 2006, Hemeyer has spun lessons he's learned and continues to learn as an executive counsel to Pierpont Communications, a public relations firm in Houston with offices in Dallas and Austin. The retired Air Force colonel teaches one of two public relations courses in the school focusing on strategy.
A first-generation college student himself, Hemeyer holds a bachelor's in music education from Ohio State University, a master's in communication from the University of Denver and completion from academic programs at Stanford University and Harvard University.
Hemeyer's keynote was part of a half-day professional conference for juniors from The University of Texas at Austin to learn from seasoned professionals how to network, lead, succeed and prevent mistakes both in their careers and personal lives. He said he loves to share the benefit of his experience with students.
"I really want to give back to these young people, what I've learned…the mistakes I've made," said Hemeyer. He's scheduled to teach "PR 352 Strategies in Public Relations" this spring.