Latin Grammy nominee Gina Chavez gives powerful speech, performance at Moody College DEI Symposium
The third annual symposium explored global women's rights and the media
Latin Grammy nominee Gina Chavez was a young, journalism undergrad at The University of Texas at Austin when she met her now-wife at the University Catholic Center.
Chavez, at this year's Moody College of Communication Diversity in Media Symposium, described her feelings in those days, the draw that she felt to the girl with dimples and the confusion that came along with it. At the time, she was still wrestling with how to reconcile her sexuality with her Catholic faith, which she described as her first love.
"I had been with a guy," Chavez said, in an emotional and heartfelt keynote speech. "Trying to love him was like trying to push start a train. Trying to not love the woman who is my wife was like trying to stop one."
It led her to the most pivotal question in her life. 
"Can you love your faith and love a woman? Can those two things live in the same heart?" she said at the event. "Of course they can. And they do."
Chavez's remarks came at the end of two days of panels that explored topics related to global women's rights and the media, looking at the challenges women face related to online harassment, femicide and gender discrimination and what the media and those who produce it can do to create transformative and sustainable change. The opening night, co-sponsored by the Moody Honor's Program, featured a screening of the documentary "Writing with Fire" about the resistance of women journalists in India. The second day's programming delved into pressing issues like violence against women around the world and how the media covers issues related to reproductive rights.
Chavez, in her remarks, called into question the roughly 400 bills that have been filed across the country related to transgender people and drag. She called it a way to distract from the real concerns the world is facing today, including access to healthcare, climate change and gun control.
"Queer, trans, nonbinary people, we are more powerful and visible than ever," she said. "But the powers that be are so threatened when we start to live beautifully."
While Chavez did not end up pursuing journalism, she said she has continued to use words to try to make a difference, through nonprofit work and her music career.
"I didn't realize how much hurt was in my life," she said. "I tried to pray my own gay away. It didn't work. The structures I grew up in didn't have the answers quite right."
Chavez, who is an Austin native, came to UT to pursue journalism after working on her high school newspaper. She loved people and telling feature stories but never quite felt connected to the idea of trying to expose corruption through the press, so she pivoted.
Since that time, Chavez has gone on to release three award-winning albums, including the Spanish language album "La Que Manda," a story about a woman coming into her own power, that was nominated for a 2020 Latin Grammy. She is a 12-time Austin Music Award winner, including 2015 Musician of the Year and 2019 Best Female Vocals, and now considered an Austin icon. 
In addition to a successful music career, she and her wife Jodi Granado, who have now been together 17 years and are still practicing Catholics, started the nonprofit "Niñas Arriba," a college fund for young women in gang-dominated El Salvador. Chavez was recently featured alongside Oprah, Beyonce, Mahalia Jackson, Dolly Parton and many more in Southern Living's new book celebrating "100 extraordinary women who have left their indelible mark on the South and beyond."
In a powerful tour de force, Chavez closed out Moody College's DEI symposium with a moving 12-song set in KUTX's Studio 1A. Her last song was a cover of Mercedes Sosa's "Todo Cambia," which the crowd sang back. Chavez pointed out her parents in the audience. Her mom is also College of Communication graduate.
In closing, Chavez was asked to give advice to her younger self and to students at Moody. She encouraged them to be curious. "The best steps I took were the ones that didn't make sense to anyone," she said. "Follow your curiosity and don't question it so much because none of this is a straight path."
Read more about the symposium panels.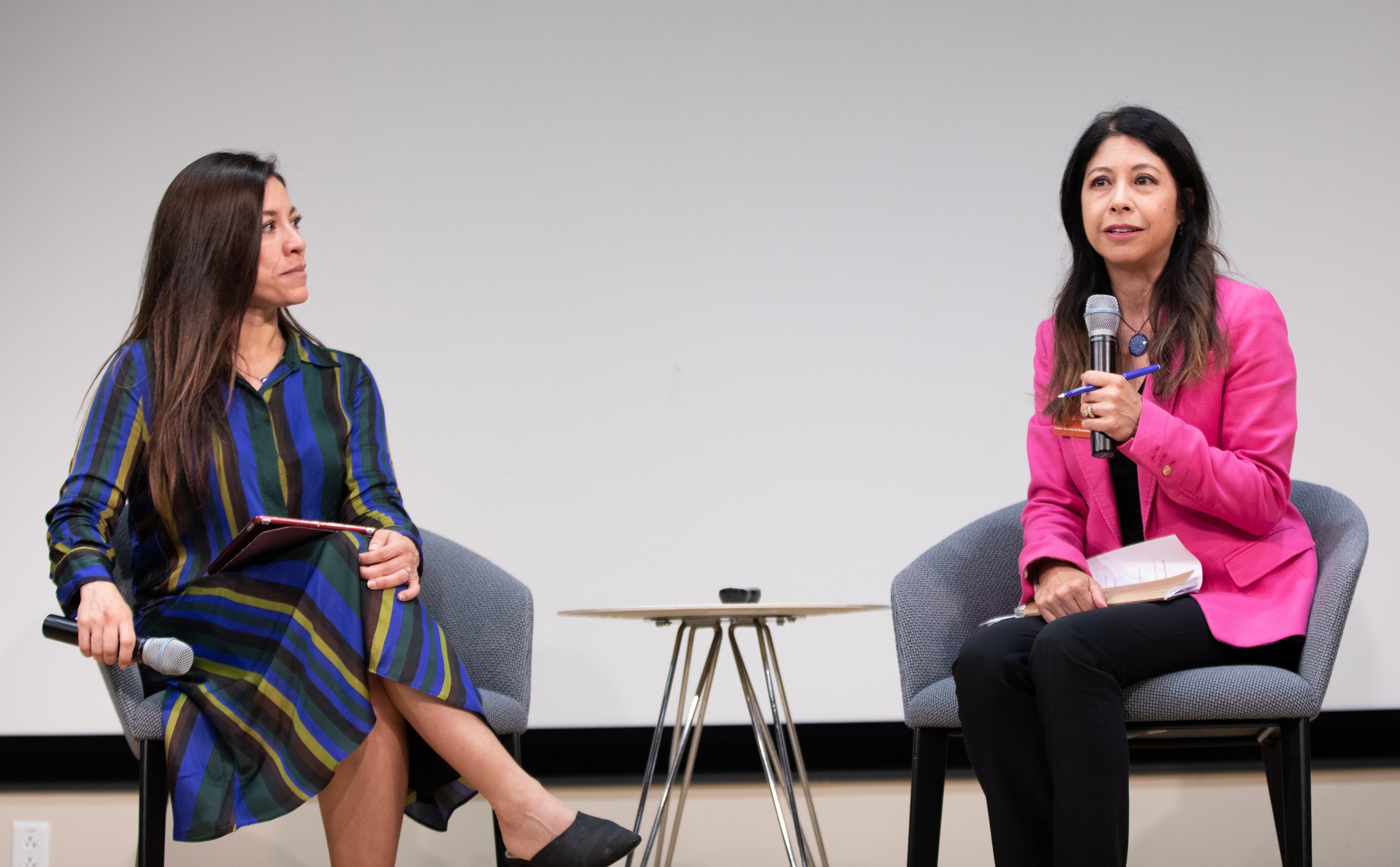 Women, Journalism and Violence: Resilience and Resistance
Featuring author of "Más allá de la violencia" (Beyond the Violence) Grisel Salazar and Associate Dean for Diversity, Equity and Inclusion and School of Journalism and Media professor Celeste González de Bustamante
With the ongoing violence in Latin America against journalists, specifically female journalists, women are demanding a change. Increasing numbers of female journalists are being killed in the field, forcing them to become their own activists. 
"People are not perceiving how pervasive the problem is," Salazar said. "Journalists say they can only count on themselves, abandoned by the government and media outlets."
In Mexico, the most dangerous country to be in as a journalist, women are taking charge because no one else is, Salazar said. The feminist movement in the country is led by young women, so over the next several years generational change is expected to happen, she said. 
When asked what her advice would be to media outlets covering these issues, she urged more constructive coverage and also more responsible news consumption to make more strides towards a stronger future.
"We need to be more responsible users of digital media, have better media literacy training and be better consumers of information," Salazar said. "Misinformation and disinformation are ingredients that create the growing trend against journalists, even in other countries including the United States."
Salazar's and González de Bustamante's work will be published in a forthcoming edited volume about news coverage of violence against women and resistance in the Global South.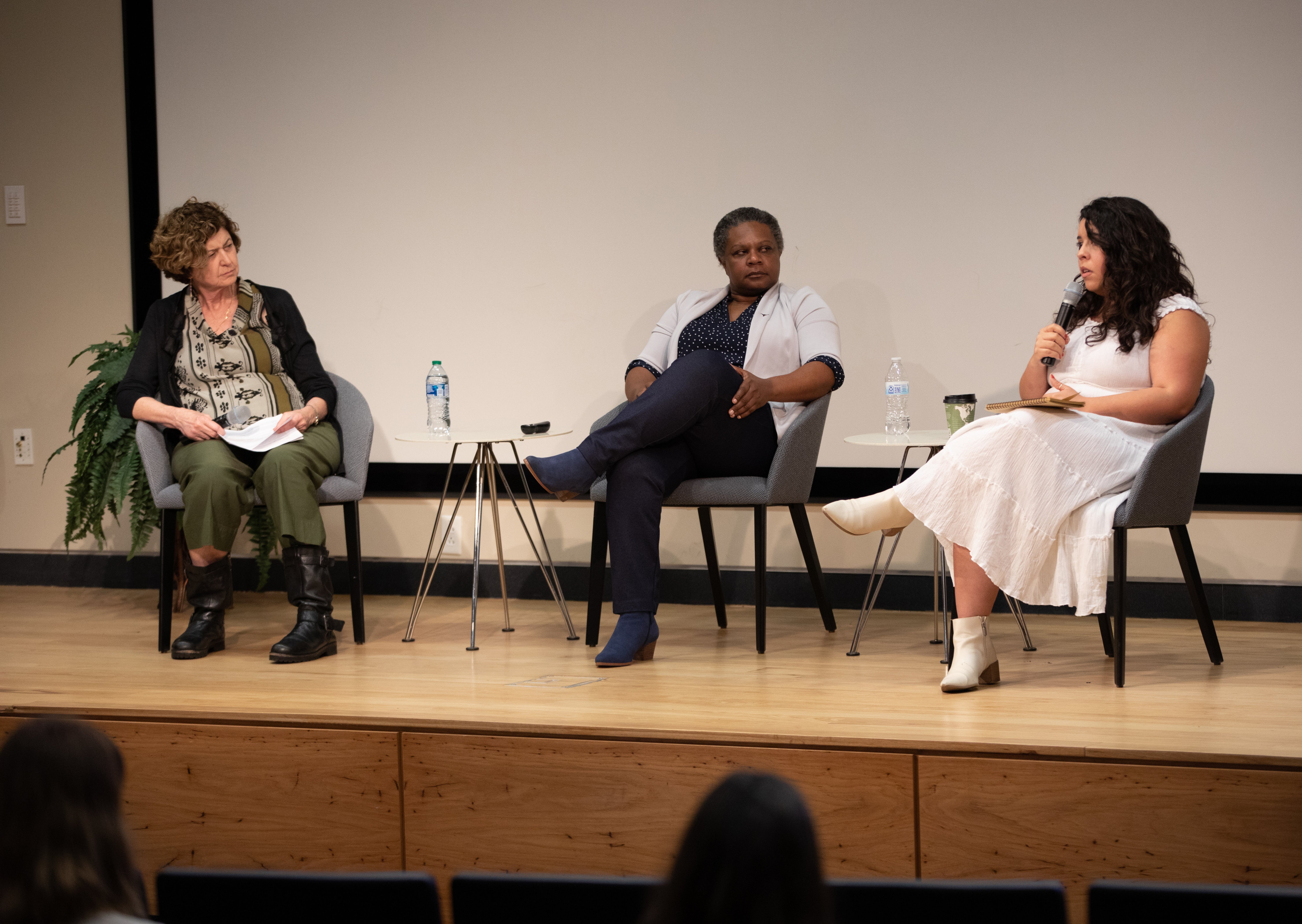 The Media and Reproductive Rights
Featuring Vice President of the East Cut CBD, community activist and Moody alum Katina Johnson, Producer/Director/Cinematographer of the Radio-Television-Film department Nancy Schiesari and Texas Tribune journalist and Moody alum Alexa Ura
Following the overturning of Roe v. Wade last year, significant societal change and political debates have ensued. The speakers in this panel emphasized that women have always had abortions, the issue is whether they are safe or not. Johnson began with an overview of the history of both reproductive rights in the U.S. and worldwide. Compared to other countries, the U.S. is currently an outlier with bans that have caused confusion across the country. 
In Schiesari's work telling stories through film, she aims to be reflective of all people. She encourages students to show more than one side to their work, including the gray areas of issues as polarizing as reproductive rights. As far as the future of this issue is concerned, Schiesari looks to the next generation. 
"They have the answer. The students are the future and I see them in my classroom," Schiesari said. "We have to keep going and try to pursue legal means."
As a journalist, Ura mentioned the importance of writing factually while still bridging the gap between how reproductive issues are viewed and how they are actually happening within communities. 
"Telling a person's story as part of the fallout of a policy is neutral, it is sharing someone's lived experience," Ura said. "There is a human story behind every measure and legislators never tell it. Sometimes you have to find the platform for the story, so they aren't lost."