KUTX Celebrates 10 Years of The Austin Music Experience
KUTX
Celebrates 10 Years of
The Austin Music Experience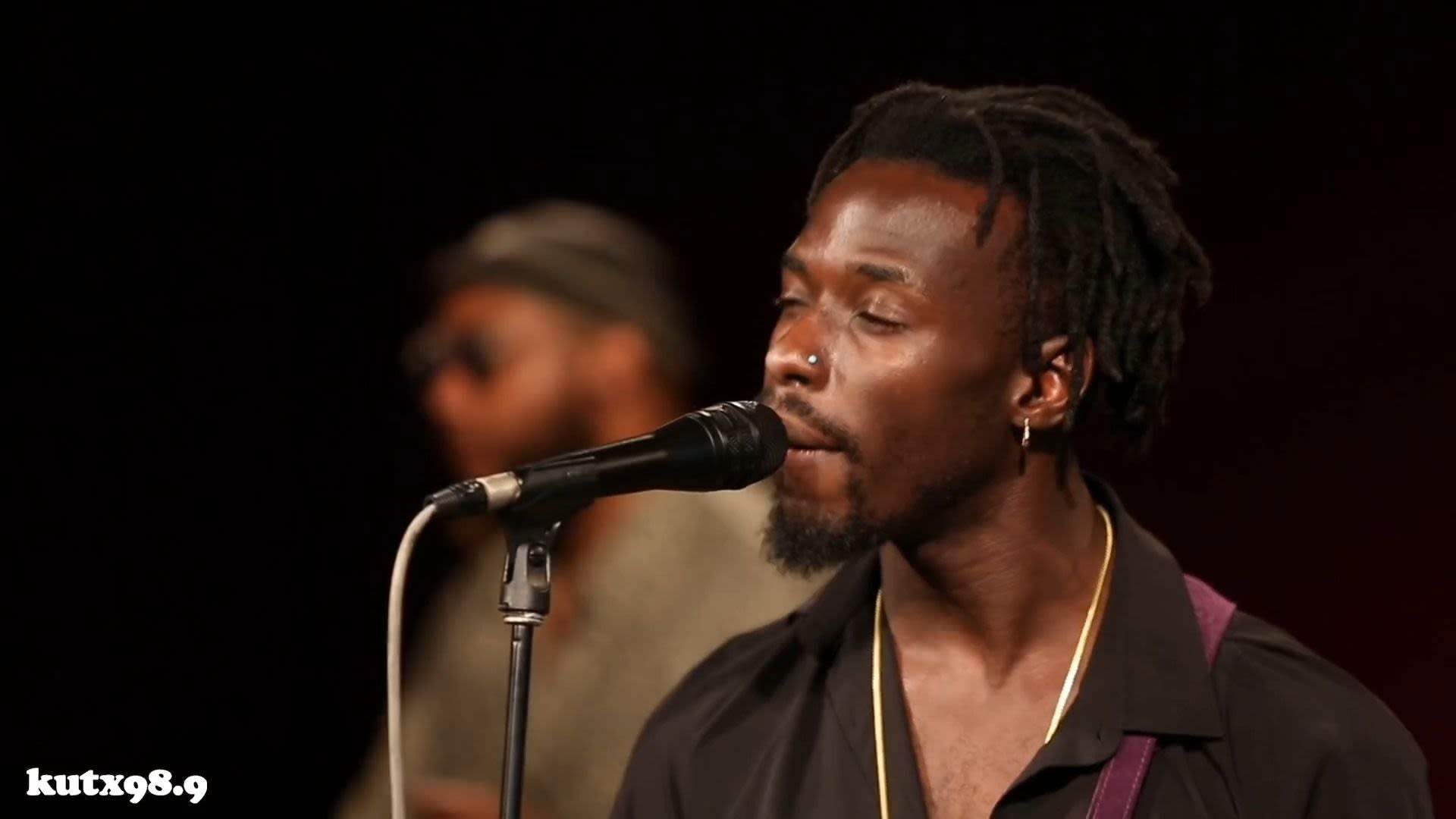 Ten years ago, on Jan. 2, 2013, at 6 a.m., radio host Susan Castle played the very first song on Austin's KUTX 98.9 radio, Willie Nelson's "Bloody Mary Morning," one of the country music legend's most famous tracks about a small-town boy that lost his girlfriend in the big city that opens with a twangy banjo.
Someone took a video that morning. It's since been lost.
But KUTX Program Director Matt Reilly remembers it well, and the cheers that erupted through the station's offices on the Moody College of Communication campus.
"We were playing tribute to a legend that helped put Austin music on the map," Reilly says. "And we were having a lot of fun doing it."
Before that day, Austin's NPR affiliate, KUT 90.5, of which KUTX was born, was a hybrid station that played both news and music. In 2012, they learned the 98.9 channel was up for sale, so they spun off the music portion of the station. They spent December playing holiday music as a placeholder before the official launch that next year.
In the early days, the station's sound leaned toward Texas legacy acts, such as Willie Nelson and Lyle Lovett. However, in the past 10 years, KUTX has continued to evolve along with Austin, adopting younger, more diverse sounds, including electronic music, hip hop and metal.
Its tagline was then and still remains: The Austin Music Experience.
"That's our north star and something we try to adhere to on a daily basis," Reilly says. "We are always trying to reflect what Austin sounds like."
KUTX has not only become the go-to place for Austin listeners — the station has won nine "Best Radio Station" Austin Music Awards — but it is also the launch pad for up-and-coming acts in town. The station invites local and touring artists into its famous 75-seat Studio 1A to play shows and features them on segments like "Song of the Day" and "The Austin Music Minute."
Reilly says it's always been important for the station to raise the profile of Austin musicians so they're not only successful in town, but in other markets across the country and the world.
"We haven't let up in our dedication to the Austin music scene. If anything, we've become more invested in the success of Austin music in year ten than we were in year one."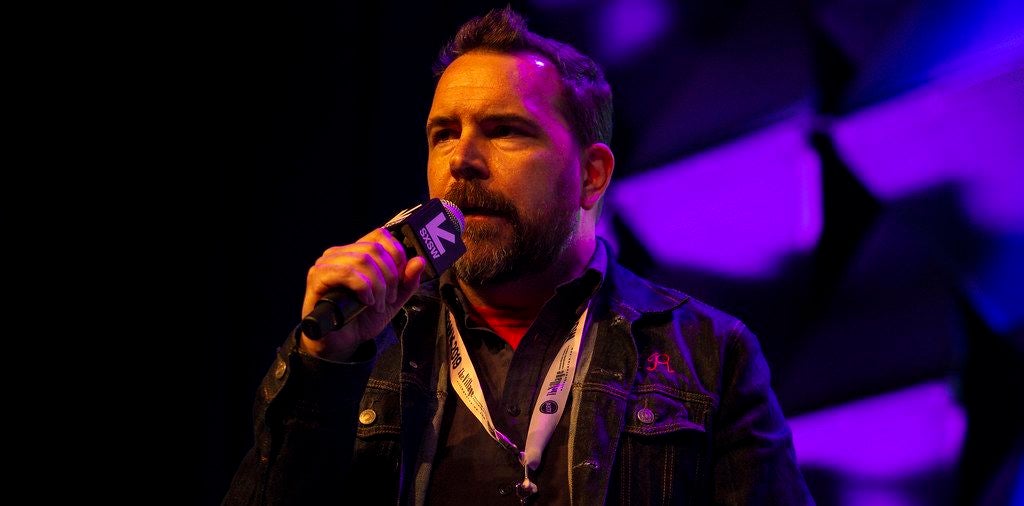 KUTX Program Director Matt Reilly/Photo Courtesy of KUTX
KUTX Program Director Matt Reilly/Photo Courtesy of KUTX
Black Pumas and BLK ODYSSY are two of many artists who got their first airplay on KUTX.
The station is entirely listener supported, and it's still broadcasted from The University of Texas at Austin campus.
In addition to supporting Austin musicians, KUTX has also been a springboard for UT Austin students looking to get into radio. Today, it partners with the university's college radio station, KVRX, which now serves as a pipeline for KUTX interns and staff. The station strives to hire at least one KVRX intern each semester and also does a feature spot one Friday night a month called "Way Left of the Dial," where they turn over the station to a KVRX DJ.
Reilly got his own start in college radio. He said, after years of listening to what he called "bad radio," he got curious if he could help start a station that "played good stuff all the time."
He's happy to say he thinks they've achieved that.
"We haven't let up in our dedication to the Austin music scene," Reilly says. "If anything, we've become more invested in the success of Austin music in year ten than we were in year one."
In today's streaming culture, it's hard to say what place radio will have in the future. But Reilly asserts, confidently, it's "the medium that will never die."
It's free, hyperlocal and both passive and intrusive, playing in the background or front and center, he says. And, for a place like Austin, that is defined by its music scene, it is part of the engine that keeps our city humming.
Also, FYI, KUTX is streaming live at kutx.org, is available on smart speakers and even has its own app.
Read on to find out more about the KUTX student experience, opportunities on the airwaves post-graduation and how to enjoy The Austin Music Experience beyond the dial.
Grupo Fantasma performs in Studio 1A on May 27, 2022, at KUT Public Media Studios. Michael Minasi/KUTX
Grupo Fantasma performs in Studio 1A on May 27, 2022, at KUT Public Media Studios. Michael Minasi/KUTX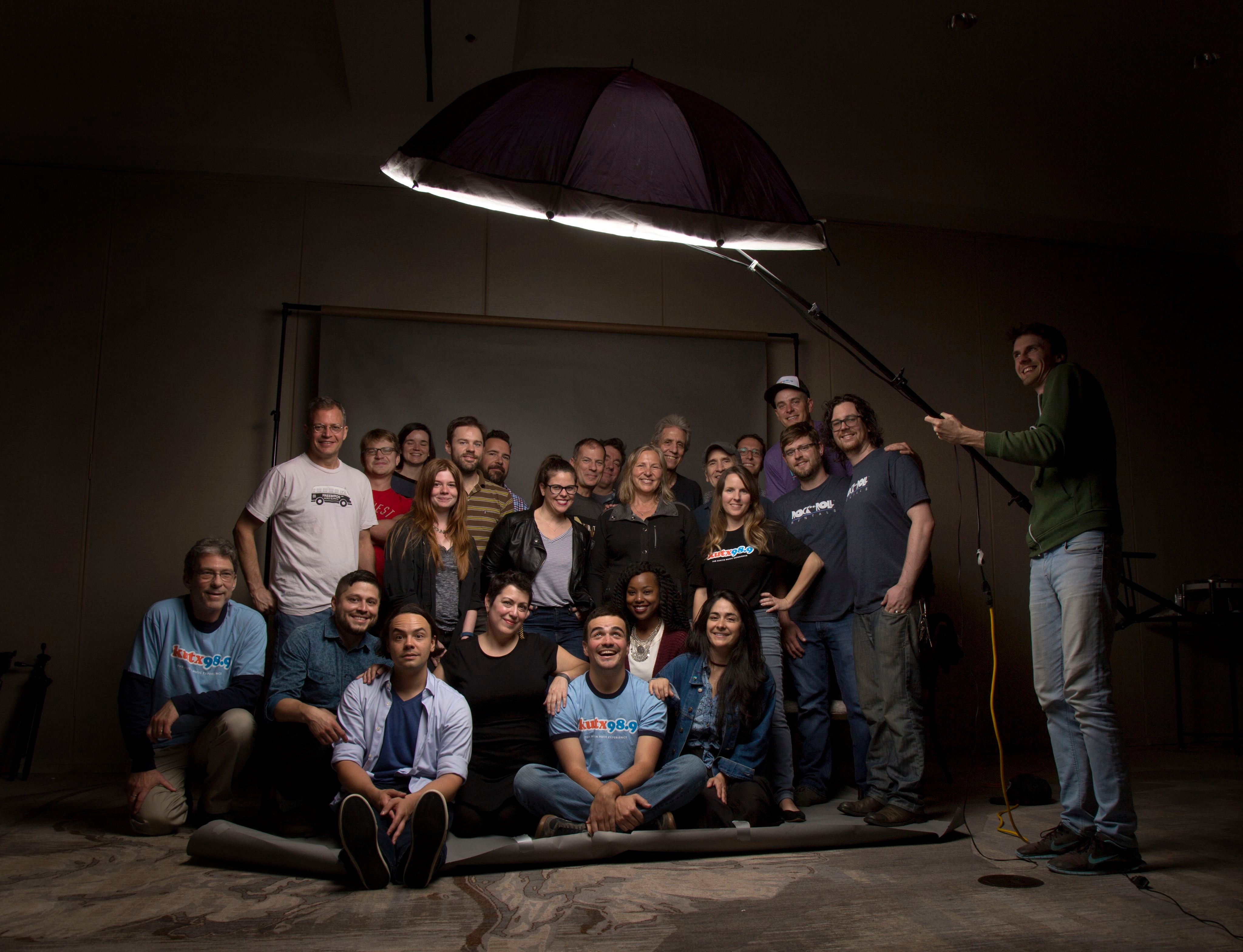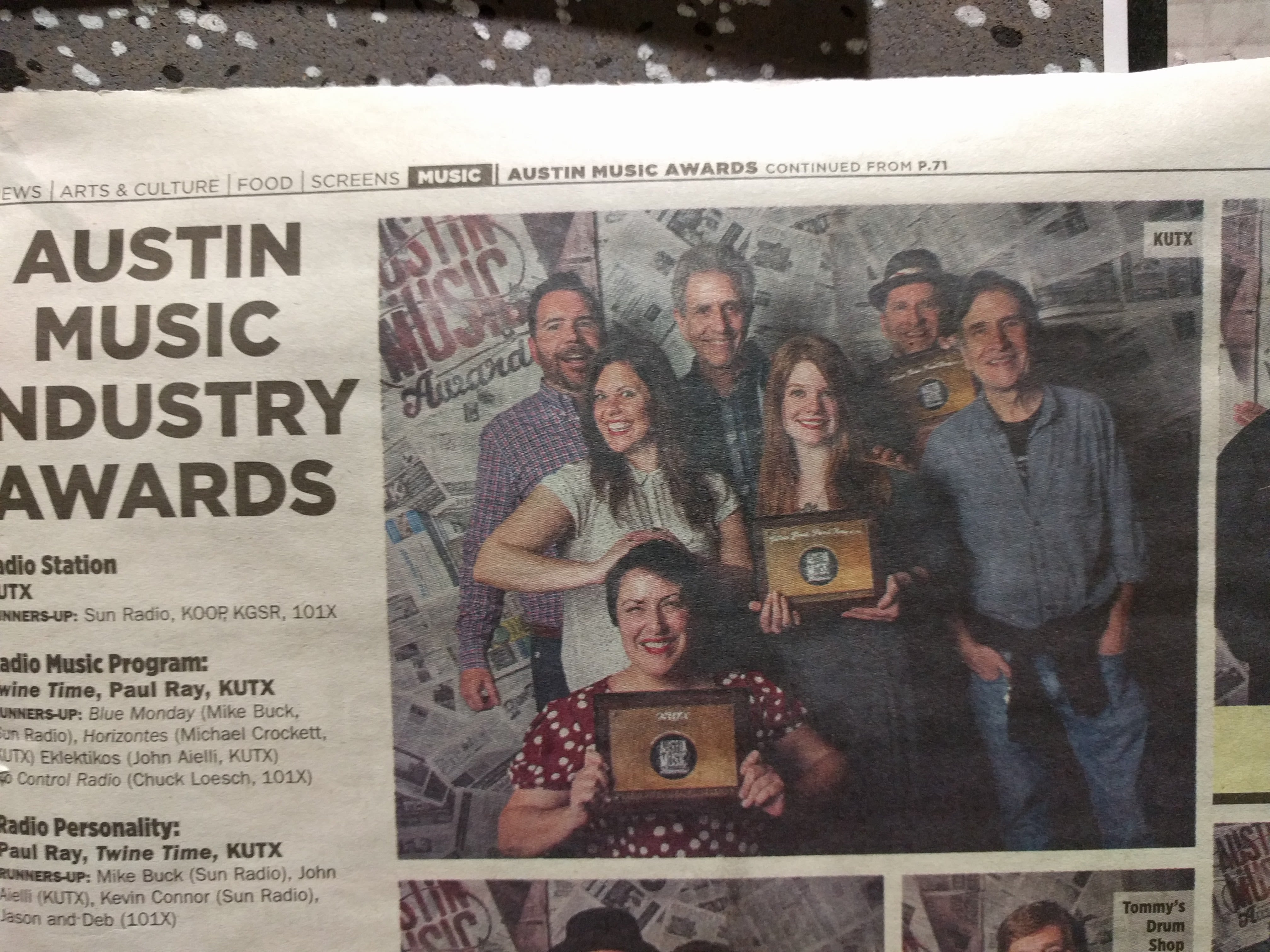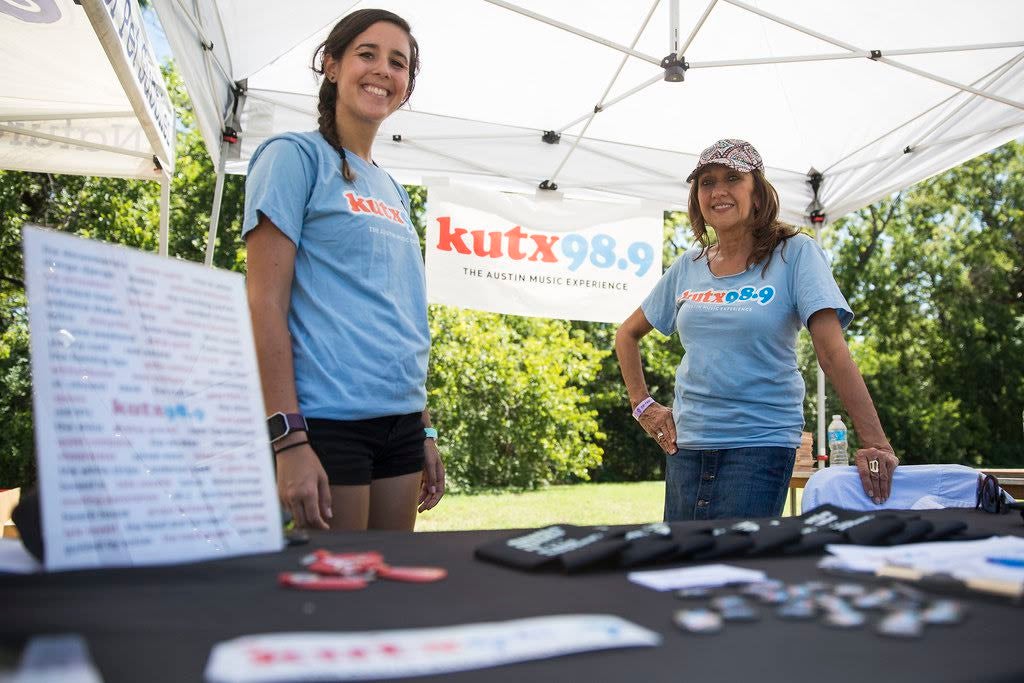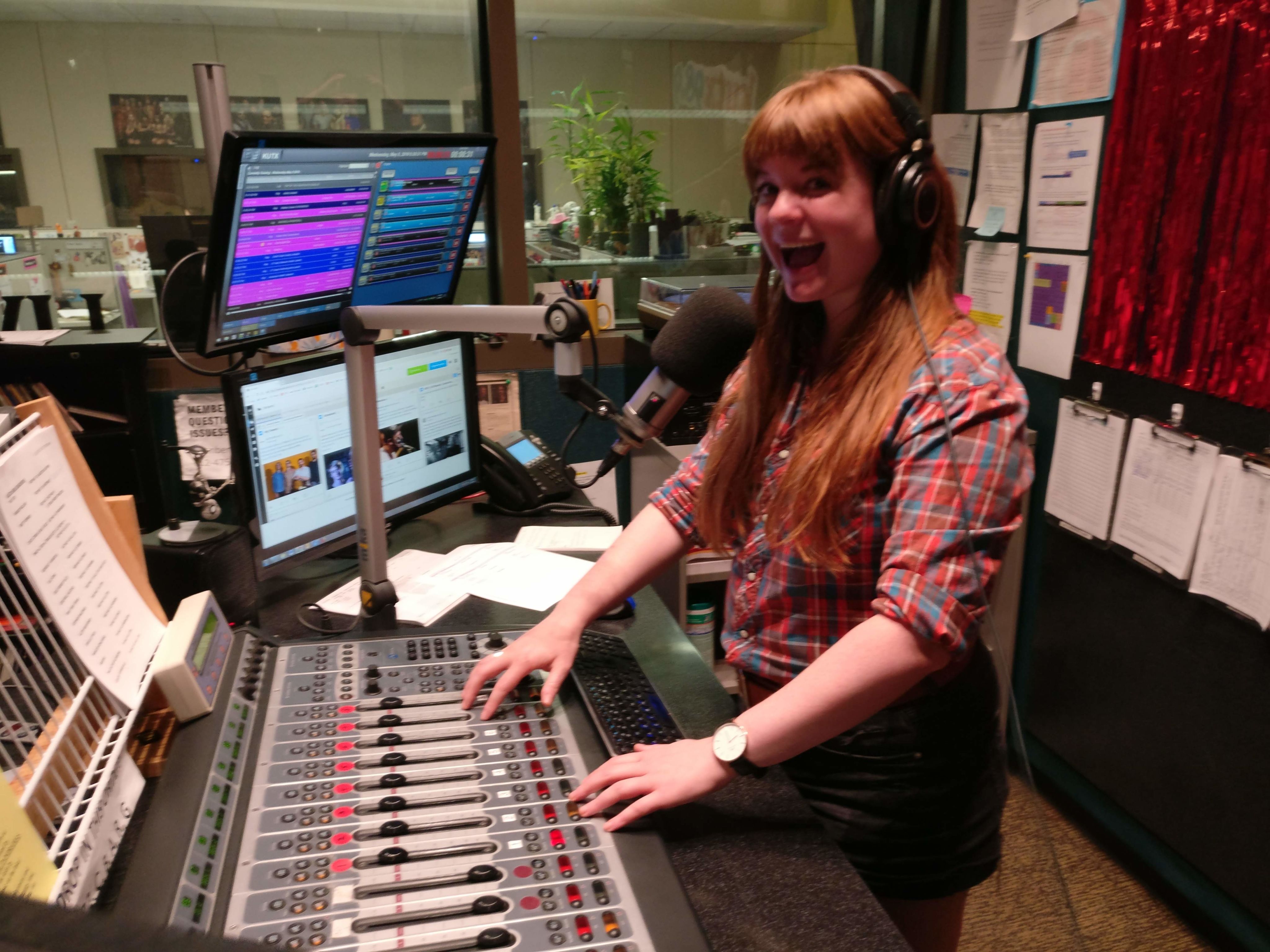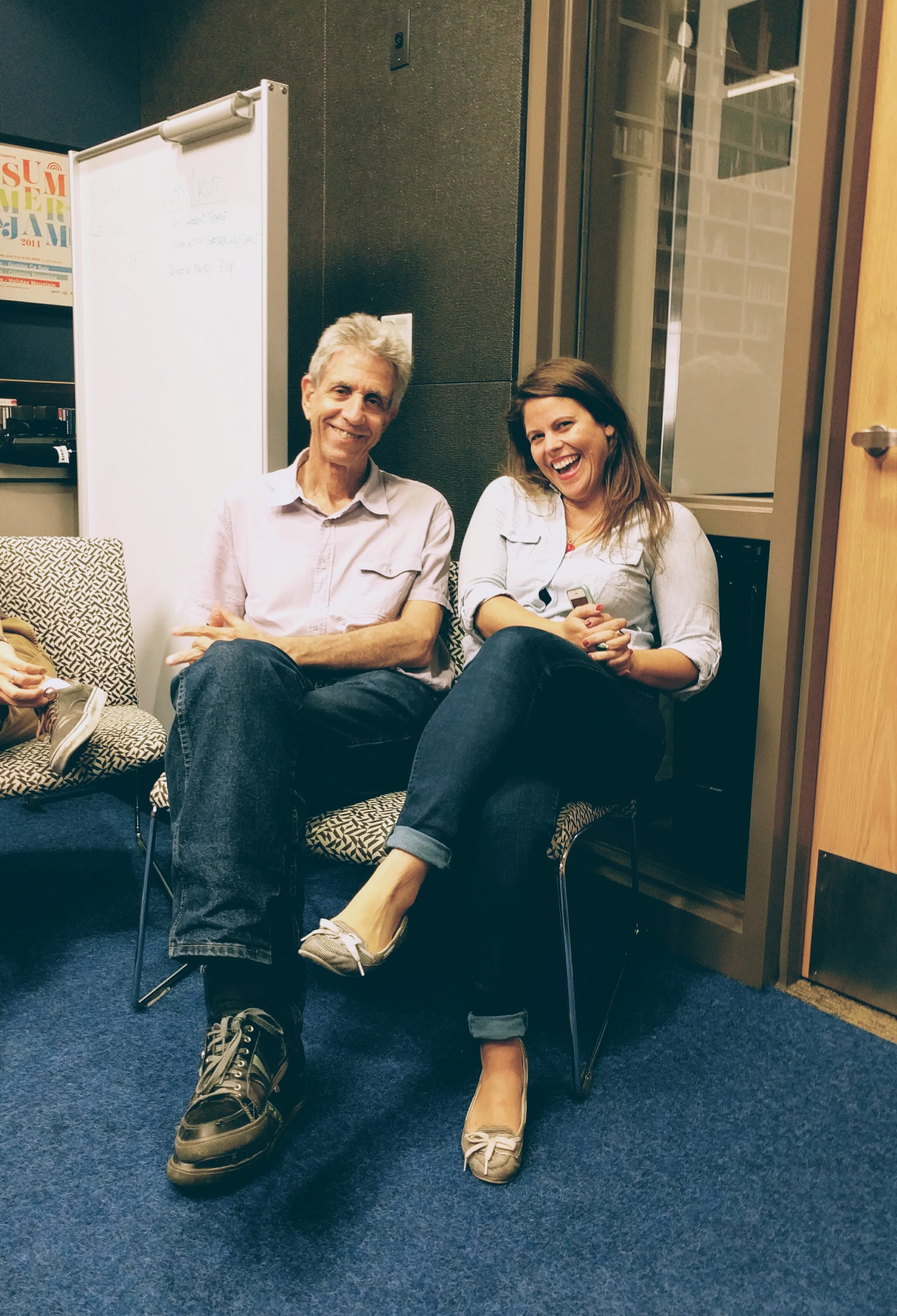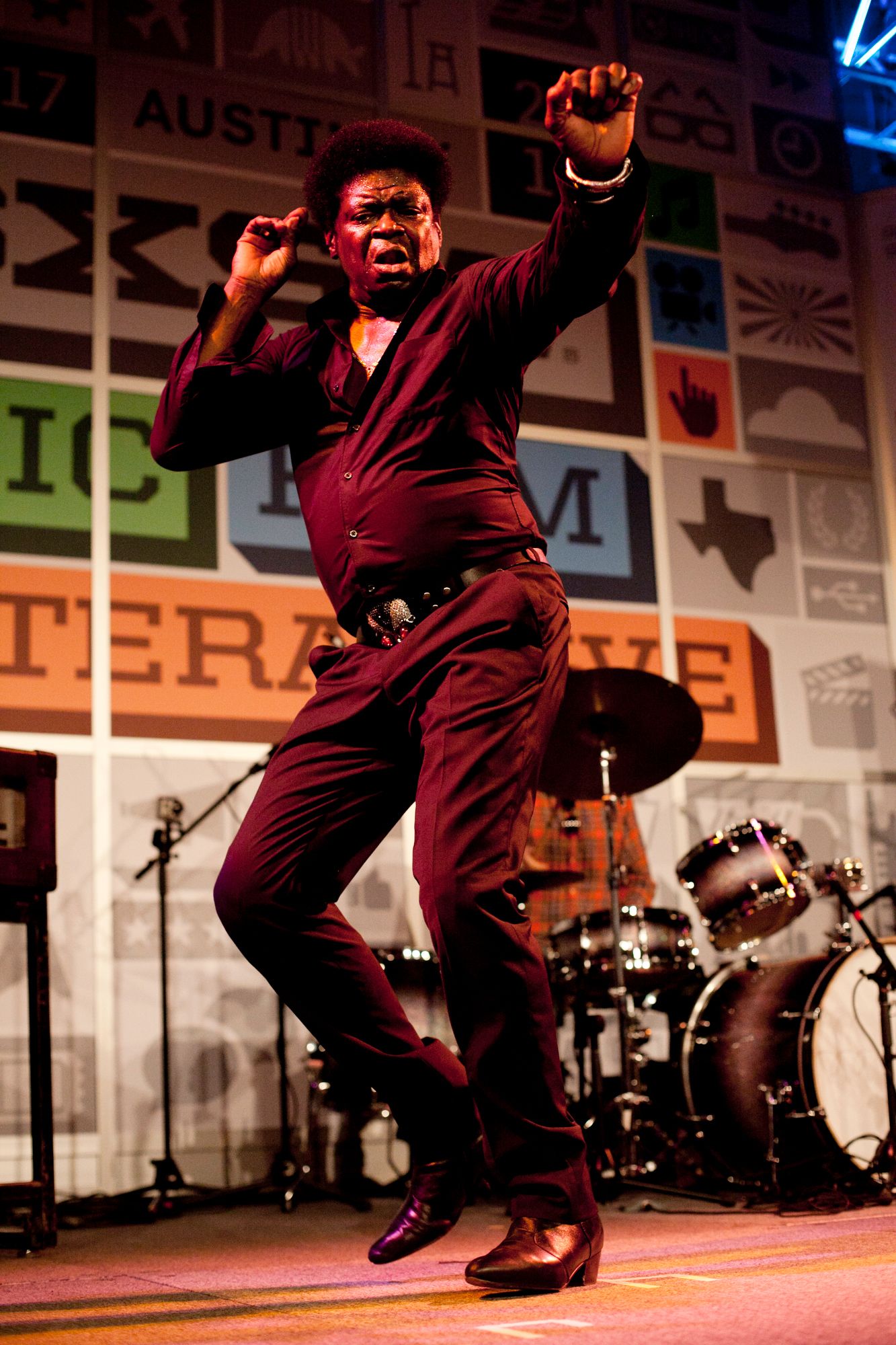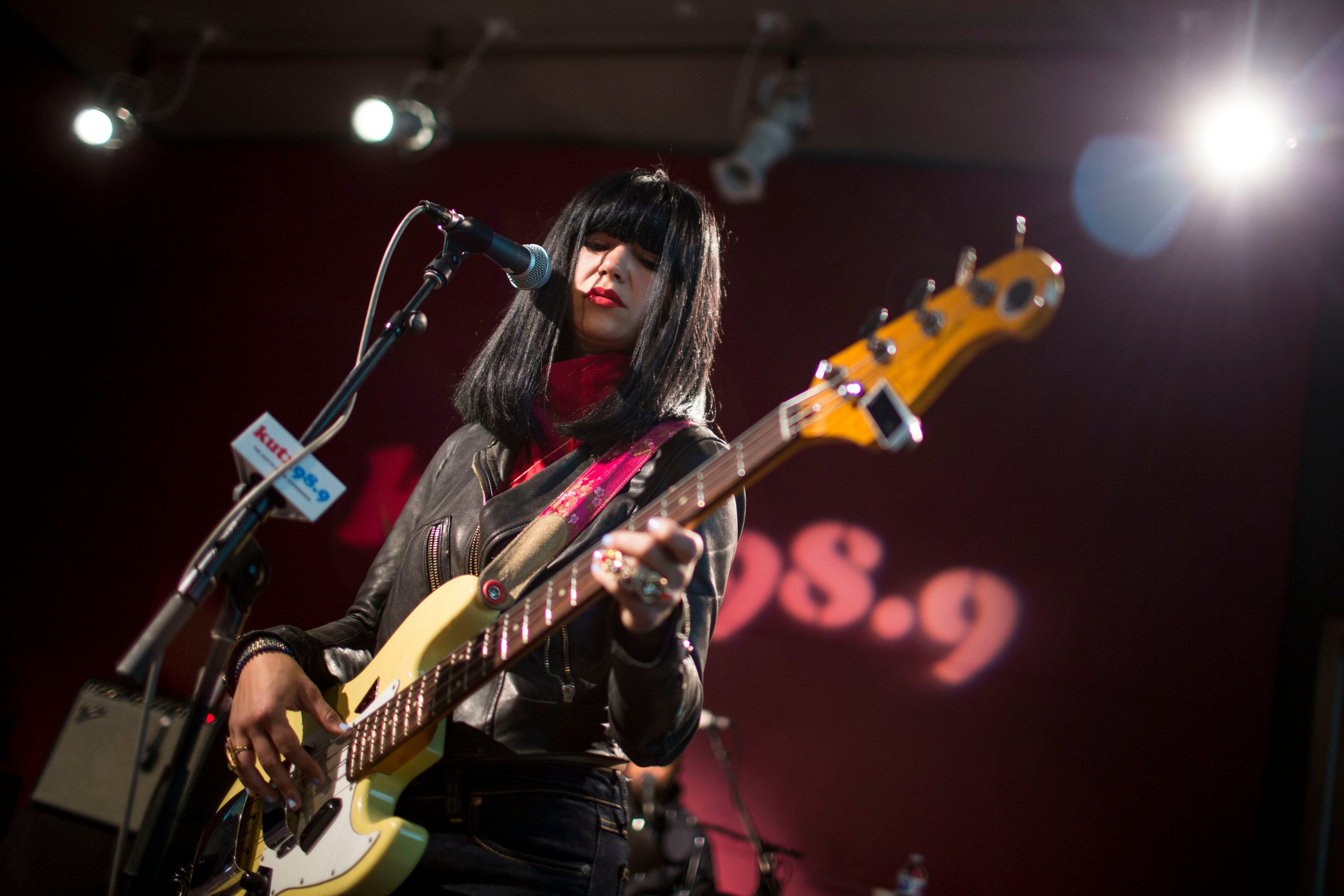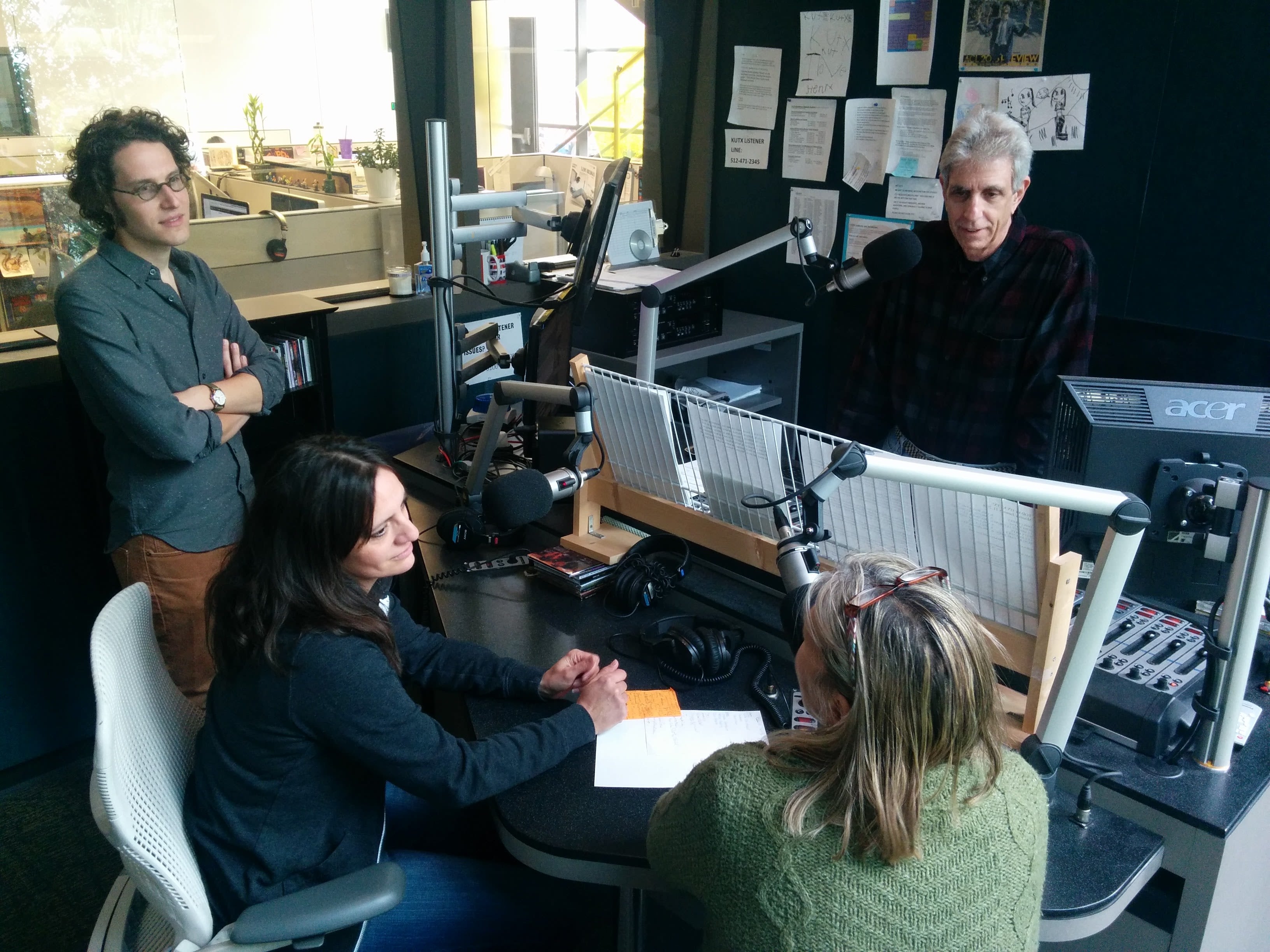 Photos Courtesy from KUTX
Photos Courtesy from KUTX
Item 1 of 8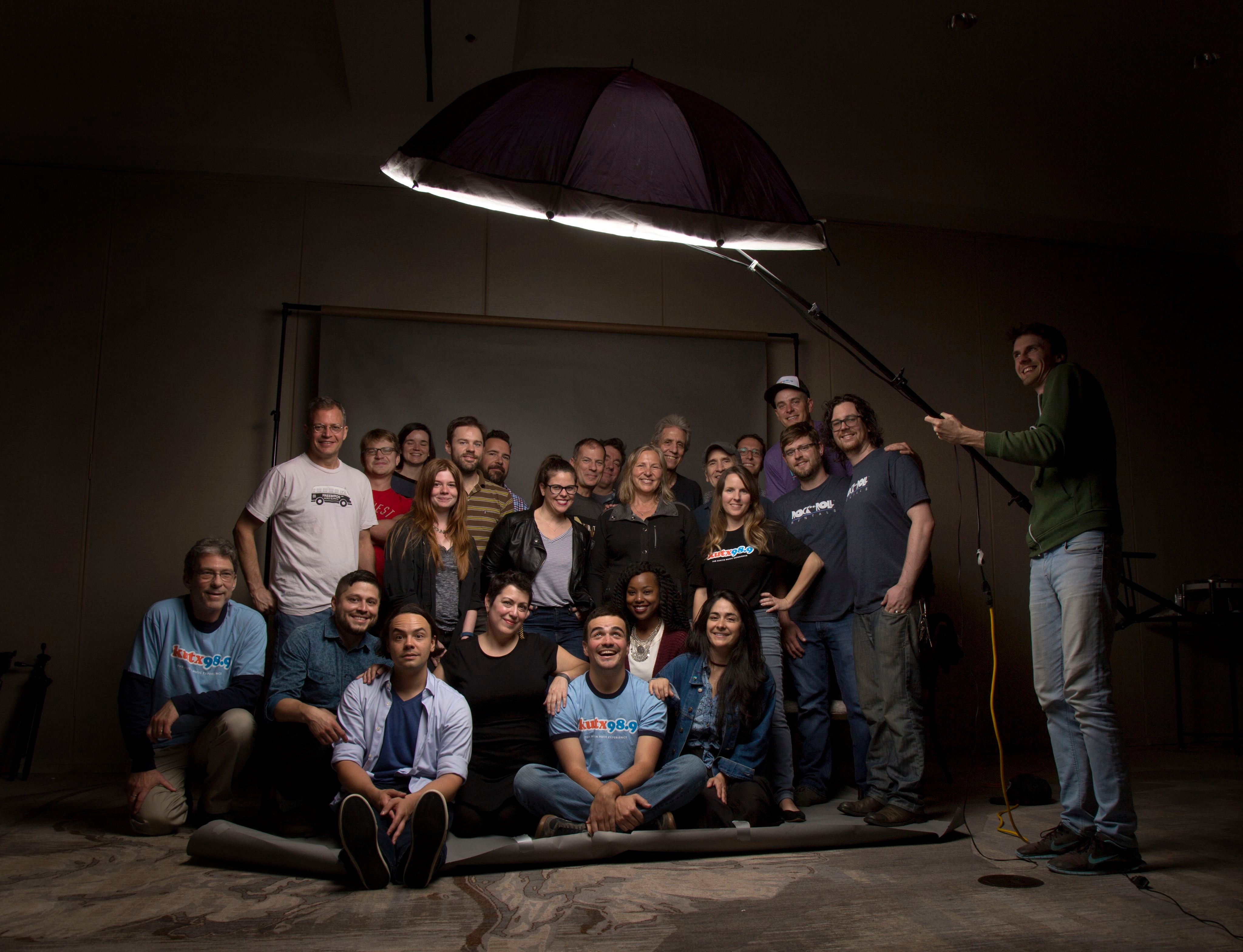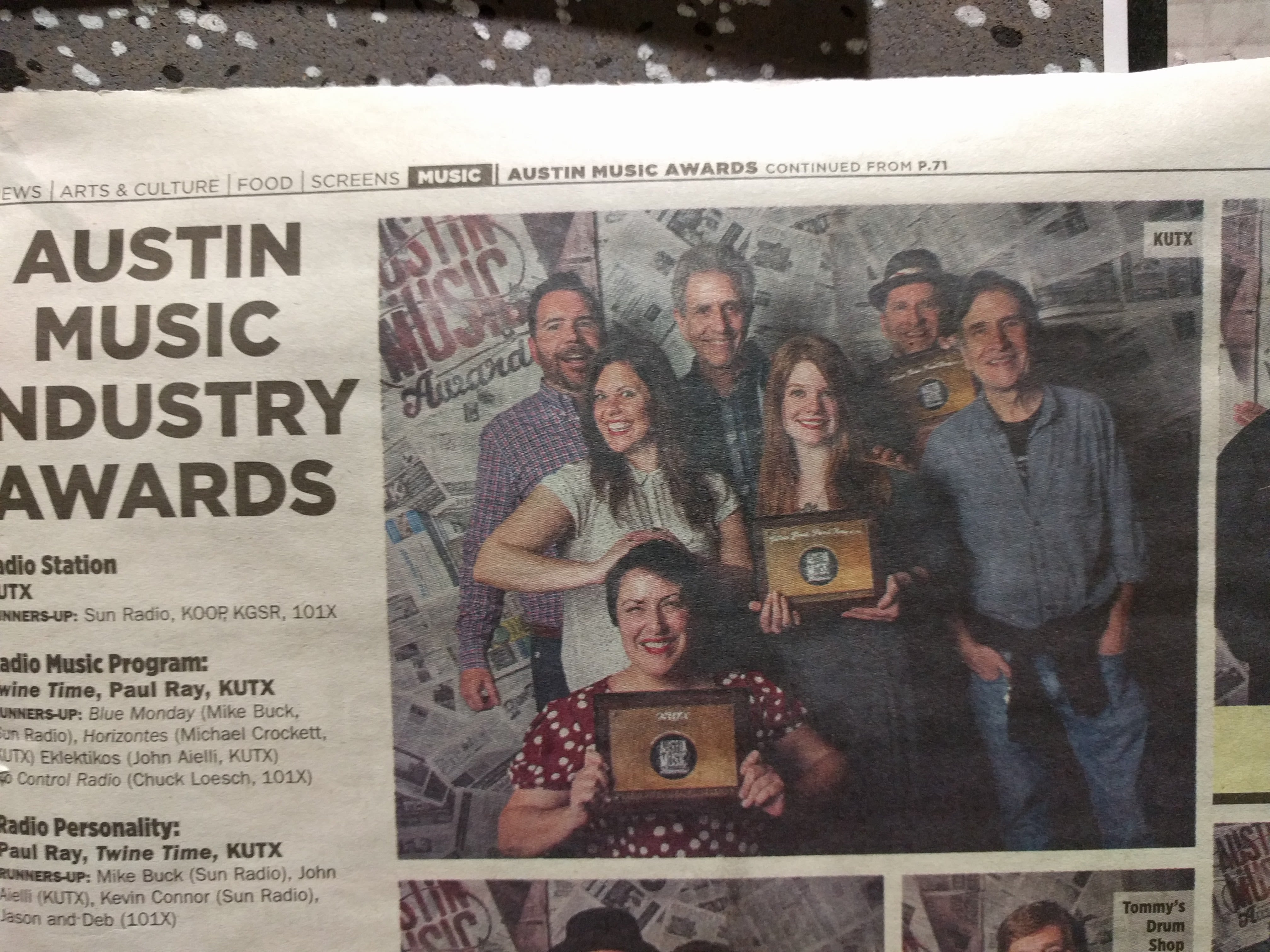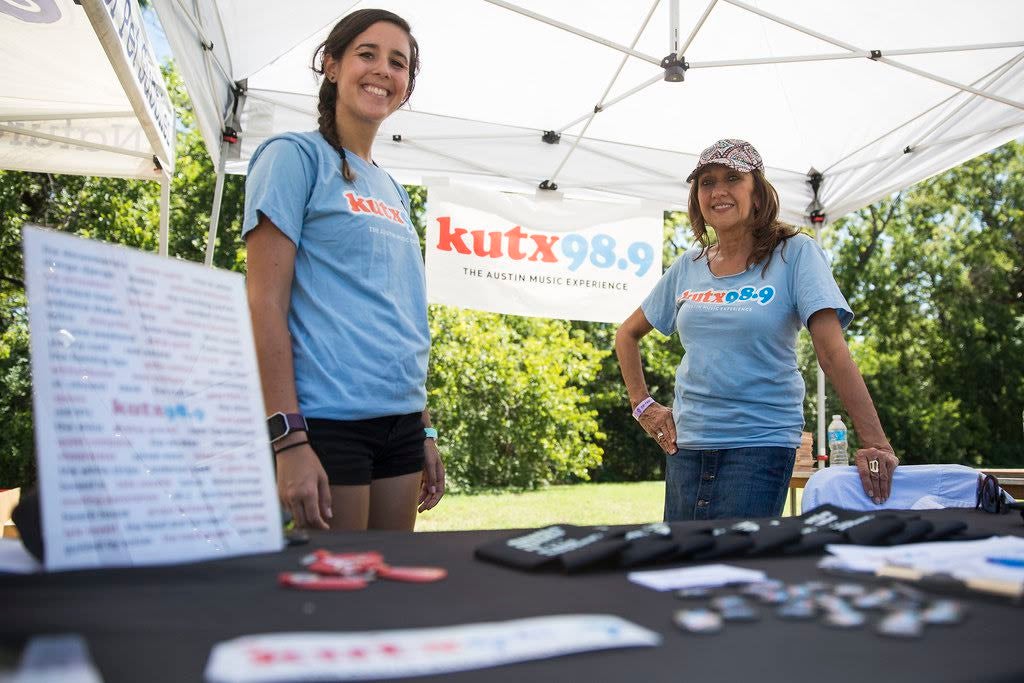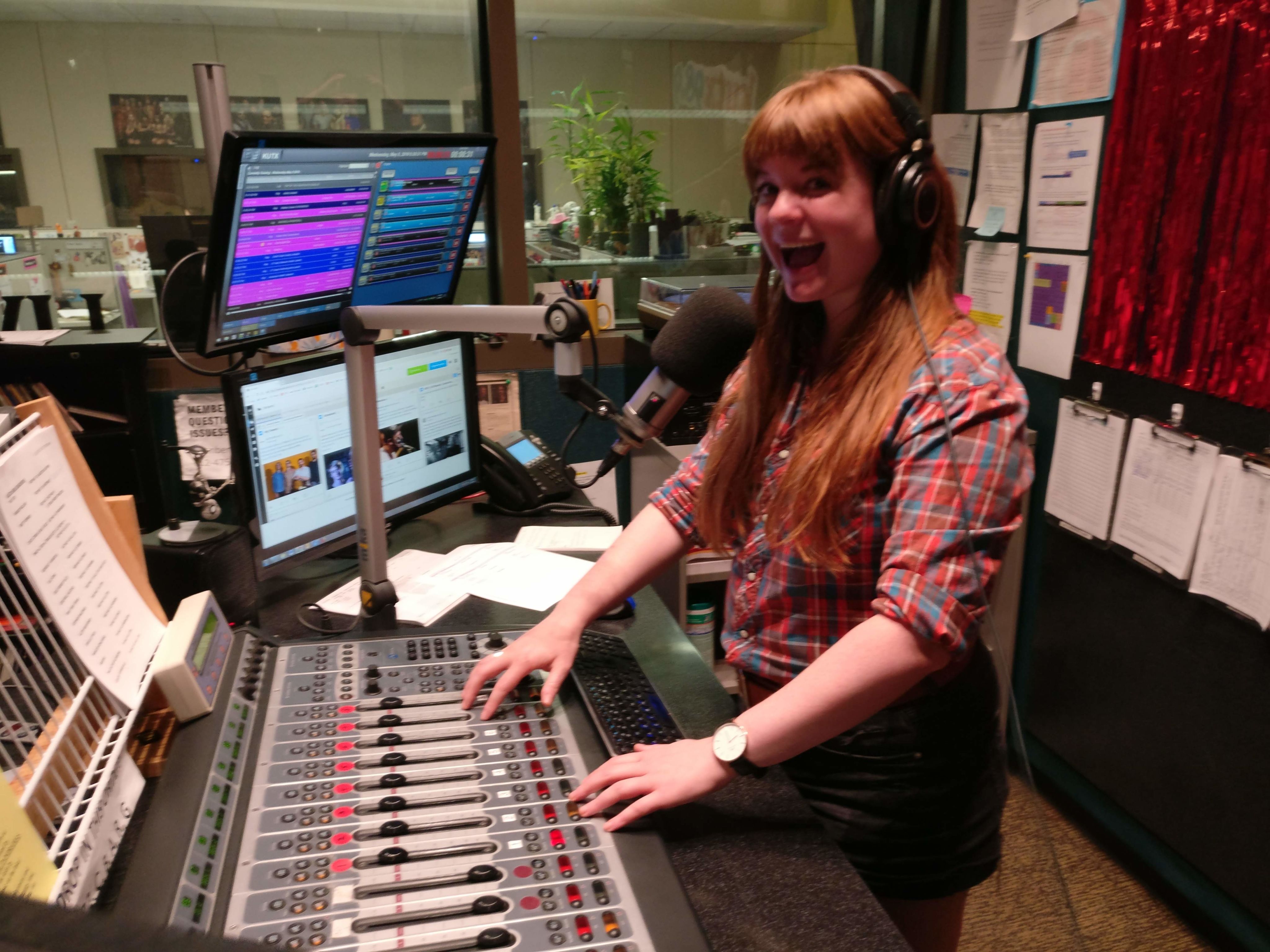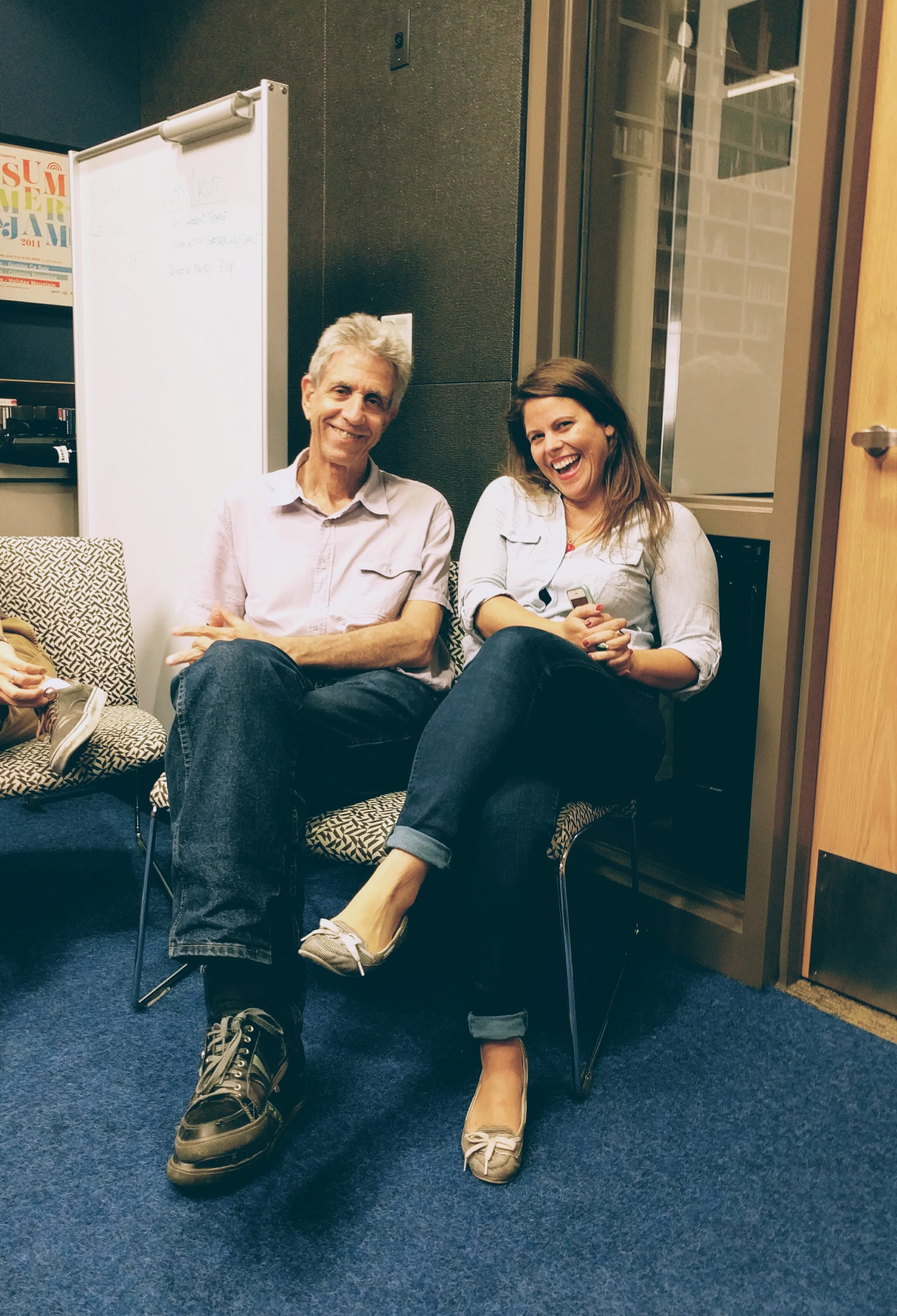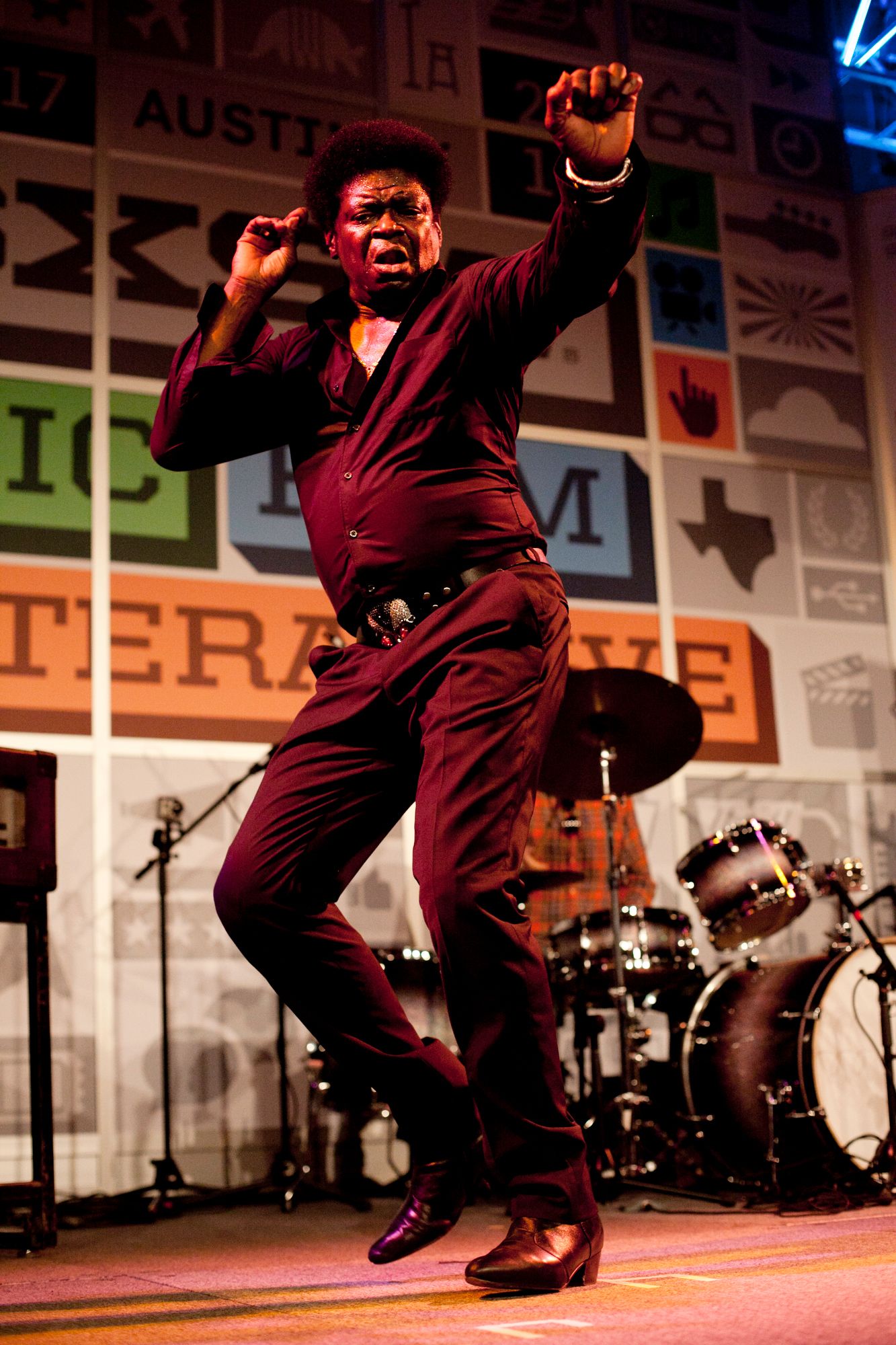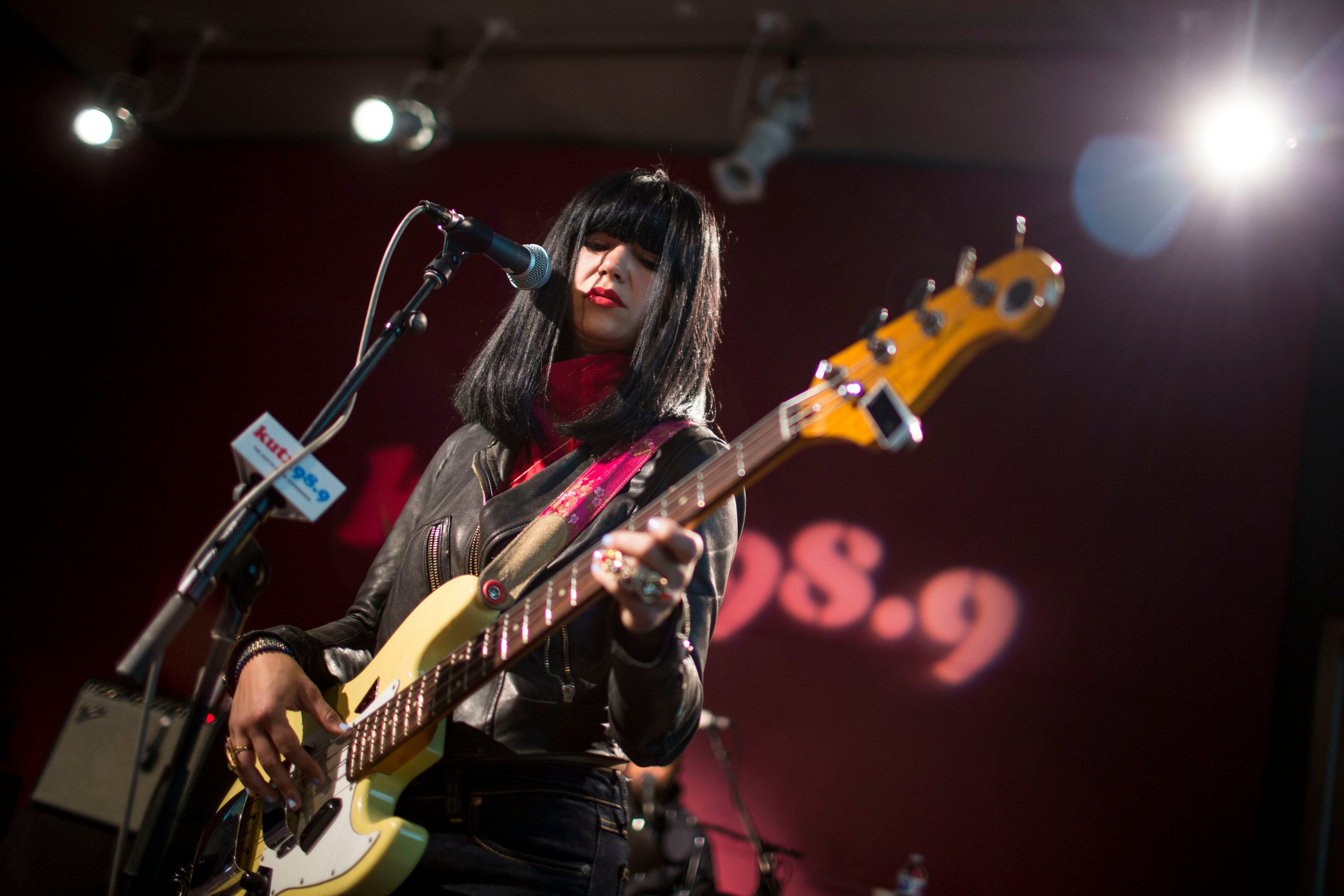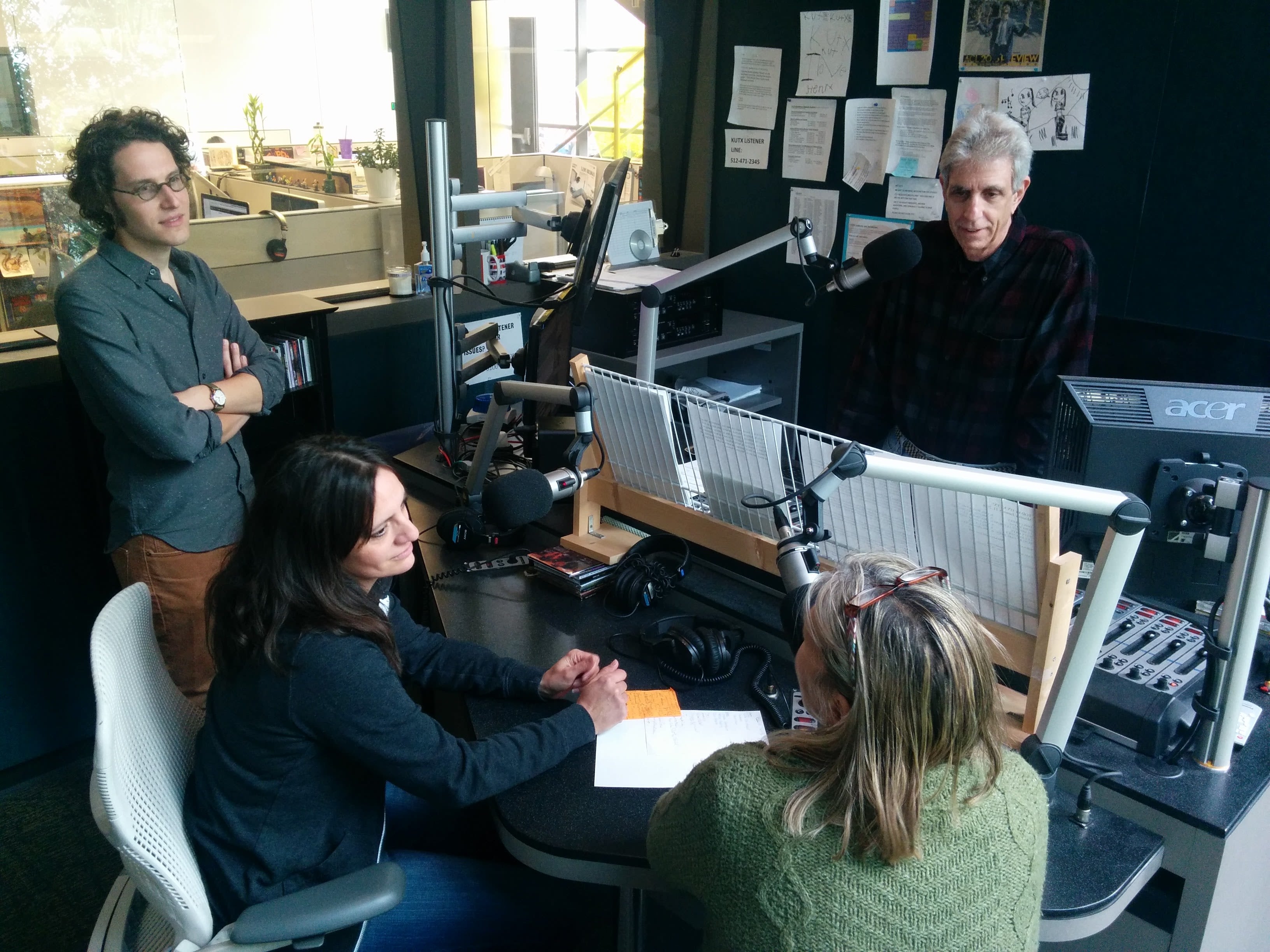 Photos Courtesy from KUTX
Photos Courtesy from KUTX
KUTX: The Student Experience
It's Friday, and Maile Carballo is in her usual spot behind the mic in the KVRX studio on the second floor of UT's William Randolph Hearst building.
The Moody College advertising freshman has spent the last week researching Anthony Bourdain, and the kind of music he liked to listen to. It's her weekly "That's Peculiar!" show on the radio station — Fridays at 7 a.m. — and this week, she's doing a tribute to the famed chef.
"He liked a lot of bodacious, very grand spaghetti western themes, underground punk songs from the 70s. Things like that. Just a very Anthony Bourdain type of renegade music," she says, explaining the sound for this show.
Carballo does a lot of projects like this for her morning time slot at the student radio station, choosing a different theme and adlibbing on air.
Carballo says she was always interested in a career in radio. She grew up in the Marble Falls area listening to KUTX as a kid. Since she was an hour from Austin, the reception could be spotty.
"In some parts you get it full and clear and other parts, you move an inch and it's gone," she recalls.
When she was nearing the end of her senior year in high school, Carballo chose UT for college.
"I've always listened to KUTX so going to Moody was kind of a huge deal to me because I knew the station was actually in the college I would be going to," she says. "That was an automatic winner."
Carballo describes herself as a music person at heart. She said she owes a lot of her tastes to her mom, who grew up in 1980s Hollywood and her dad, who played hits from the 70s. She also took a lot from her older sister and the things she heard on KUTX from the early aughts like Foster the People, Spoon and LCD Soundsystem. In 4th grade, Carballo says the people in her class called her "The Beatles Girl," after she asked her teacher to play "Eleanor Rigby" one day.
Before she even got to Moody College last year, Carballo tracked down a member of KVRX who let her sit in on her radio show. After that, she was hooked on joining once she made it to UT. Today, she works as a graphics intern in addition to her Friday morning show.
It's through KVRX that she got connected to her second internship at KUTX, which began in August.
These days, Carballo spends her shifts posting stories to the station's website and on social media, including writeups about artists playing Studio 1A. And because she mentioned her experience with graphic design, she's also been creating art for their social media channels and even the logo for the station's SXSW event "Rock the Shores" this year — something she's most proud of.
"Whatever they ask me, I am more than happy to try out and do, whether they have an idea or something interesting I can create," Carballo says. "It's a really good opportunity."
As for advice for her fellow college students seeking potential opportunities in radio or other media, she says "the sky's the limit."
"If there's something you want to do, don't hesitate to ask," she says. "That's something I've tried to embrace coming into college."
Carballo attributes a lot of the amazing things she's gotten to do over the past year with simply asking. She got to hang out in the press tent at ACL and to meet her favorite artist, Charley Crockett.
"The worst that can happen is somebody says 'No' or maybe 'Not now but ask again later and we'll see,'" she says. "The more you ask for what you want, the better your career and personal time will be."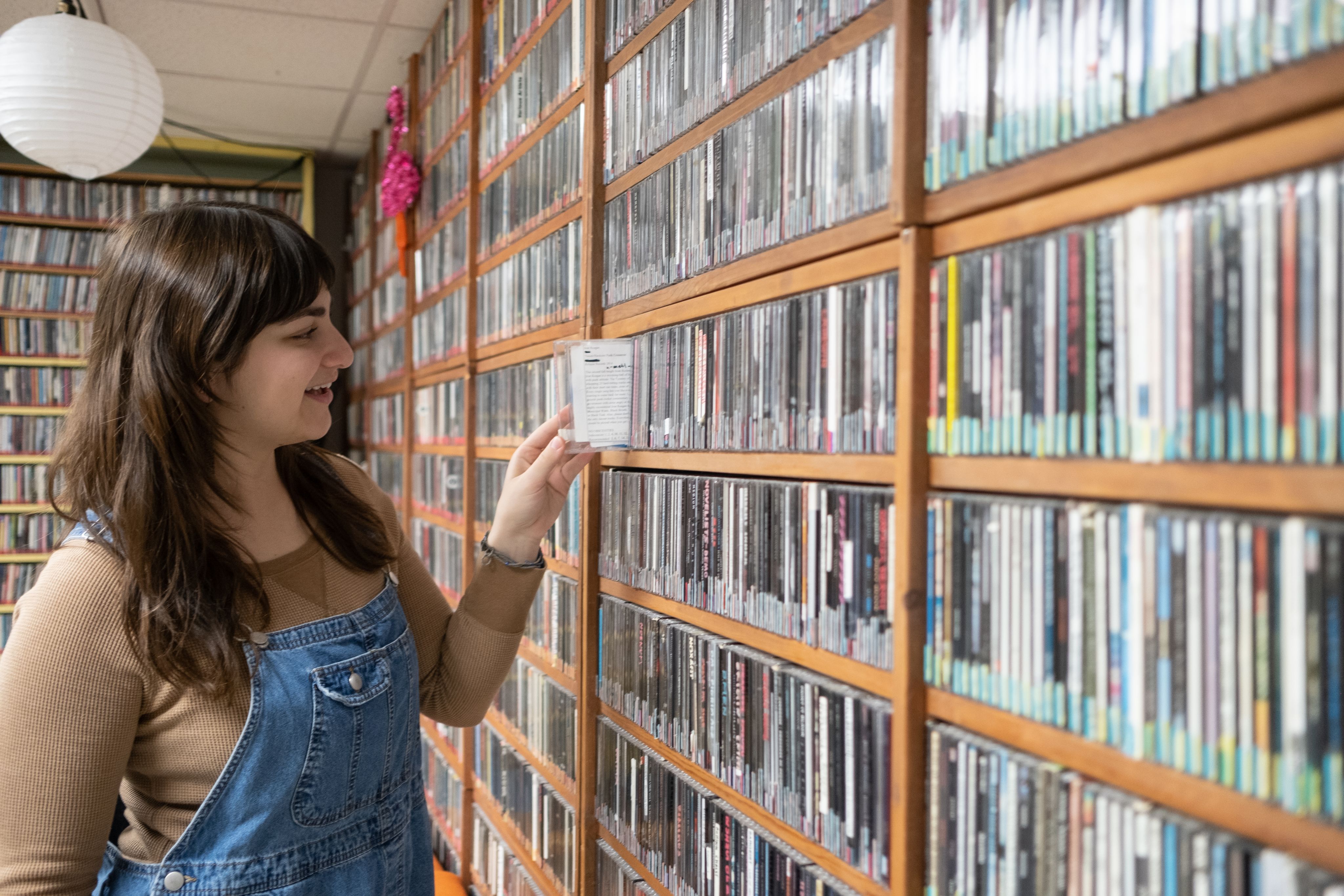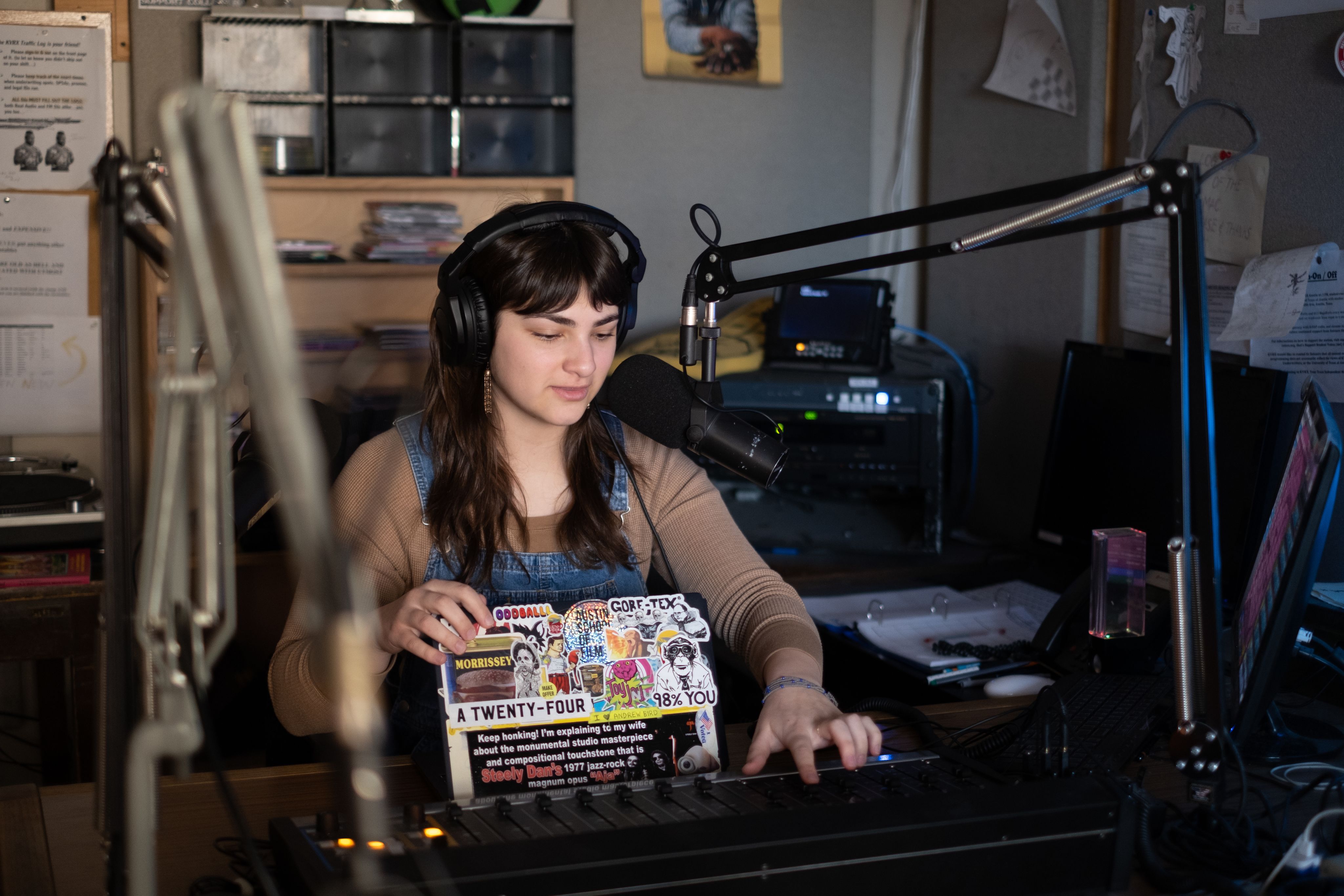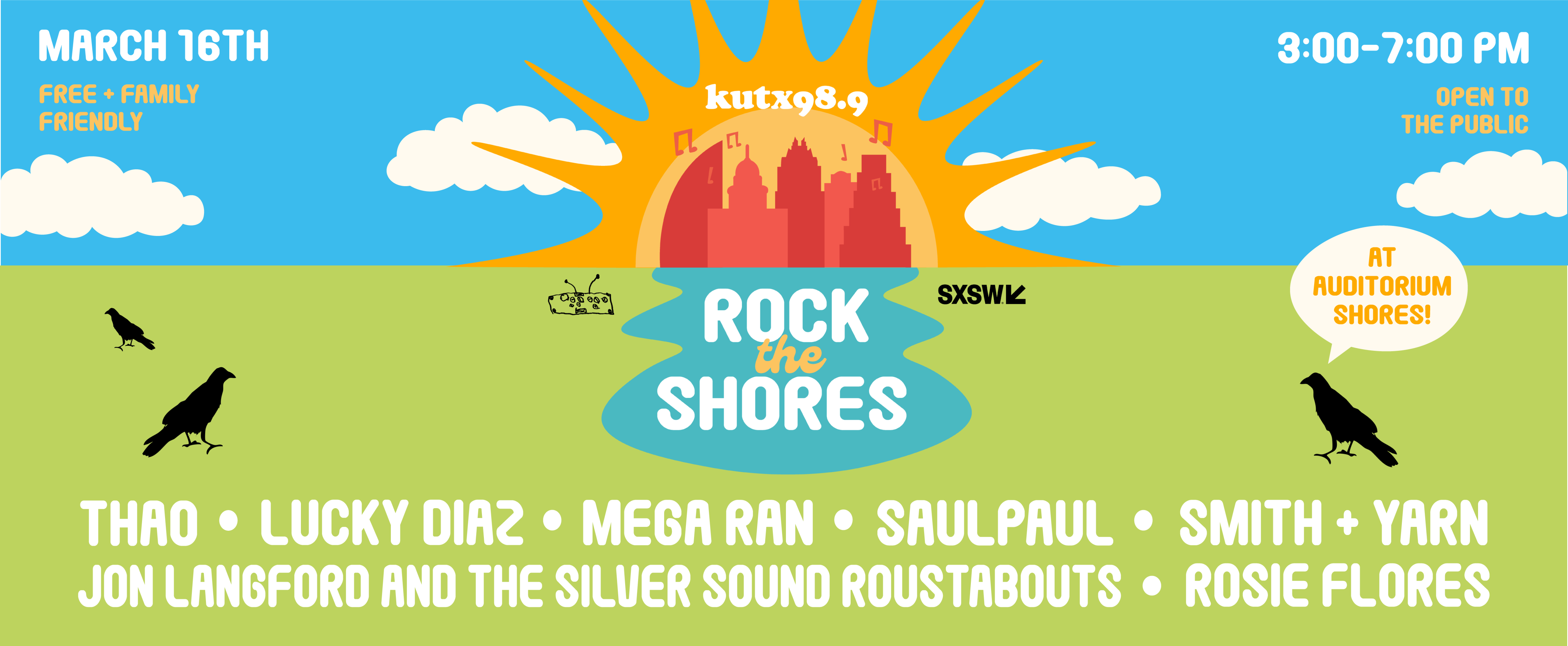 Item 1 of 1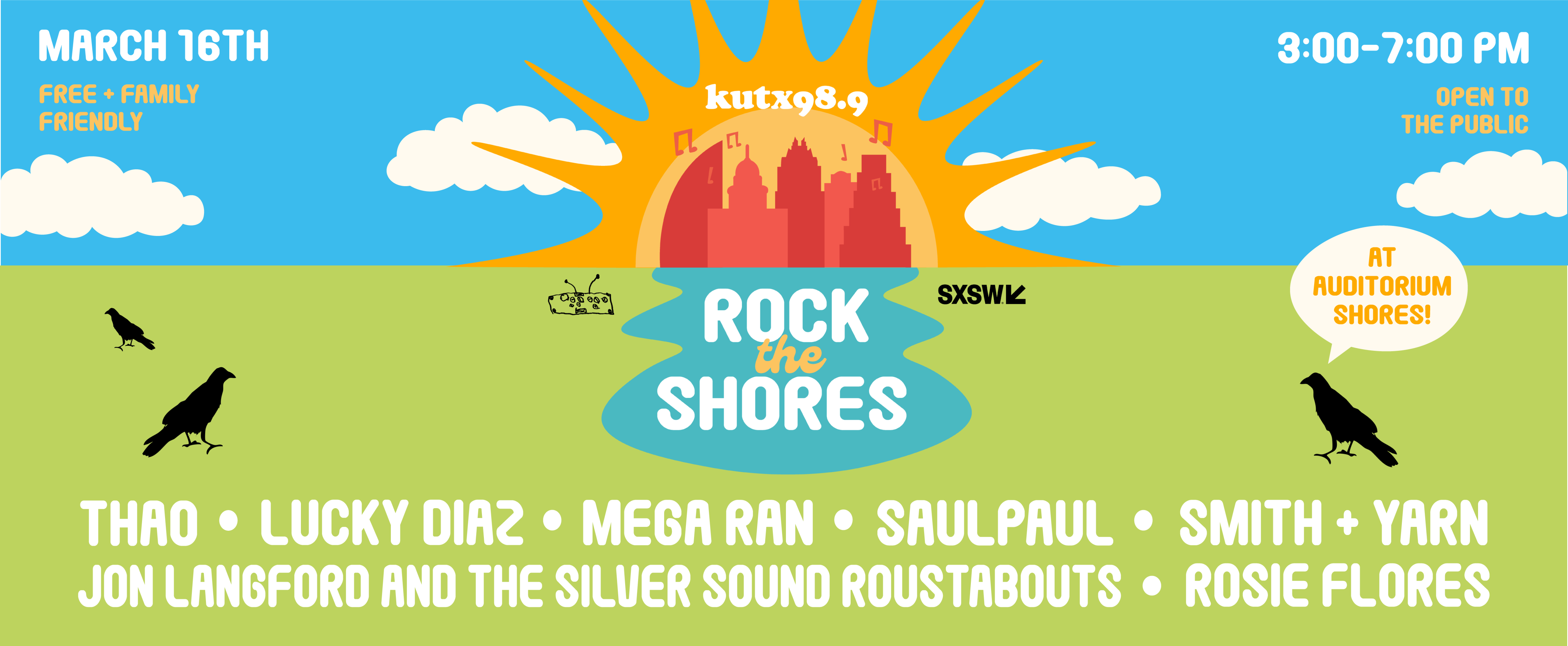 Amplifying the Sound of Austin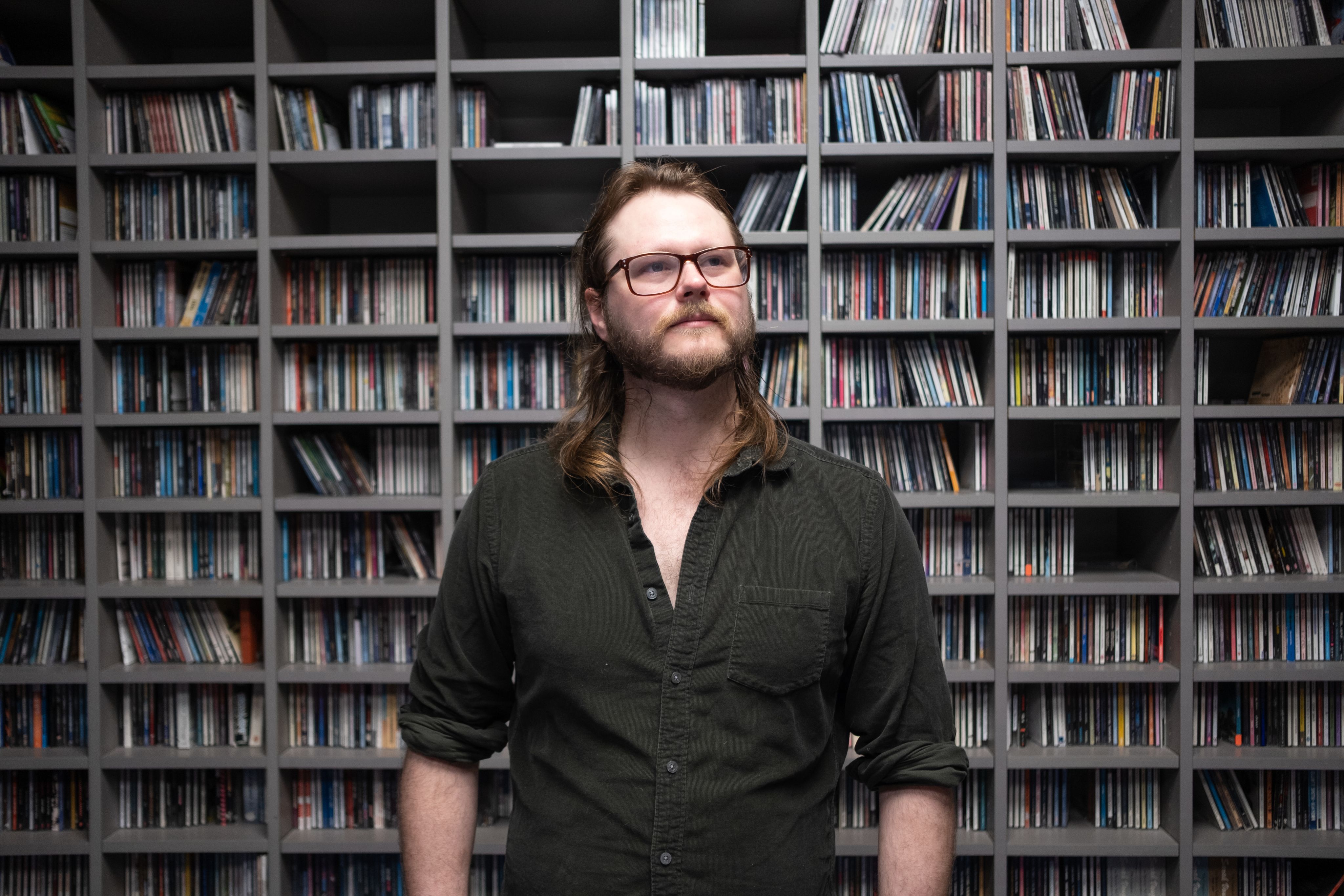 KUTX producer Jack Anderson is a sort of gatekeeper, if you will.
Though he's humble and doesn't want to see it that way.
Anderson chooses KUTX's Song of the Day, new standout artists in Austin and beyond that want to get their music out, which plays at 12:55 p.m. every day. People are coming back from their midday lunch break, so it's a prime spot on the airwaves.
"It's tough because I do have my own personal tastes," Anderson says of the job. "That's the hardest part. I don't want to have too many of the same sounds."
But in a city that has grown like Austin, it's become easier, he says. There are so many new and different types of music today.
"We've done a really good job keeping our finger on the pulse on Austin," Anderson says. "That's what I really love and that we try to do with Song of the Day."
Anderson's favorite part is being able to help people's dreams come true.
"I get a lot of bands that are putting out their first single or playing their first show," he says. "It's really cool to be able to represent them in a way most radio stations aren't."
That enthusiasm pervades the recording rooms at KUTX. Every day they have a music meeting where a round table of people from different backgrounds, ages, genders and races come together to choose what songs are added to the library and receive heavy rotation. It's chosen democratically, not because some PR person got their foot in the door.
"Everyone brings something to the meeting, and all these music heads suss out which ones are the best, catchiest songs that fit the culture of our airwaves," Anderson says.
Anderson graduated from Moody College in 2014 with a degree in Radio-Television-Film and says he always loved radio. He would take his parents tape recorder and record people as a kid. In high school, he got into music production and also played in a band. When he was deciding what to study in college, he chose RTF for the audio production side of the major.
While at Moody, Anderson got a job at the famed Cactus Cafe on campus, which has hosted the likes of Lyle Lovett and Townes Van Zandt. At the time, KUTX was responsible for the programming at the Cactus, so he made connections at the station. He started working there after graduation doing music writeups and eventually began part-time, then became an on-air host for many years before switching to the audio recording and editing side of the job.
Today, in addition to producing the Song of the Day, Anderson also works on the news side at KUT in the evenings doing weather, time and traffic reports.
Anderson says one of the biggest things he learned while at Moody College was the importance of collaboration.
"I've never historically been great at working on a team. I am kind of a lone wolf," he says. "In my filmmaking and production classes, they sort of pull the rug out from under you, and you realize that nobody can do anything alone. There is a reason why everyone has a team. Not everybody is this guy sitting at home making hundreds of hours of songs all by himself."
As for advice to students looking to get into radio, he says to get a home recording set up — it's remarkably cheap these days — and get comfortable listening to the sound of your own voice.
But the most important thing: take out your earbuds and listen.
"You'll hear things that inspire you and you'll make memories that are just audio memories. You'll ask, 'What was that sound?' And you might want to go out and find out that mystery. You hear two people have a conversation and the UT bell tolls, and it creates this really lovely, new combination of sounds. It's a concert that you're there for in person. Just listen."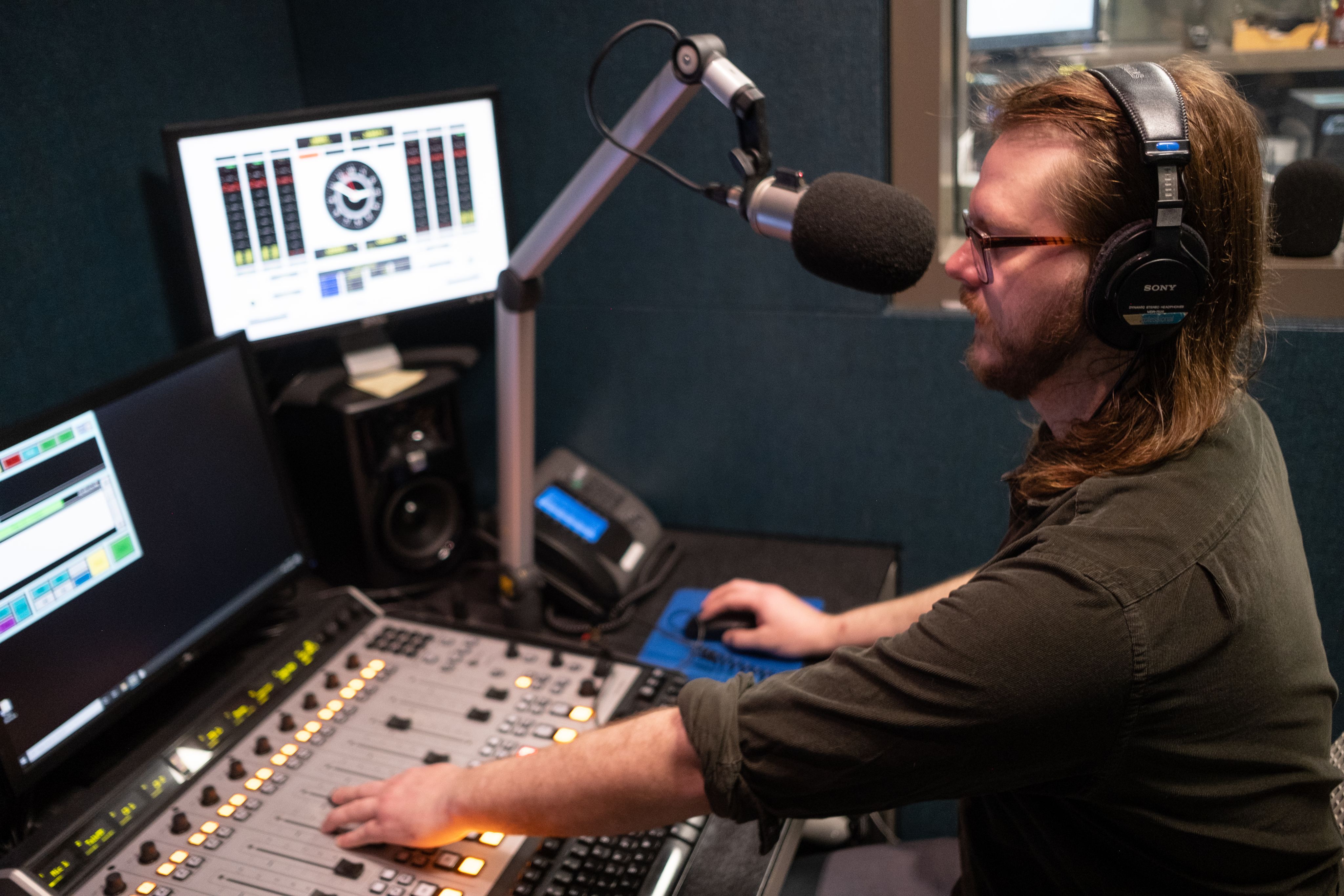 The station has been a springboard for Austin musicians and Moody College students
<div>Published 3/21/2023</div>