Knight Center Celebrates 20 Years of Strengthening Journalism in the Americas
Anniversary event draws journalists from across the world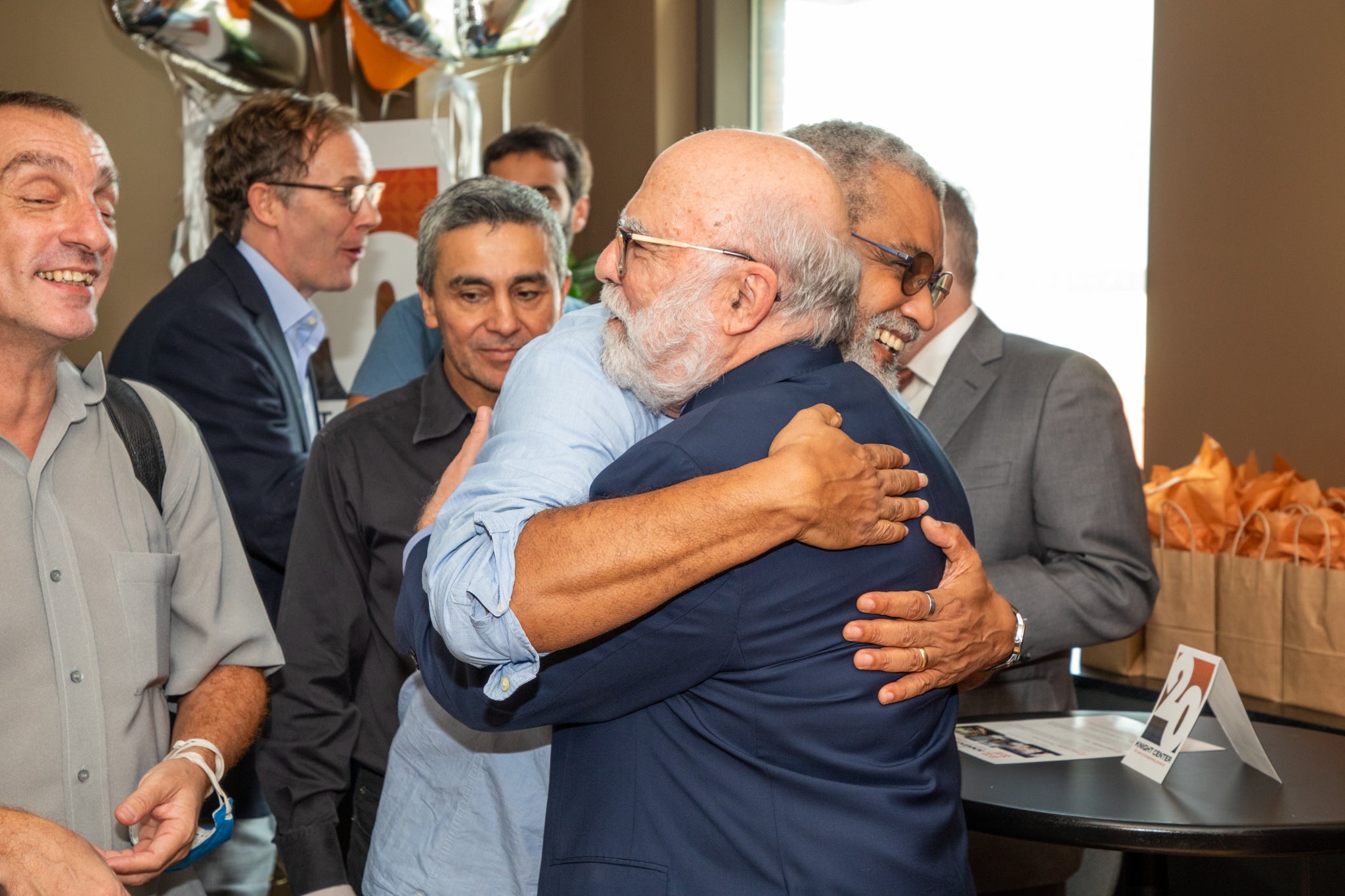 In 2002, The University of Texas at Austin Journalism and Media Professor Rosental Alves received a $2 million grant from the John S. and James L. Knight Foundation to found the Knight Center for Journalism in the Americas. The grant would cover four years of outreach and training for journalists in Latin America and the Caribbean.
But 20 years later, the Knight Center has reached thousands of journalists across the world through its online courses and conferences, and it has pioneered digital innovation in the news industry.
Last week, Alves gathered with Knight Center staff, Moody College of Communication faculty, and journalists and educators from around the globe to celebrate two decades of strengthening journalism internationally. "I believe that only a university that prioritizes innovation and entrepreneurship so much that it adopts the motto 'What Starts Here Changes the World' would have given us the space and the conditions to carry out this kind of work that we do at the Knight Center," Alves said.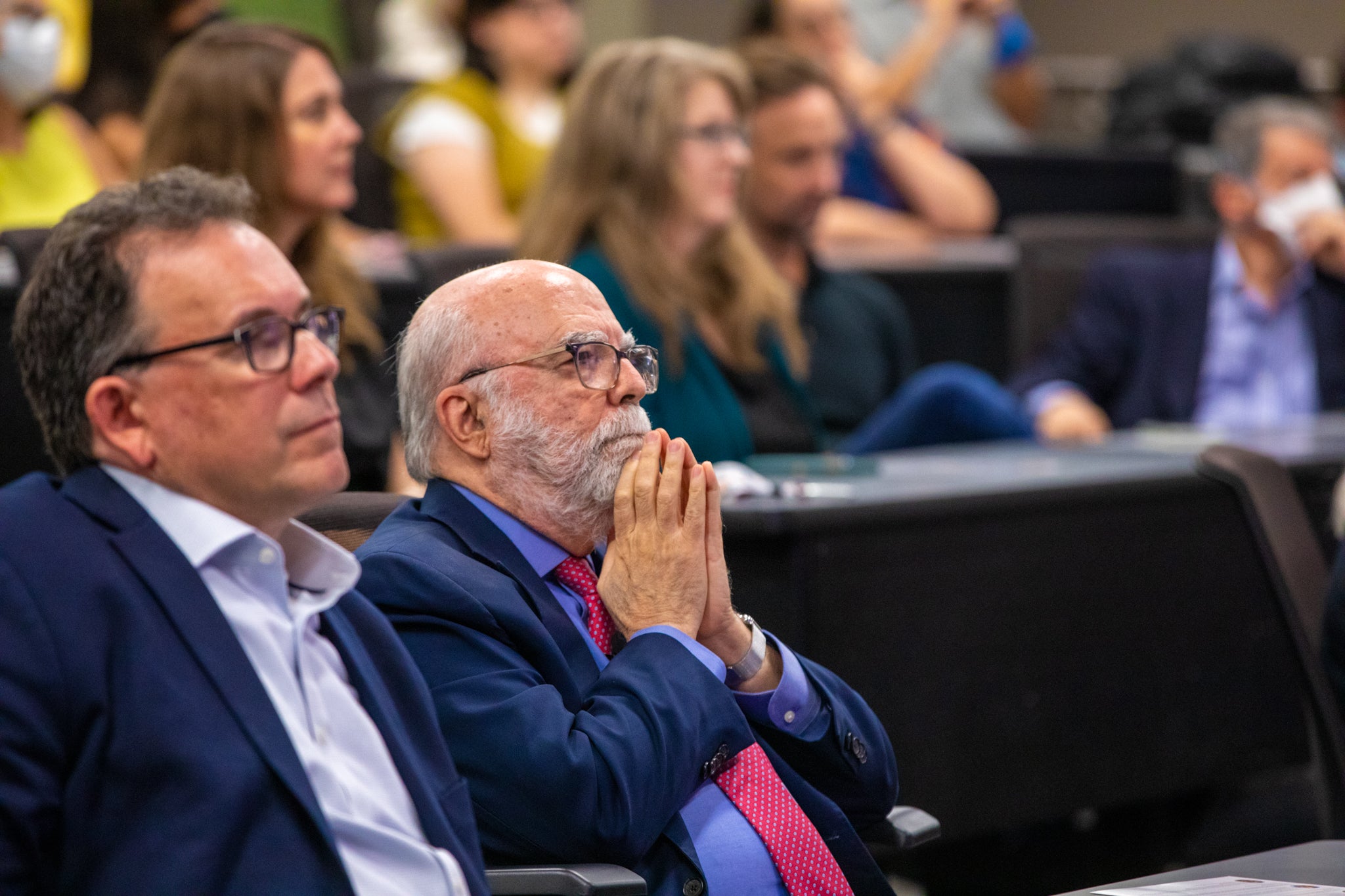 Since 2003, the Knight Center has provided online learning courses in English, Spanish, Portuguese and French to help journalists use technology in new ways. Its expanded program includes more than 100 online courses for free or at a low-cost that have so far reached more than 275,000 journalists from more than 200 countries and territories. Courses cover topics ranging from data journalism to podcasting to reporting on the climate crisis, and most recently, covering COVID-19, putting the Knight Center on the cutting-edge when it comes to preparing journalists for the future.
At last week's event, journalists shared the ways the courses have opened up new opportunities for them and their colleagues in the news industry. Tom Mosoba, business development manager at Mwananchi Communications in Tanzania, said the lessons he learned from a data course helped him launch a data desk at his local newsroom, The Citizen. "Earlier on, the newsroom management course helped me navigate the challenges when I was promoted from reporter to special projects editor," he said.
In 1999, Alves started a conference for reporters, editors and executives to explore digital journalism in the U.S. That conference expanded internationally in 2003 and is now known as the International Symposium on Online Journalism, or ISOJ. What started as 70 journalists grew to 1,200 attendees at the recent 23rd conference held online and at UT Austin in April.
"ISOJ is, without a doubt, the most important online journalism conference in the world," said University of Porto Professor Fernando Zamith. "It has established dialogue between academia and the journalism industry, in a relationship where everyone wins, including common citizens, who thus have access to better journalism."
Jim Brady, vice president of journalism at the Knight Foundation, praised Alves for the work he has done to preserve press freedom in the Americas. "It's clear that the impact of the Knight Center has far exceeded the modest expectations that were set by us when we did the grant," he said.
Brady read a message from Alberto Ibargüen, president of Knight Foundation. "Even before I came to the Knight Foundation, I admired Rosental's dedication to journalistic ideals and in training journalists and service to their communities. As president of the foundation, I have been proud of the fact that he is the holder of a Knight endowed chair in journalism. Knight has supported and will continue to support this essential work," Ibargüen said.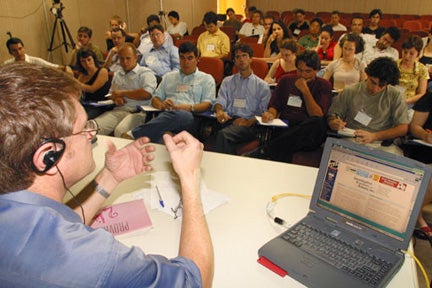 This month's anniversary celebration commemorated the first event held by the Knight Center in August 2002, an international seminar on investigative journalism. The event was organized in memory of Alves' friend and newsroom colleague, Brazilian journalist Tim Lopes, who was kidnapped, tortured and killed in Rio de Janeiro in June 2002. That seminar led to the formation of the Brazilian Association of Investigative Journalists, or Abraji, with the Knight Center's support. In the following years, and using Abraji as a model, the Knight Center helped journalists to organize similar associations in several other countries in Latin America, including Argentina, Colombia, Mexico, Paraguay and Peru.
Today, in addition to ISOJ, the Knight Center also hosts the Iberian American Colloquium on Digital Journalism, a Spanish-speaking conference for journalists from Latin America, Spain and Portugal. It publishes the LatAm Journalism Review, a digital magazine run by a team of journalists in the U.S. and abroad, including freelancers and University of Texas students. The publication covers issues related to press freedom, attacks on journalists and innovation and entrepreneurship in digital journalism in Latin America and the Caribbean.
"Thanks in great part to the Knight Center, I can safely say that Brazil now possesses a very appropriate and robust law that actively enforces the right of access to public information," said Fernando Rodrigues, journalist and founder of Poder 360, a digital journal in Brazil.
Most recently, the Knight Center launched AJOR, or the Digital Journalism Association, in Brazil, which represents more than 100 digital native news organizations, or news organizations that started online rather that in print. On Sept. 9-10, the center will host its second Latin American Conference on Diversity in Journalism online and in Spanish.
"I congratulate the Knight Center team for their amazing work and thank the funders, especially the John S. and James L. Knight Foundation that has been a supporter of this and other Moody College programs," Moody College Dean Jay Bernhardt said.
Looking forward, Alves hopes to continue to expand the Knight Center's online courses, further improve upon ISOJ's hybrid model and strengthen the LatAm Journalism Review magazine. "What's really important, is not what we do, but what people do with what we do," Alves said. "When we empower people to change the world, we are changing the world."