Dan Jenkins Medal for Excellence in Sportswriting awarded
Dozens of distinguished sports journalists, faculty members and university officials came together recently in tribute to the craft of sportswriting and the man who is said to have inspired generations of sportswriters.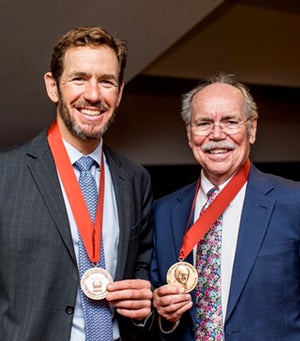 Chris Ballard, Dave Kindred
Dave Kindred and Chris Ballard accepted the Dan Jenkins Medal for Excellence in Sportswriting on Friday, Sept. 21, in Austin during the second annual awards banquet sponsored by the Center for Sports Communication & Media, housed in the Moody College of Communication at The University of Texas.
NBC Sports broadcaster Mary Carillo emceed the event, attended by Jenkins and his family, including his daughter, Sally Jenkins, a columnist at The Washington Post.
Kindred won the Lifetime Achievement Medal. A sports journalist for more than 70 years and the author of 11 books, Kindred began his career at the Louisville Courier-Journal in 1959 and has worked as a sports writer for seven decades. His career has included stops at the Atlanta Journal Constitution, The National Sports Daily, Sporting News, The Washington Post and Golf Digest, where he has worked alongside Jenkins.
Kirk Bohls, a columnist for the Austin American-Statesman, presented Kindred with the award. 
"If Dan Jenkins invented golf writing, (Kindred) perfected it," Bohls said.
The Best Sportswriting Medal was awarded to Ballard for his Sports Illustrated profile of NBA coach Monty Williams. 
The story was selected among 13 finalists for the annual award. Ballard, who has also written for USA Today and the New York Times Magazine, attended Pomona College before receiving his master's in journalism from Columbia University. He has written four books.
"Effort is what mattered here," Ballard said. "It's not about asking the questions. It's about listening to the answers. If I'm going to call myself a storyteller, I'm only as good as the stories I'm telling. The whole industry is changing, but we still invest in stories like this." 
Known for transcending sports journalism, Jenkins is considered one of the greatest sports writers in history. One of three writers to be inducted into the World Golf Hall of Fame, Jenkins joined Sports Illustrated after spending 15 years writing for newspapers in Fort Worth and Dallas. Jenkins wrote for Playboy before moving to Golf Digest magazine.
"I set the (Sports Illustrated) magazine up next to my typewriter and typed Dan Jenkins' story just to see if I could type those words," Kindred said in his acceptance speech. 
Jenkins, Kindred said, "inspired generations of sportswriters." 
Read more about the award in Texas Monthly. 
This story is republished courtesy of the School of Journalism.