How two journalism students developed an idea into a documentary
Sitting in a dimly lit recording booth in a now empty newsroom, Tinu Thomas and Haley Butler give meticulous attention to every word and pronunciation. They are recording an episode of "The Orange Tree," a podcast they have been developing for more than a year.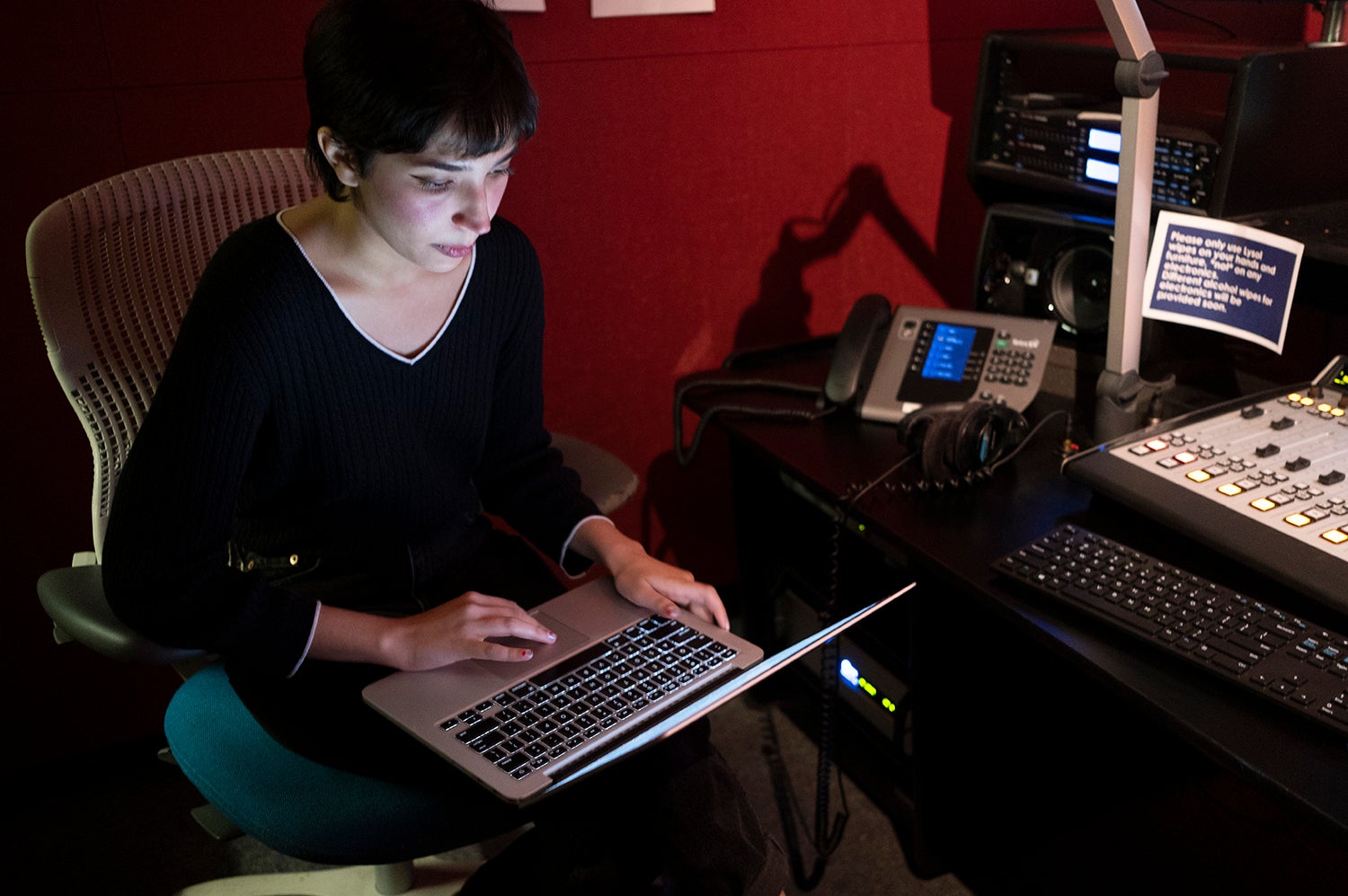 Tinu Thomas
Signs are posted on the walls, alerting users to wipe down equipment with sanitizer and foreshadowing a looming shutdown and production adaptation. This would be one of their last recording sessions before the coronavirus brought normal life to a standstill on The University of Texas campus.
The Orange Tree is a true-crime podcast devoted to collecting and weaving the stories and facts together surrounding the heinous murder of Jennifer Cave in August 2005. The brutal crime scene at the Orange Tree condominium complex, in West Campus which neighbors UT Austin, shook the city.
The beginning
Now graduates of the Moody College's School of Journalism, Tinu and Haley began creating The Orange Tree as seniors in February of 2019. Faculty member Robert Quigley mentored them as they crafted the story.
Quigley is also the Innovation Director of the Dallas Morning News Endowment. Inspired by podcast networks such as Gimlet Media and Wondery, in 2019 he formed The Drag, an audio production house within the Moody College of Communication.

Tinu Thomas (left) and Haley Butler 
Made up of students, professors and recent graduates, Quigley went on to hire Tinu and Haley as The Drag's first audio directors.
Before joining The Drag, Tinu and Haley had never met, but they shared an interest in true-crime podcasts and in the early days would meet in Quigley's office to bounce ideas off each other.
"I mentioned the Orange Tree murder from 2005. I remember the story well because I covered it when I was at the Austin American-Statesman as an editor. They had both heard about the story but didn't know a lot about the details," Quigley said. 
In February of 2019, they decided this crime would be the subject of their long-form documentary-style podcast. They immediately immersed themselves in the details of the tragic crime and its aftermath.
"It's really important to not only talk about what happened but to talk about the impact that it had. Without learning about Jennifer Cave, you can't learn about the full impact that it had and what happened in 2005. I just want people to be more aware, and we are glad to do the work so people can know that," Haley said.
The white board
The white board is an essential tool that keeps the team together and moving, which they started using on the very first day.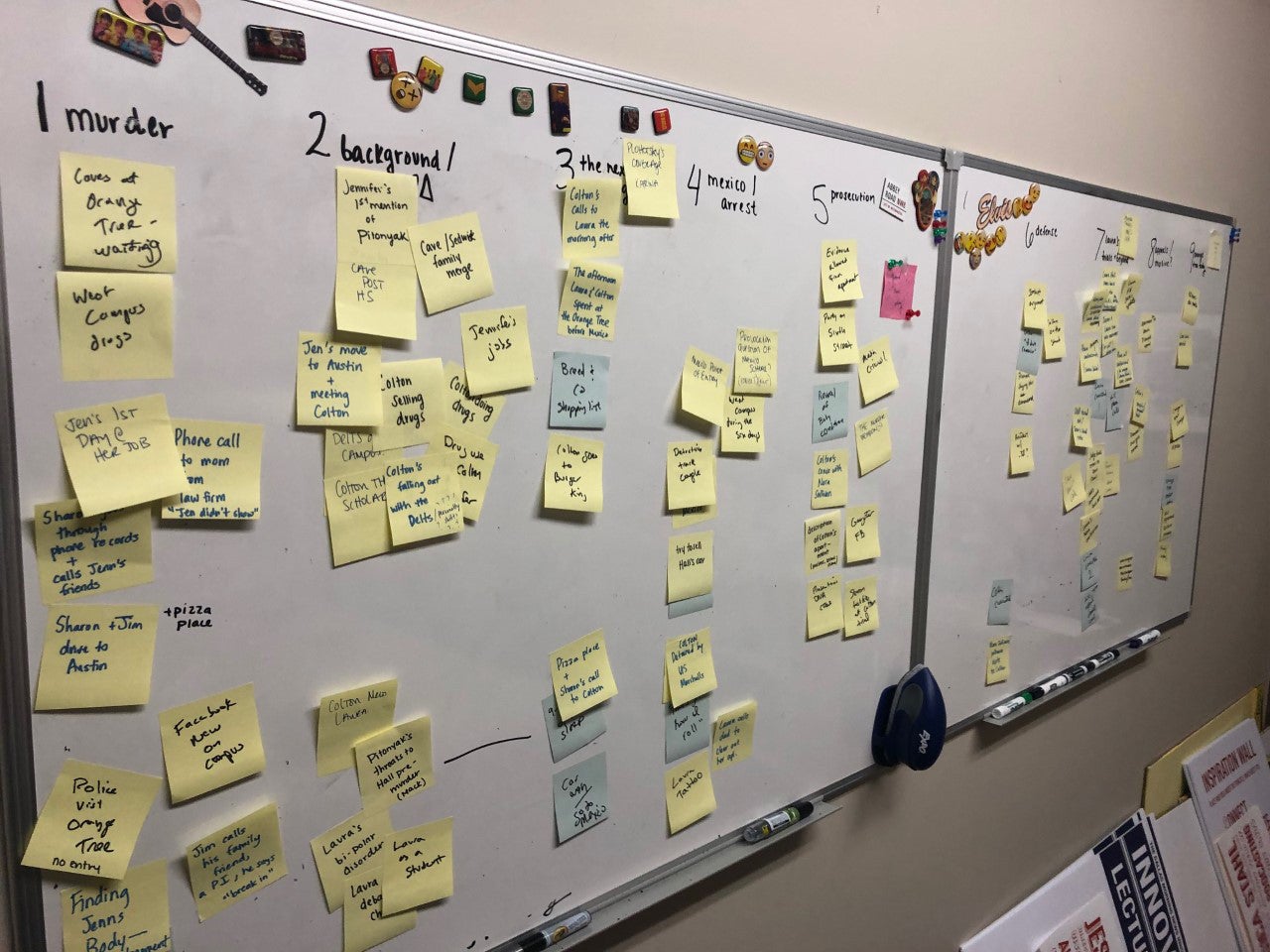 "We wrote down everyone's names from the court documents, victim's family, friends and family, detectives, lawyers on the whiteboard in red marker," Tinu said.
And from there, they split up contacts and began reaching out to people for interviews.
They spent the summer of 2019 storyboarding all the episodes on to the white board. Scripting each episode by bullet points allowed them to step back and look at the larger story to see what was working and what wasn't.
"What we found is that we outline, we outline, we outline, and we keep outlining as we go. There's never a stopping point when the story changes because the story is never going to change, but the way that you tell it is going to change throughout the entire process," Tinu said.
Partnerships and process
The Drag is partnering with KUT/KUTX for resources and production. David Alvarez, the sound engineer at KUT/X, has been crucial in helping Tinu and Haley record interviews and mix sound. The team has also been working closely with the general manager, Debbie Hiott.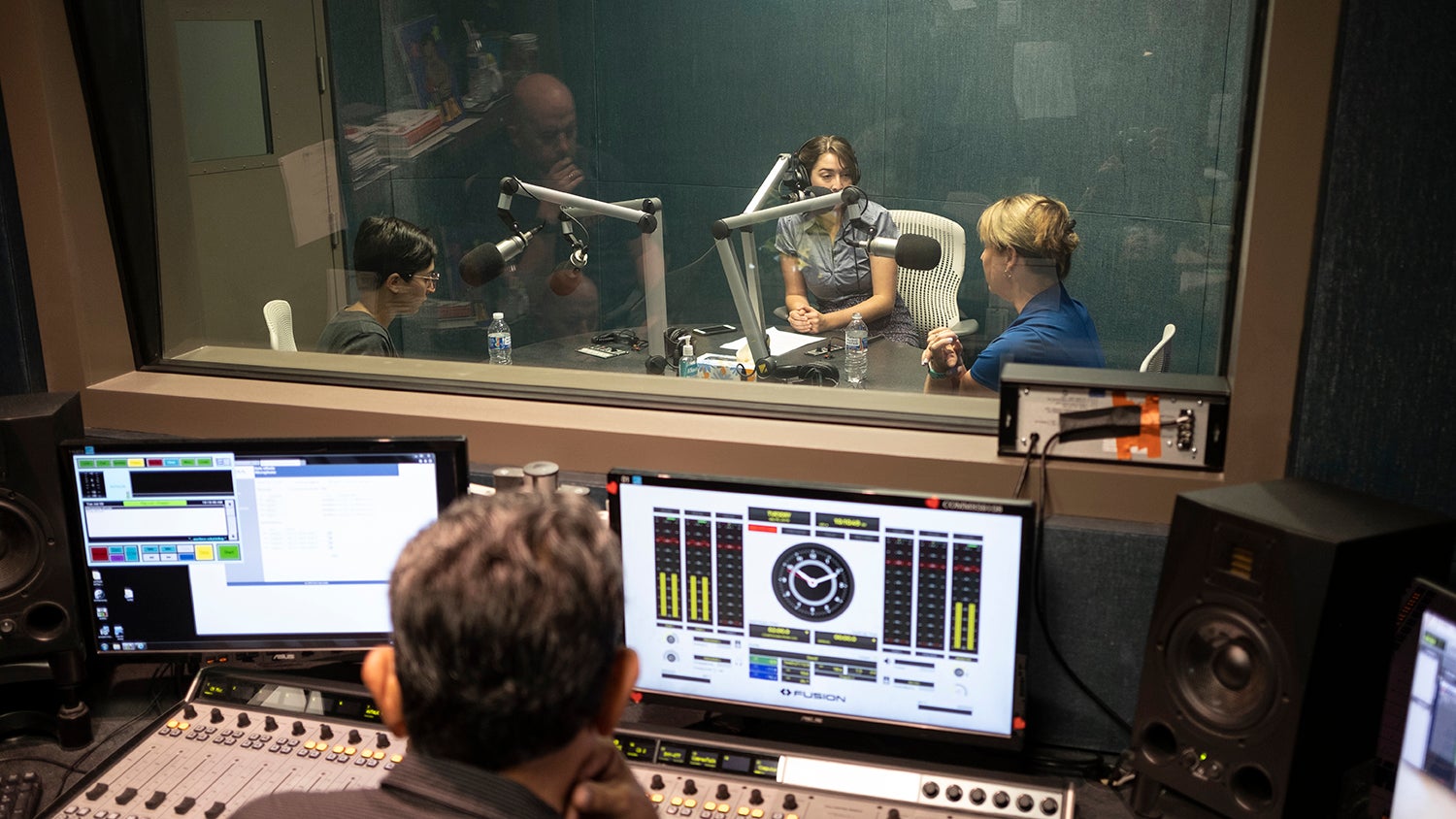 "Debbie has been there through the entire process, helping us, guiding us not only in our reporting but giving us advice through meetings. Having this wealth of expertise coming from people, willing to guide us through all of this process is awesome," Tinu said. 
KUT also helped provide lawyers who read through the scripts and ensure that "we are doing everything by the books," Quigley said.
Tinu and Haley gained access to the archives at KVUE and spent hours going through VHS tapes and laboriously converting the footage to digital files.
"For two minutes of tape, it would take us eight hours of looking through the shelves, and watching the tapes in real-time and putting it through 18 machines to get it on a CD to transfer it to a hard drive," Tinu said.
Tinu and Haley bond over the small things such as visiting the courthouses in downtown Austin and picking over documents. They needed access to assets from all three trials and appeals, located in different courthouses. Just from the original trial, the documents numbered in the thousands of pages.
"For a whole week, we went to the courthouse and started taking photos (of the court documents) with our phone and immediately uploaded them to Google drive, and we would go back to the office, pick up Torchy's Tacos on the way and read through everything," Haley said.
At first, they were intimidated by the legalese but quickly became adept at deciphering the trove of paperwork. "Haley and I get so excited about things that normal people wouldn't be. No one else wants to read court documents, but we do," Tinu said. 
Sensitivity and care
As fans of true-crime podcasts and documentaries, they noticed that these stories often focus on the graphic details of the crime, while paying little attention to the victim's story.
"We stepped back and asked ourselves, 'What if we did this in a way that has never really been done before?' Which is to take our personal experience of being 21 and 22 years old and apply that to this very heinous crime where we treat the victim with respect," Haley said.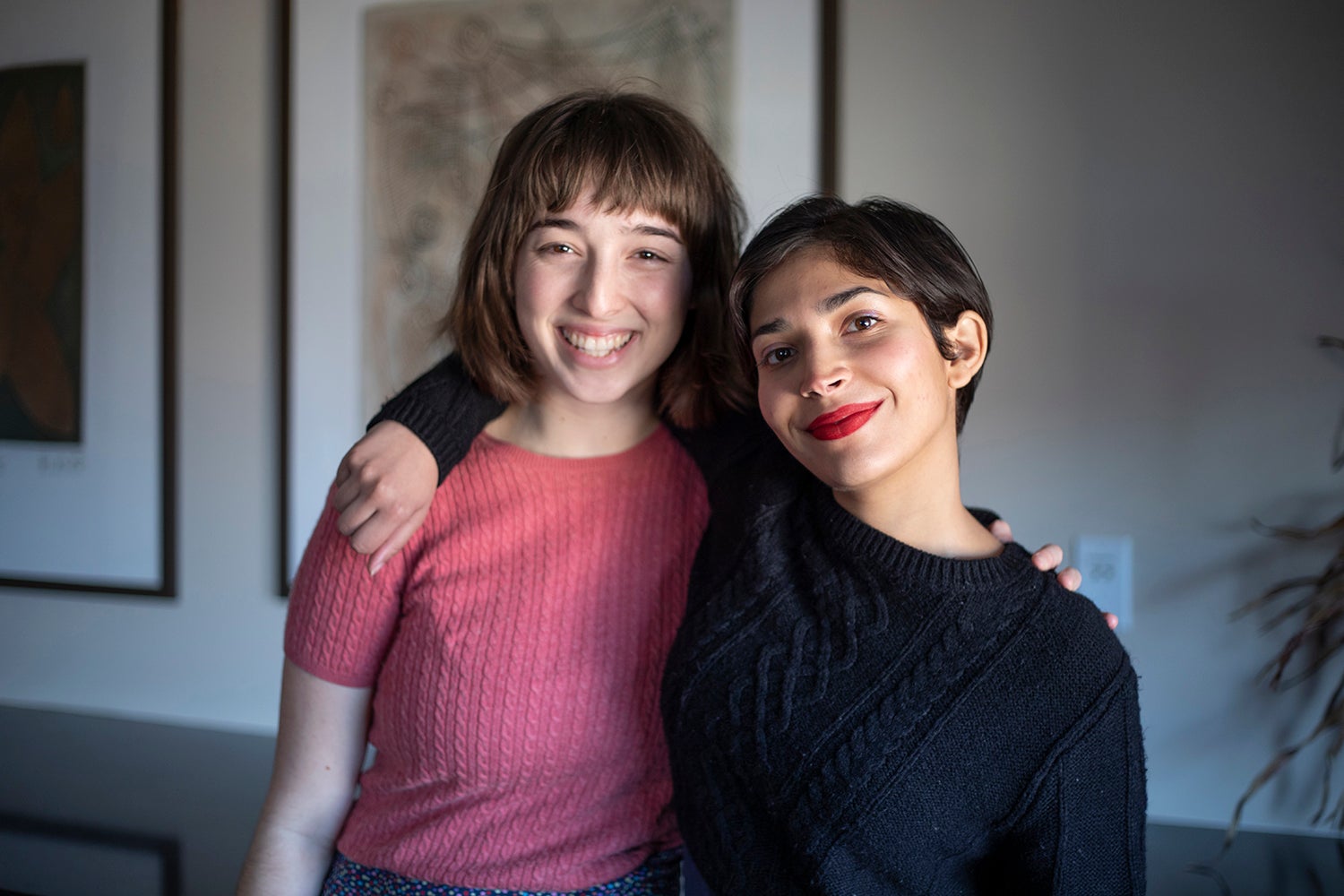 Cave was 21 years old and a student when she was murdered in 2005.
"We are taking an in-depth look at a story that has been covered by a lot of media outlets in a general way. We are going to present what happened in a way where we personalize every person in this story. It's easy to see them as characters, but as we started meeting these people, we realized they are all human beings," Tinu said.
Haley added: "We are really just trying to humanize everybody as much as we can, and that is what is so fantastic about the podcast medium -- you're not limited to time."
As they weave and retell the story, the listener will hear everyone's voice and hear the emotions and the pain they still feel.
"Haley and Tinu are sensitive reporters, and I am proud to be a part of telling a story in a careful sensitive way," Quigley said.
While interviewing contacts in prison, Tinu and Haley displayed professionalism and sensitivity on par with seasoned journalists.
Haley said: "I hope it inspires students to pursue that big story, and that you don't have to be a seasoned reporter. If you have a passion for storytelling, you can do it and if you have compassion and integrity, you can get people to talk to you. And I think Tinu and I did that. I think we had the right goal for this story and the right mindset, and we approached everybody in the best way that we possibly could."
Confidence, curiosity to remain on course
Tinu attributes her reporting skills to her favorite classes at Moody College. Haley also credits the support network as a source of inspiration and purpose.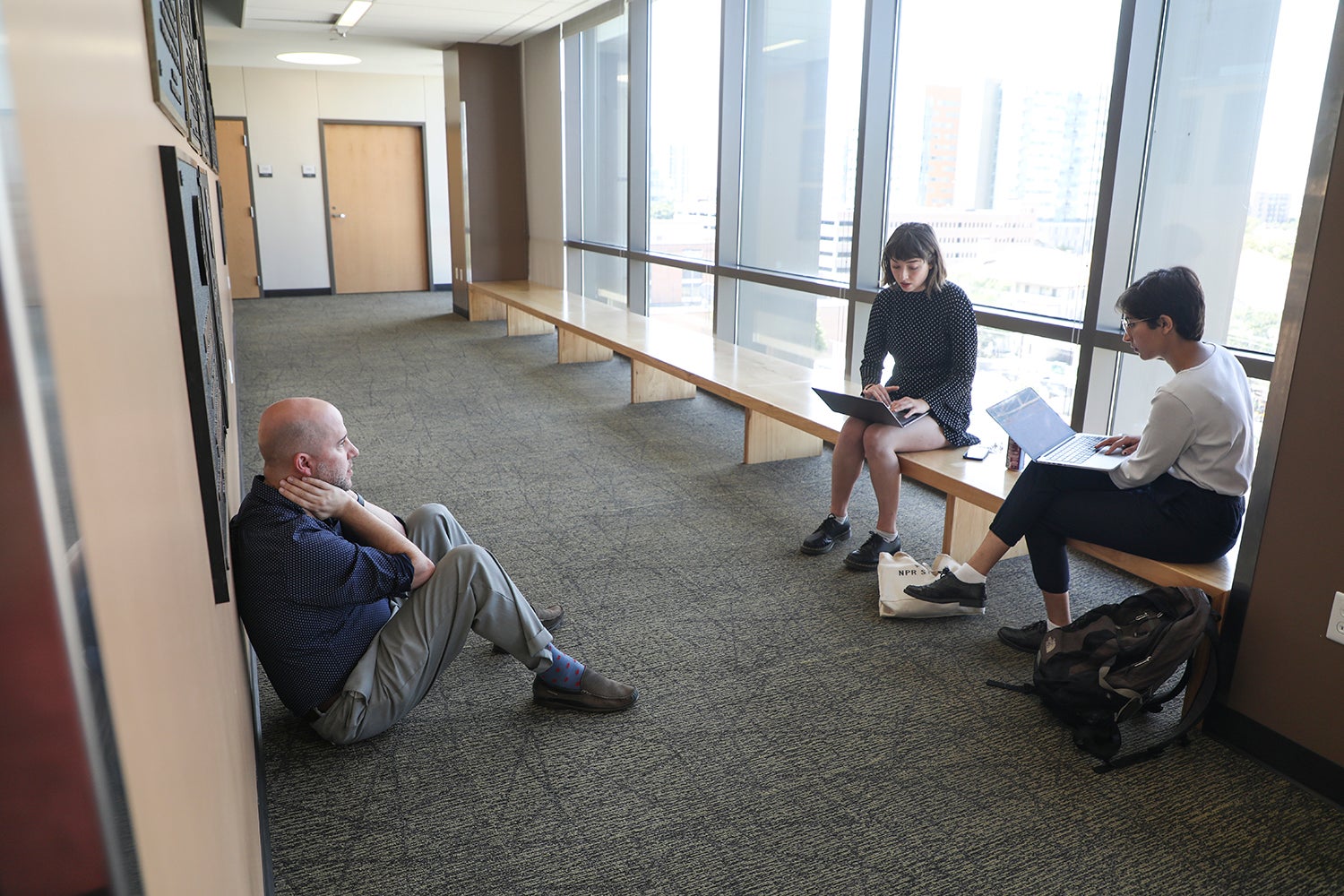 "What I experienced at Moody is not a lot of teachers, professors, advisors will tell you no. If you have an idea, then you should pursue it in some shape for form," Haley said. "That has really inspired me to keep trucking along in this process."
Their curiosity often led them to different and unexpected sources. Going through every contact available, they relied on people to vouch for them and lead them to other sources.
"For example, we talked to a detective that really trusted us and understood that we are telling this story with care. That person would convince his colleague who was on the crime scene to speak with us," Tinu said.
They didn't think they would hear back from Colton Pitonyak, the man convicted of murdering Cave, when they reached out. Eventually he agreed to talk after Haley and Tinu had gained the trust of his parents.
"We felt like there is a reason for us to tell these stories because everyone impacted by this case was willing to speak to us," Tinu said.
Pitonyak had never spoken to the media, and Tinu and Haley were the first to interview him, as well as his parents, who flew to Austin from Little Rock, Arkansas to be interviewed.
"This has been the most interesting journalistic endeavor I've done in my career," Quigley said. "This is storytelling in a super immersive and detailed way. It's interesting, it's fun, it's sad, it's difficult, it's challenging. I love challenging our students."
Collaboration
Tinu and Haley decided early on in the partnership to remain transparent and open with each other throughout the process.
"We talk about everything, no matter how trivial the comment or discussion is. We talk about our fears, worries, excitement and when we talk, it always makes it better," Haley said.
Quigley co-teaches a digital innovations capstone class with Christian McDonald. The class is operated like a newsroom with teams working on different podcasts, content, marketing and social media.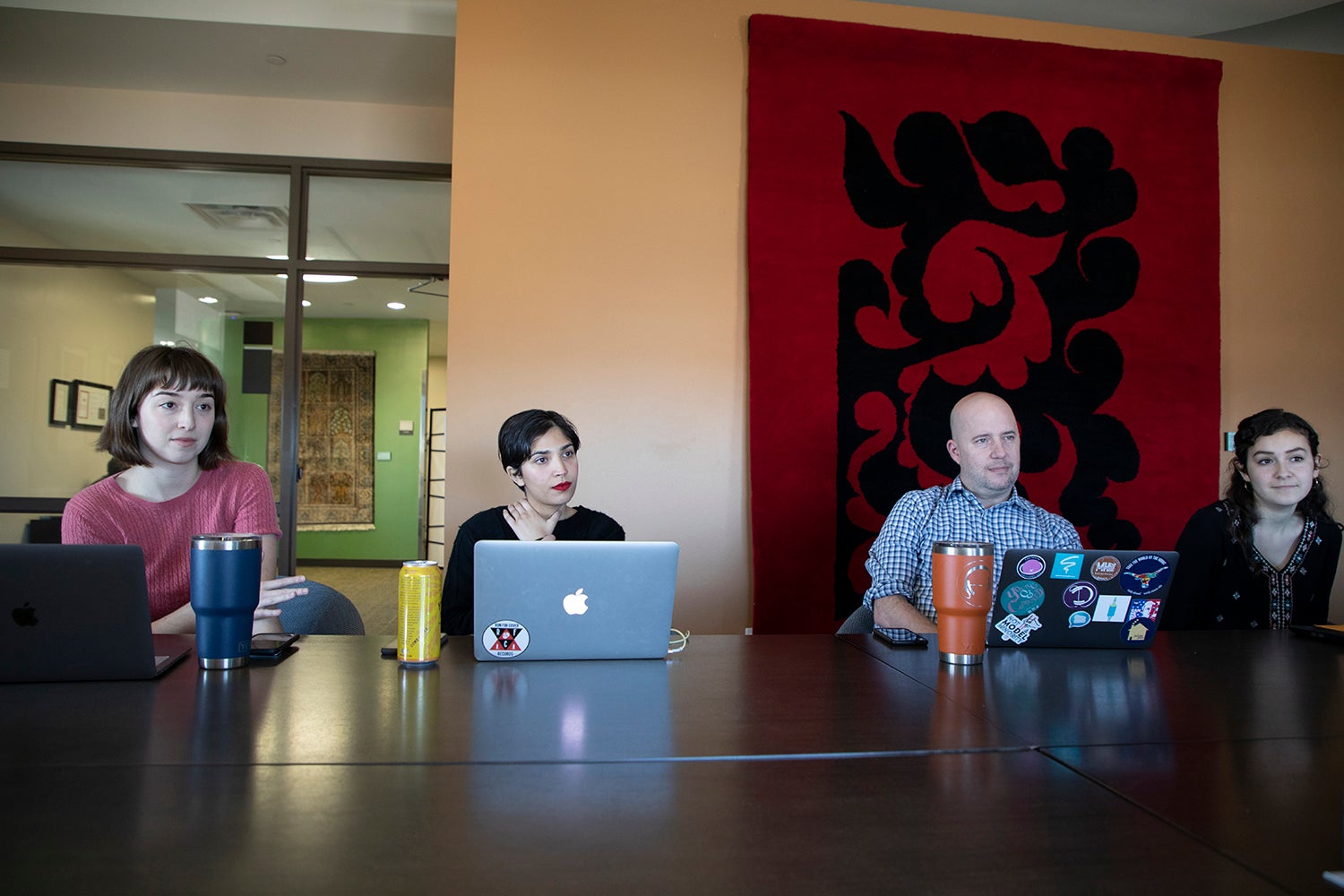 "Students are getting this immersive multimedia experience while creating long-form podcasts. They are working in a professional environment," Quigley said.
The 23 undergraduates in the class contributed to The Drag through marketing efforts and storytelling. 
"Robert has been there from the very beginning and he hired us. He's been just as excited about this as we are. He gave us contacts, supported us and guided us through this process," Tinu said.
Said Haley: "It's a collective effort, the goal is to use our incredibly talented students from journalism to marketing, PR and advertising and allow them to be a part of a big project that could potentially see nation-wide attention."
Adaptability
Everything had been written by the time the COVID-19 health crisis hit. The only thing left was to finish recording and editing the episodes. The pandemic changed the way they communicated and collaborated.
Slack replaced the whiteboard. Zoom meetings replaced in-person meetings. But the biggest challenge they faced was editing the episodes.
"File organization has been the most frustrating thing," Haley said.
It was more efficient to edit and make changes to the audio tracks when they were together instead of going back and forth on the Slack channel.
"We had to readjust our timeline to accommodate everything that was happening around the world," Tinu said.
Haley normally supports her mental health by spending time with her friends. "I had to learn during this time period to cope with stress differently," she said. "I've coped by journaling and doing a lot of outdoor activities."
There has also been an added layer of emotional toll with the civil unrest unfolding across the nation.
"I miss being around people and not feeling so alone after you've been working on a heavy story," said Tinu.
Sabrina LeBoeuf, The Drag's student marketing lead, has been organizing a weekly virtual happy hour for everyone to stay connected.
"Our goal has remained the same from day one. I think audio and podcasting has the capability to focus on the details. I am hoping people will forget about their own pressures in life and for a second empathize with these families who are still feeling the impact of this crime," Tinu said.