Genesis Student Film Fellowship provides MFA student exposure to explore
By time Ed Hancox arrived at The University of Texas to pursue an MFA in film production, he was already an experienced filmmaker.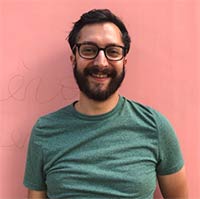 For Hancox, the master's degree program with the Department of Radio-Television-Film provided an opportunity to explore and pursue projects that further awakened his skills as a filmmaker. His 2016 documentary film, 219, which he made during his first year in the program, was a BAFTA finalist and was featured on the BBC.
Hancox is currently working on his thesis film, and this fall he completed a seven-minute documentary titled, "The Castle That Melts," thanks to the Genesis Student Film Fellowship, which was created by Great Big Story in partnership with Genesis to mentor and celebrate the next generation of filmmakers.
"School allowed me time to look around and figure out what kind of films I want to make," Hancox said. "The grant gave me professional exposure to understand more about storytelling."
In association with Great Big Story, Hancox was paired with a senior producer who mentored him throughout the filmmaking process. The film focuses on a massive ice castle nestled in the frigid White Mountains of New Hampshire, the team of artists and engineers who construct the castle and the lives that are touched through such a wondrous creation.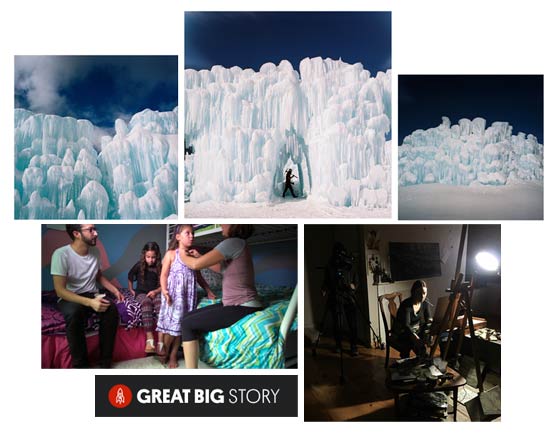 WATCH: "The Castle That Melts" 
That's a lot of information and detail to capture in a mere seven minutes, which is exactly the learning process Hancox embraced.
Drawn to make a movie about the castle because it was "visually appealing," Hancox also had to figure out how to hook into the story quickly and how to propel it forward in such a way that compelled viewers to stay to the end.
The film screened in Busan, South Korea and at the 2018 Austin Film Festival.
"What is effective storytelling? I'm not sure how to answer that other than to say that you feel it," Hancox said. "I learned to listen to my gut and trust my instincts when following the story and telling it."
Hancox also has experience on his side. When 219 was released on the BBC's on-demand platform, it ranked among the top-10 most streamed programs in the United Kingdom. He was also previously based in London as a documentary producer.
"I'm grateful for the grant, because it allowed me the chance to learn about storytelling from the best people in the world," Hancox said.