Get Lifted Lifts Black Voices
An interview with TV, film and theater producer Mike Jackson
Emmy and Tony Award-winning producer Mike Jackson got his start in the film industry in his early 20s. He was working as an event producer at the time and felt called to tell stories. He thought, if he could produce an event, he could produce a TV show or movie, so he quit his job and took an entry level position at a production company. It was a bold, and perhaps naïve move, he said, but one he's thankful he made.
The film, theater and television producer today has countless accolades behind his belt. But he is perhaps most known, and most grateful for, his work elevating Black artists and Black voices through his production company Get Lifted Film Co., which he co-founded in 2012 with his childhood friend Ty Stiklorius and music superstar John Legend, an EGOT winner. Aka Emmy, Grammy, Oscar and Tony.
Jackson previously worked as Legend's manager. When Stiklorius introduced them, they became fast friends. Legend was touring his first album. Jackson said he recognized in him the ability to become a great storyteller — in music, as well as other platforms. Get Lifted Film Co. was born.
"We have been endeavoring ever since to tell great stories and highlight the multicultural experience while remaining inclusive of all people and all people's stories," Jackson said.
Get Lifted Film Co. has produced such notable titles as "La La Land," "Jingle Jangle: A Christmas Story," "Jesus Christ Superstar Live," and the HBO docuseries "Atlanta's Missing and Murdered: The Lost Children." And they promise more outstanding work from Black artists to come.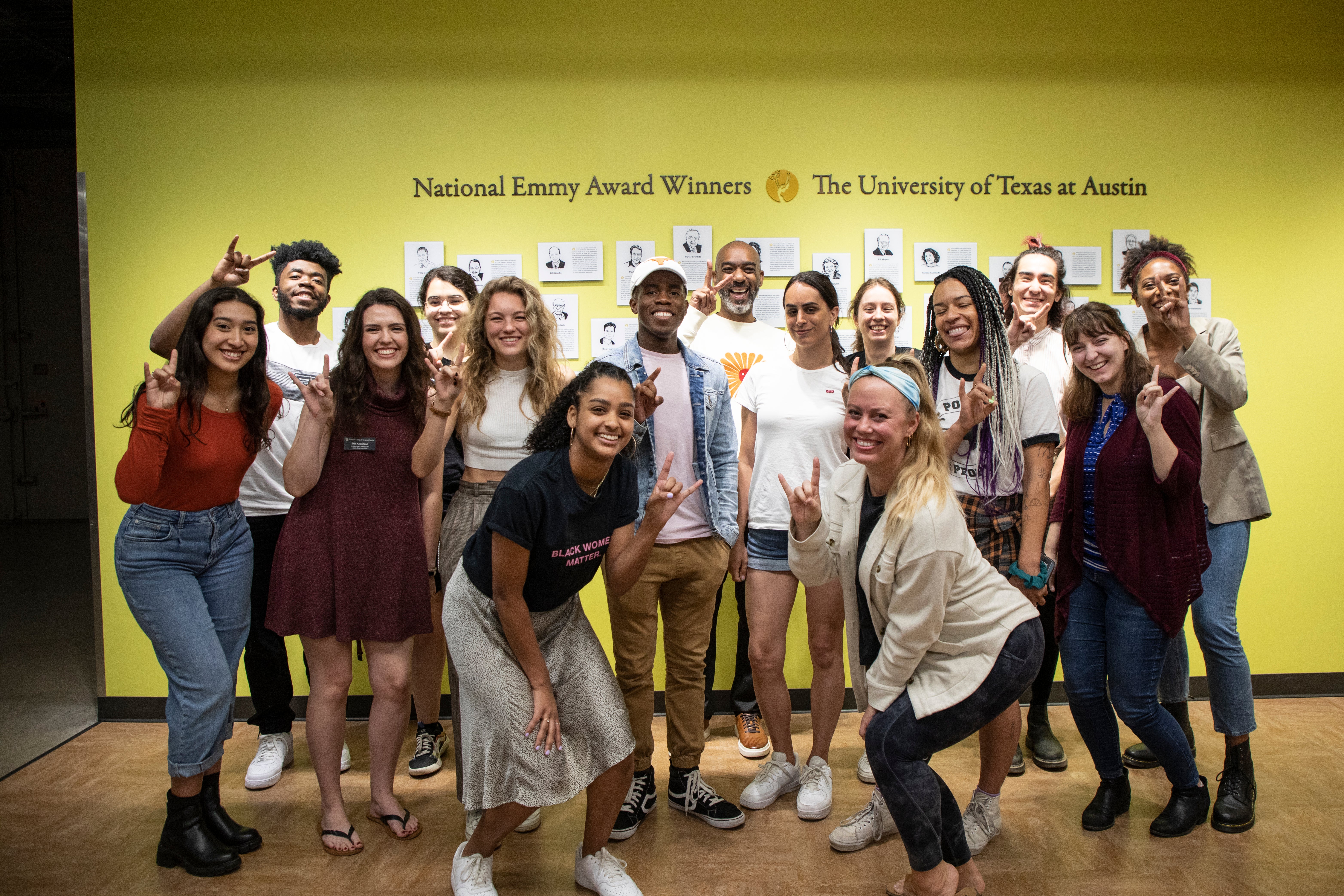 Jackson, who recently moved to Austin, visited a Radio-Television-Film class this month to talk about his experience as a producer and give advice for students after they graduate. We got to catch up with him after and ask a few questions. Read our Q&A below or watch the full video.
This article has been edited for length.
What kinds of stories are you drawn to at Get Lifted Co.?
The types of stories we're drawn to at Get Lifted really don't fall in one box. People want to think we're just going to be the music guys (who) like really cool musicals like "La La Land." But the truth of the matter is, for us at Get Lifted, we are connoisseurs of pop culture, and there are so many things that we're attracted to. For us, it's just about the story. I think we have been inundated with a lot of stories that center around Black trauma, and I do think that those stories are necessary, and we will never shy away from telling those stories because, again, if trauma is happening someone needs to be able to talk about it to affect change. I do believe, however, right now, on the verge of coming out of the pandemic and George Floyd, there has been a lot of Black trauma stories that have been pushed to the forefront, again, as they should be. But I think right now it's nice to have a shift to Black joy and Black happiness and highlight those experiences as well. What we don't want to do is only talk about our pain and only have people see us in painful scenarios because we are a complete type of human who experience complete thoughts and emotions, and I think it's important to highlight those experiences as well.
What is your inspiration?
I think what inspires me the most has shifted a lot over the last years. Early in my career, to be honest, was about ego and satisfying this urge to be this thing or this person in the business. And I'm not saying that I've lost that edge of wanting to be successful. But as I've turned 50 and I'm a father of two and a husband, I find most of my inspiration now coming from my family and wanting to be a good role model. I want my legacy to be something my children are proud of.
What is the most challenging thing about your business?
I think the biggest hurdle for us is cultivating relationships with emerging writers and creatives of color while convincing studios and networks that they're worthy of opportunity. We know they're worthy, we know they're there but sometimes the business is a little bit behind when it comes to creating opportunity. There have been leaps and bounds made within the industry as far as promoting voices of color, and I'm really proud of the business for making these strides. But it's still a hurdle that exists, and it's still something that we need to fight every day and are fighting every day in hopes of creating a larger talent pool, so we have more resources to pull from for creatives of color.
What advice do you have for our students and specifically students of color?
I think the best advice that I can give for the students here at Moody and students of color, don't let your ego get in the way. Stay focused on the dream and stay focused on the thing that inspired you in the first place. The business of entertainment is always going to be there, but if you stay focused on the creative drive you have and the stories you want to tell, the business will take care of itself. I am living proof of that.
What is your favorite thing about Austin so far?
There are so many great things about this city I'm excited to explore and lean into, but one of the things I really enjoy about Austin is the convergence of tech and sports and entertainment and how they are all just kind of crashing into one another. At any given moment you can be a leader in tech that created this thing that sold for "X," and it's just so impressive. They are doing the same thing we are doing, just chasing their dream and trying to figure out a way to make it happen. I think there is this wonderful new opportunity here as these worlds collide to kind of create a system to help fund content and help us push it out.
People are all coming here for the same reason, to hit a reset on their life. I love what Austin brings to the table as far as creativity and resources and beauty and history, and I think Austin is just a wonderful place to raise a family and to cultivate your creative juices. I'm very excited for the choices (my wife and I) have made that have led us here to this moment where we are here and taking full advantage of this wonderful city, and I hope that I can be an active participant in the community and help shine a little bit of a light on this amazing place.
And the BBQ is great.