MFA graduate creates friendship through film
Film, music and civic collaboration collided at the first annual Crossroads Festival in Brownsville, Texas. The three-day event coincided with the 87th annual Charro Days. Charro Days is a fiesta where sister cities, Brownsville and Matamoros, Tamaulipas, Mexico celebrate their unique heritage and shared border of the Rio Grande. 
Rene Rhi, who earned his MFA from the Department of Radio-Television-Film, founded the Brownsville Film Society and helped bring this new film festival to life. Rhi invited Moody College of Communication film students and alumni to screen their films.
"The festival gave our students the chance to show their work to an audience from Texas, California and Mexico," said Noah Isenberg, Department of Radio-Television-Film chair. "Brownville really is at a crossroads between Latin American and the U.S., and that was palpable on every level."
A dancer's foot tip-tapping throughout Ballet Folkolorico performances, the smooth bellows from the mariachi band and thoughtful conversations about filmmaking in South Texas – these are just a few snippets of sound and inspiration the festival produced.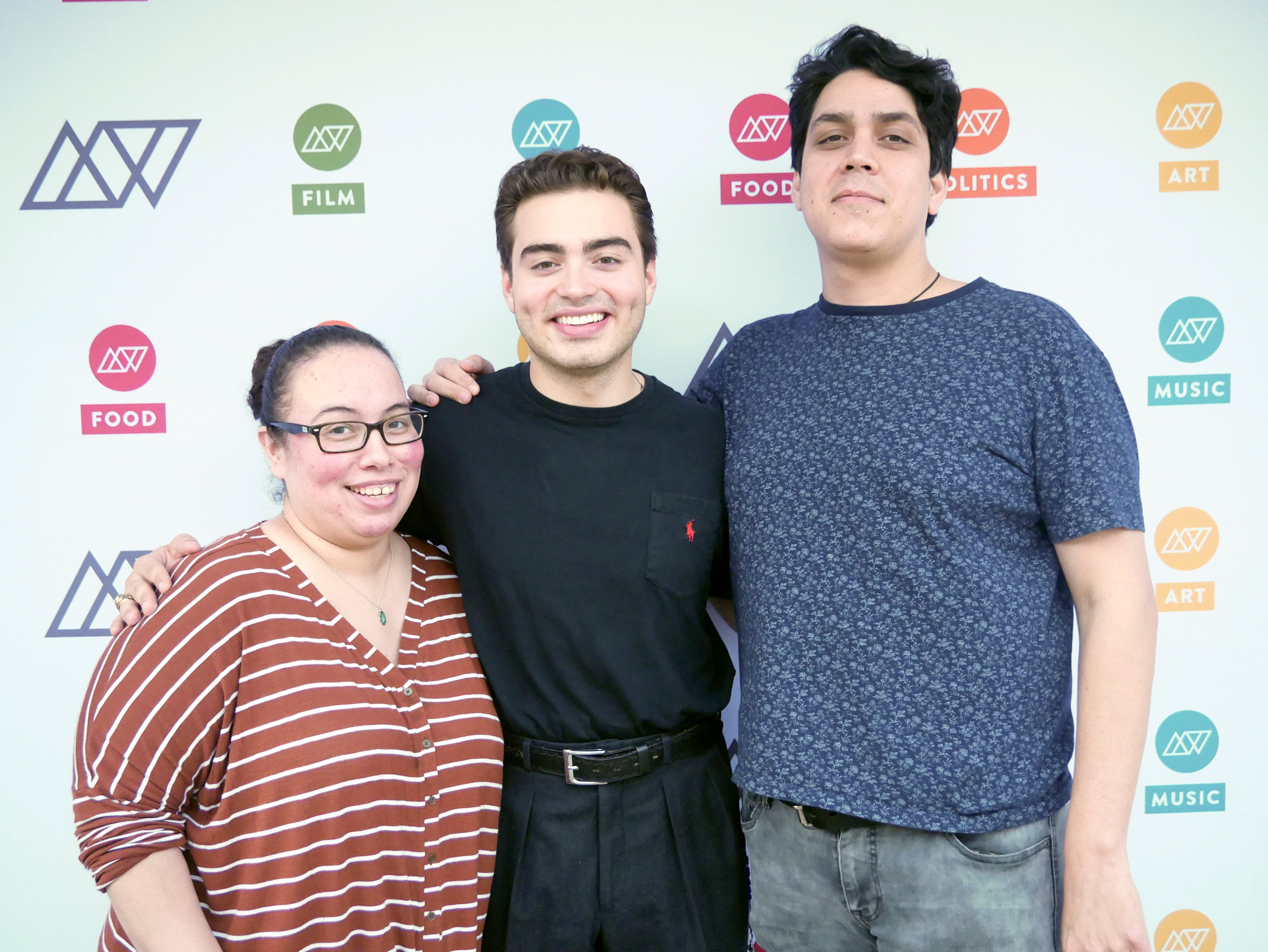 Marisela Campos (left), Elias Hinojosa and Andrés F. Torres Montaguth
"It took me leaving (Brownsville) to miss it so much. We should encourage and embrace what we already have (here) and show young people and kids that this is a playground for creativity," said Elias Hinojosa said, a 2019 graduate who screened his short film, "Widow."  
Marisela Campos graduated in May 2019. Her family originated in Brownsville before settling in Victoria, Texas. The opportunity to screen her undergraduate thesis film, "LUPE," helped bring things full circle.
"I was so proud to show my film in the place that inspired me to tell stories about my community," Campos said.  
After leaving UT-Austin, Rhi went on to become the youngest director of CineFestival San Antonio, and he also started Lobo Films, a Los-Angeles based company with ties to the City of Brownsville. Rhi recently helped co-sponsor The Burnt Orange Party at Sundance Film Festival in January 2020. He hopes to bring alumni, students and faculty together for networking opportunities and to build connections.
Rhi recently spoke with Moody College about his career path and his plans for the creative community in Brownsville, Texas.
Why is it important for you to give back to the community and bring a creative atmosphere for the younger generation? I love this city. I feel like there's this new movement in Brownsville, especially in downtown where our city leadership and commissioners and the people who are involved in the arts are creating these new opportunities for our young people.
As a filmmaker, I want to start creating films in Brownsville and train the young people to start working on some of these movies that we want to create.
The goal of Brownsville Film Society is to provide opportunities for young people who might not be able to afford private classes or lessons. We are trying to provide services in having those kinds of classes for our community who might not be able to afford it.
We want to teach kids how to use the new technology, not only use it but how to make a living with it. We will show them how to monetize skills, and for example if you like to draw, how can you make money from applying those skills to storyboarding for films?
More than anything, it's because we love the people, and we want to start creating these festivals for the community, and we want people to see what these young people can do.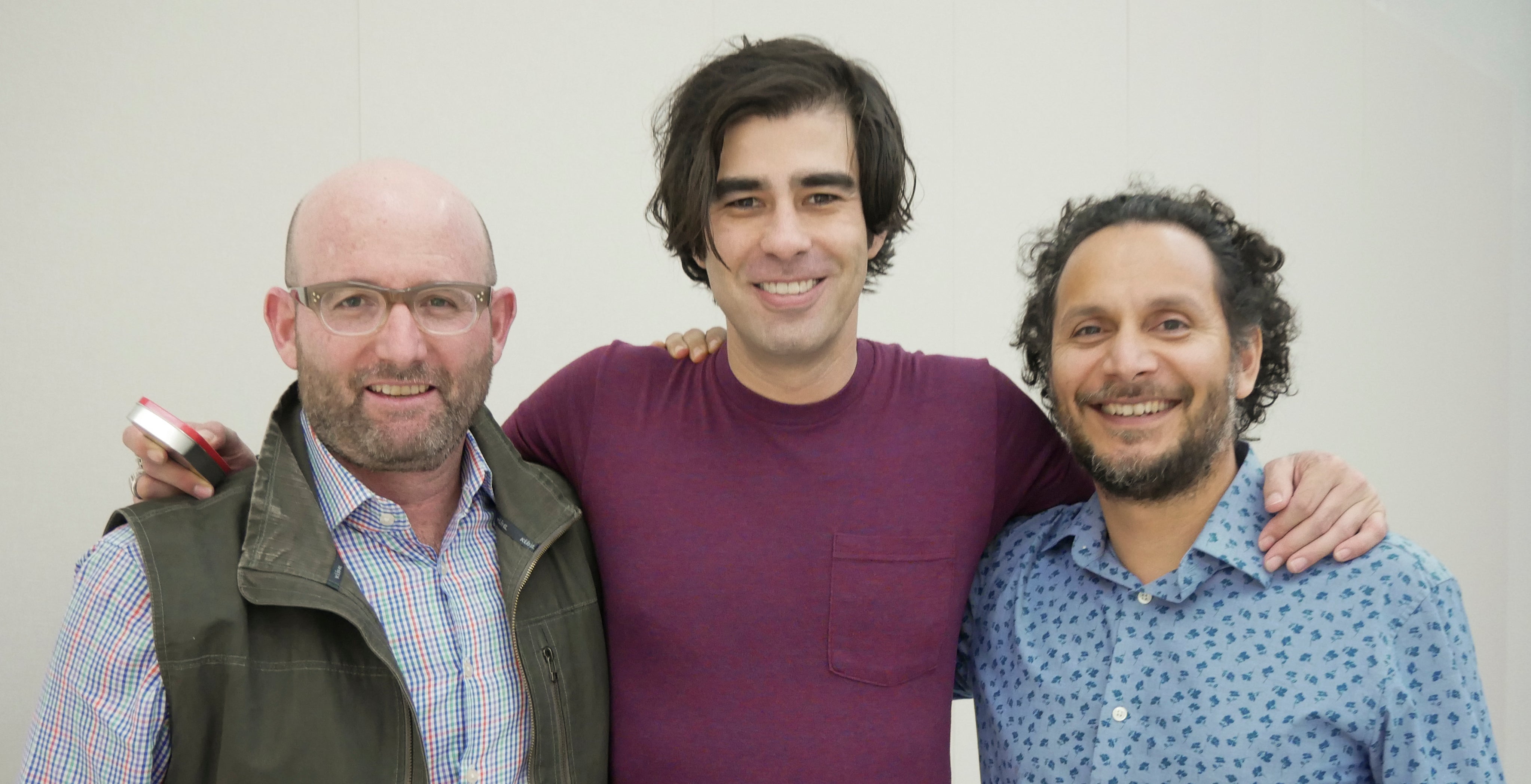 Noah Isenberg (left), Rene Rhi and Miguel Alvarez
What are you hoping students will take away from the Crossroads Film Festival? We want people to come visit Brownsville and see how unique, beautiful and historical this city is. We want to invite young people who are studying film to start networking with other filmmakers.
We invited two universities from the United States and two universities from Mexico, The University of Texas at Austin, University of Southern California, Tecnológico de Monterrey and Universidad de Monterrey. The idea is for the students to showcase their films so our community can see some of their work. And for the filmmakers and faculty to come to Brownsville and meet at the "crossroads," which is Brownsville, to network and start relationships, friendships and who knows, in the future, they can collaborate together.
My hope is that some of those universities can start an exchange program so Mexican students can go to Austin and make films, and the same goes for UT students. They will get a different perspective on how to make films and be exposed to a different culture and language.
Why is it important for students to be exposed to LatinX filmmakers and the community? It's about getting a different perspective. The culture in Brownsville is really unique in south Texas. I don't think you can find it anywhere in the country. We have a strong relationship with our sister city, Matamoras and a tradition since the 1880s.
It's going to be very beneficial to them and maybe inspire or expand their mind a little bit more and find a story that they are compelled to tell that is completely different than their culture or language.