Black television through the years
RTF lecturer engages with media to learn about, analyze culture
Adrien Sebro's lifelong interest in film, television and media is more than a passing curiosity. He considers it a tool to learn about different cultures, languages and customs.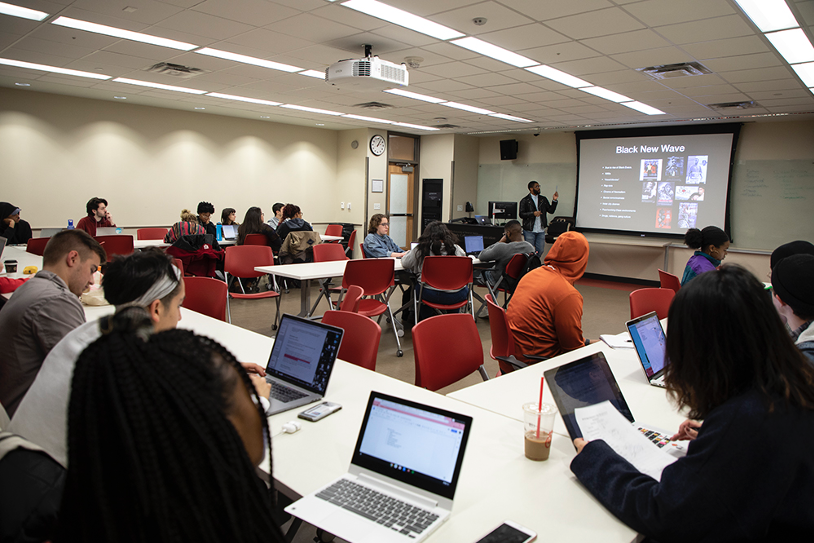 Sebro and his film and media students
"Specifically, the different forms of blackness seen across media have always made me interested in investigating my own culture and identity," Sebro said. "As I got older, I realized that film and TV are crucial for communication, and they hold significant political power. I want to always encourage whomever I come across to be conscious of that power and to use it responsibly."
Sebro is a lecturer in the Department of Radio-Television-Film who researches and teaches on U.S. black television sitcoms, television history and filmmakers across African Diaspora. He will begin a tenure-track assistant professor appointment in fall 2020, and he recently visited with us to offer insight and analysis on the portrayal of black characters and cultures through the years.
Origins of black representation in television
"Television came out largely in the 1940s, during wartime, and it was largely this space of coordinated America and how people wanted citizens to be seen," Sebro said. "Television was actually called the 'citizen machine,' and it was a means of controlling America, showing what living in America was like, which was white middle class.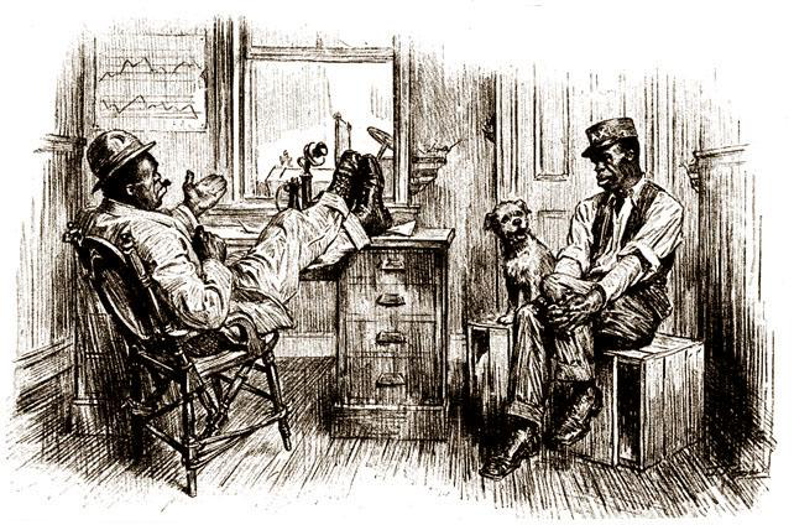 "The first black sitcom originated from a radio program, Amos 'n' Andy, in which two white men portrayed the characters, acting as what they thought to be poor and black."
When adapted to television, "it was the first show to have an all-black cast, to talk about the black community, but it was obviously still othered."
"It wasn't until the 1970s where you see television come to fruition talking about real social issues, and particularly it comes to black television shows in the 70s. Sitcoms like Sanford and Son, Good Times and The Jeffersons look at black communities and do a better job of showing them in a realer light. These are shows about families trying to run a business and trying to make ends meet. These actors had their lives threatened and put their lives on the line because they realized something larger than themselves, and because of their sacrifices we have this history of how we see and enjoy television today."
90s boom in black television
"Television producers do what is catchy. They do what is going to make money, so in this 90s moment, it's about hip-hop and black popular culture selling."
Fresh Prince of Bel-Air, In Living Color, Martin and Living Single were at the center of popular culture.
Issues of representation in the 2000s and beyond
Shows like Black-ish are directly talking about silent issues present today, but representation is still a struggle behind the camera.
"A large issue with black television in general, and with sitcoms specifically, is the lack of authoritative power, which usually informs how long a show will last. You may have power in how many black people are on the set, which is great, but also how many are behind the camera, who is in the writing room, who all is in executive power? That means just as much as who is onscreen."
"The history of black TV and film are important for me and my teaching because more often than not we as viewers consume media without question. I believe it's important to question everything we view with regard to black culture and how that imagery has changed over time. From there, we can be more conscious of black history and what shapes popular understanding of black culture."