Radio-Television-Film lecturer sheds light on the role of a film producer
In July 1998, Chris Ohlson decided to make Austin home after visiting 40 of 50 U.S. states during a two-month road trip across America. After working in construction and in restaurants, Ohlson earned his chops in the Austin film industry as a production coordinator for commercials and low budget movies as he built his reputation in town.
After years of hard work, he won the Piaget Producers Award at this year's Spirit Awards and his film "Kumiko, The Treasure Hunter" was picked up for national distribution one year after premiering at the Sundance Film Festival and SXSW.
A new addition to the Department of Radio-Television-Film, Ohlson lectures on producing while also pushing and promoting his own films. We sat down with the 39-year-old to learn more about the often mysterious role of film producer.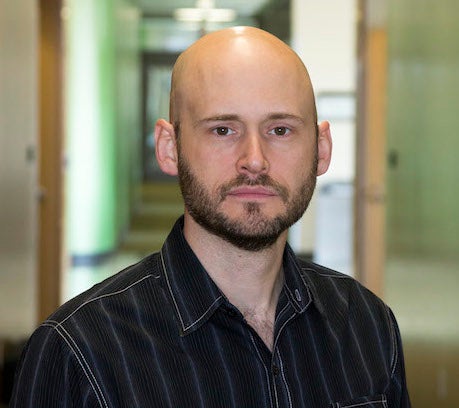 There is a lot of confusion surrounding what a film producer does in their job – why is that?
I think there are several "styles" of producers…some are more about financing, some are more attached to projects in the development stage and others are able to acquire a producer title of some sort because of one thing—or a handful of specific things—that they did for the project. I am—and the people I strive to work with and consider true producers—are creative producers. We're involved in all the key creative decisions of making a movie from casting to locations to hiring department heads and all the way through various edits of the film including what the poster and website may look like.
How would you define your job as a film producer?
It's simple, for me. If the director is the mom, then I'm the dad. I'm involved every step of the way because I absolutely want to be. I'd say that I'm a hands-on creative producer—constantly in the mix, looking at the nuts and bolts of "how do we actually do this." From a practical skills standpoint, I rely on my flexibility, my can-do or must-do attitude, a single-minded work ethic and my diverse work experiences. Over the years, I've worked as a production assistant, a coordinator, an assistant director, a line producer and everything in-between. I like talking about story and character and location just as much as the nerd-tech aspects of camera and lighting packages. I rely on all these experiences to inform my decisions as a producer.
What do you do on a day-to-day basis?
On a day-to-day basis, I juggle any number of things. Since I'm promoting a film while also prepping a couple of others, I'm constantly communicating with writers, directors, key crew personnel, financiers and agents. Much of what I do is strategic in that I'm creating and overseeing "the big picture plan" of how we get from the concept of a movie through the scripting, production, editing, sales, delivery and promotion!
How did you learn to produce?
I've learned by doing. I've made tough mistakes, including expensive ones. But I've learned by actually producing films.  Shorts, features, docs, web series…I've learned by trial and error.
What are the two or three best pieces of advice you can give to your students who would like to produce?
It's important to be nice…sounds silly, sure. But this is a very small industry and a production assistant one day is running the company and financing your next film the next day. I also think you need to be very aware of motives. What does everyone want out of a certain project or film? From the financier to the cinematographer to the editor and the lead actor—make sure people are working with you for the right reasons. A producer needs to understand a person's motive for being involved in a particular movie.
What did you do at SXSW this year?
SXSW was wonderful this year as it was the first time in quite some time I didn't have a film playing at the festival. I was on the Texas Shorts film jury, served as a producing mentor for one-on-one sessions with filmmakers, and talked about low budget filmmaking on two different panels.
  Are you working on anything else right now?  
I'm already hard at work on a couple of new projects. The Zellners and I are putting together a new project—a western, set in 1880. I'm also developing a new project with writer and director John Bryant called "Conspiratocracy."  It's about a conspiracy theorist, who, following the theft of his guitar, sets out on an epic one-day, Quixote-like adventure saving America and the planet from an international conspiracy involving a U.S. senator and a NASA scientist.