Distilling Opinion into Image
Pulitzer-Prize winner Ben Sargent to deliver spring 2014 commencement address

Ben Sargent (B.J. '70) was born into a newspaper family in 1948. As a sixth-generation Texan and native of Amarillo, he started working for a local paper as a proof runner at the age of 14, delivering proofs of advertisements to neighborhood merchants for content approval. This modest beginning in journalism launched a career that would eventually garner decades of national attention, including the Pulitzer Prize.
"The irresistible appeal of exciting, influential work in the center of events made for a natural career choice," said Sargent.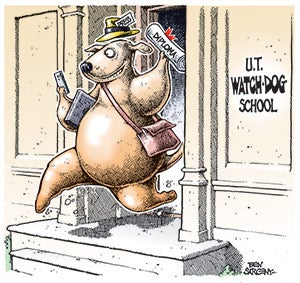 Following graduation from the School of Journalism, Sargent worked as a reporter for five years, mainly covering the State Capitol.
"The main advantage of a university journalism program is that it offers a real newspaper where an aspiring journalist can learn his trade hands-on, and that was certainly what The Daily Texan provided me," said Sargent. "Classroom work, of course, can deepen a young reporter's understanding of what he's doing and why, but the real training is in the newsroom and on the story."
Sargent worked for The Corpus Christi Caller-Times, Long News Service, United Press International, and The Austin American-Statesman, where he started drawing illustrations for feature stories and editorial cartoons in August 1974.
"It's a unique opportunity to be an opinion journalist in a medium that appeals directly to the reader's feelings, emotions and subconscious, and always a challenge to find ways of distilling opinion into a powerful image," said Sargent.
Sargent spent the next 35 years at the Statesman, periodically sending cartoon samples to all the syndicates handling editorial cartoons. The Universal Press Syndicate began distributing his comic strip nationally in 1985. He retired in 2009. Among many other accolades, Sargent is winner of the 1982 Pulitzer Prize for editorial cartooning and was a finalist for Pulitzer Prizes in 2001 and 2002.
"I still do a couple of cartoons a week, have an active and growing letterpress-printing business, and stay busy with the excursion railroad (through the Austin Steam Train Association)," said Sargent.
Within the School of Journalism, Sargent cited Griff Singer, Norris Davis, C. Richard King and Olin E. Hinkle as influential professors and showed an appreciation for courses on the history of the American press, press law and ethics, and urban-affairs reporting.
"Starting with my days at UT, I have been exceptionally blessed as a journalist with great opportunities to do what work I could, to have a front-row seat to history and to associate with hundreds of superbly talented, relentlessly dedicated and wonderfully quirky fellow journalists, and for that I'm deeply grateful and appreciative," said Sargent.
Sargent advises aspiring journalists that despite changes in the ways we communicate, the mission of a good journalist never changes.
"To see that the real journalism continues to be done and that people have a strong, reliable, impartial and generally circulated source for the truth," said Sargent.
He is member and former vice president and president of the Association of American Editorial Cartoonists, former member of the boards of directors of the Newspaper Employees Credit Union and Austin Municipal Federal Credit Union, and founding director of the Austin Steam Train Association. Sargent is an active letterpress printer, whose shop includes a 1905 Chandler & Price job press and more than 230 fonts of handset type. He is author of two books, "Texas Statehouse Blues" and "Big Brother Blues." He is a lay Eucharistic minister at St. David's Episcopal Church, is married to retired Statesman television critic Diane Holloway, and has two children and two grandchildren.
Sargent will deliver the Moody College of Communication commencement address during the ceremony on Friday, May 16 at 3:30 p.m. in the Frank Erwin Center.