Minutaglio wins PEN Literary Award in Research Nonfiction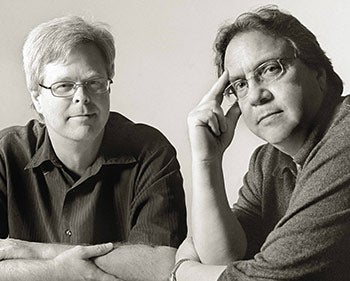 Bill Minutaglio, clinical professor in the School of Journalism, has been honored with a prestigious 2014 PEN Award from the PEN USA Center, a human rights organization founded to promote a literary culture and protect freedom of expression.
Minutaglio won the Research Nonfiction award for "Dallas 1963," a book he co-authored with Steven L. Davis, curator at the Wittliff Collections at Texas State University. The book chronicles a three-year span of the events preceding President Kennedy's assassination in Dallas. Since its publication last year, the book has received widespread acclaim from critics including the Associated Press, The New Yorker, Texas Monthly, The Christian Science Monitor and countless newspapers.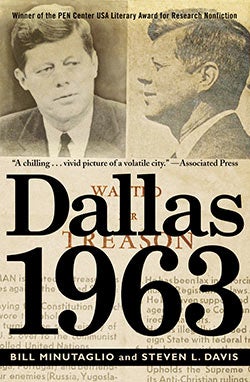 Parade magazine called the work one of the top three books on the JFK assassination and The Daily Beast named it one of five essential JFK books. A review in Publishers Weekly opined, "After fifty years, it's a challenge to fashion a new lens with which to view the tragic events of November 22, 1963—yet Minutaglio and Davis pull it off brilliantly."
Minutaglio reported for the Dallas Morning News, Houston Chronicle and San Antonio Express-News and has been published in The New York Times, Esquire, Newsweek, Texas Monthly and many others. In addition to writing the original magazine story about The Dallas Buyers Club, Minutaglio has authored or co-authored eight books, including a biography of President George W. Bush for Times Books. One of his books, a narrative nonfiction recounting of America's greatest industrial disaster, was optioned by Tom Cruise.
In the Moody College of Communication, Minutaglio teaches narrative nonfiction, book writing and investigative journalism.