Hart Student Achievement, Zaffirini Scholarship Awards recognize Moody talent
Fifteen Moody College of Communication students were the recipients of the inaugural Hart Student Achievement Awards and six Moody College students were the beneficiaries of the inaugural Zaffirini Scholarship Awards on May 8, 2017. Every winner received a congratulatory address by Dean Jay M. Bernhardt on how each individual earned the honor in addition to a $1,000 gift.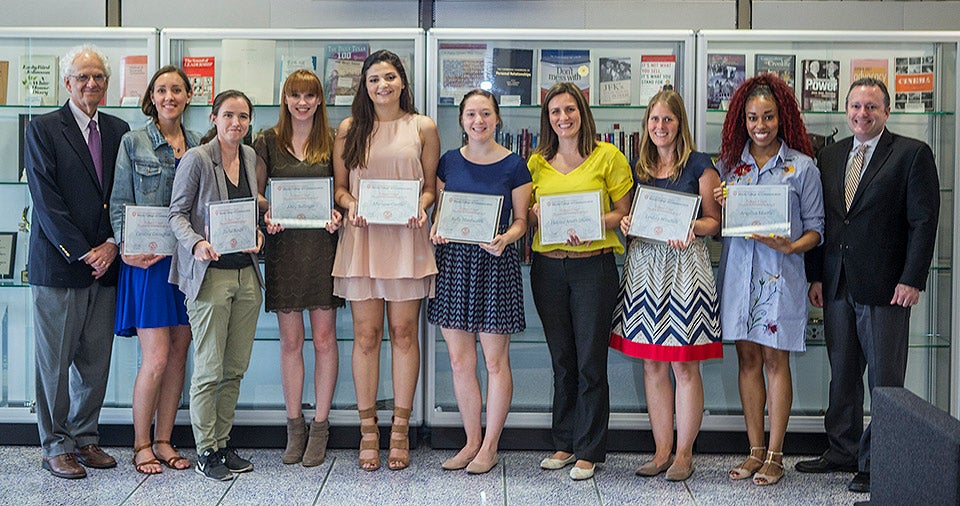 Hart Award winners include Stan Richards School of Advertising and Public Relations undergraduate Abby Bollinger, master's student Chien Yang and doctoral student Angie Morris. Department of Communication Studies winners include undergraduate Mariana Garcia, master's student Anastazja Harris and doctoral student Madeline Redlick. Department of Communication Sciences and Disorders winners include undergraduate Kelly Woodworth, master's student Lindsey Wineholt and doctoral student Stephanie Grasso. School of Journalism winners include undergraduate Catherine "Cat" Cardenas, master's student Caroline Covington and doctoral student Heloisa Aruth Sturm. Department of Radio-Television-Film winners include undergraduate Nora Bess, master of arts student Rachel Bardin and doctoral student Tim Piper.
Professor Roderick P. Hart served as fifth dean of Moody College from 2004 to 2015 and under his leadership secured funding for the Belo Center for New Media, launched innovative programs in Sports Media and Health Communication and raised $50 million from the Moody Foundation to name the college. Among his many awards and accolades, Hart is the Allan Shivers Centennial Chair in Communication, founding director of the Annette Strauss Institute for Civic Life, research fellow of the International Communication Association, and Distinguished Scholar in the National Communication Association. Hart was also inducted in the Academy of Distinguished Teachers at UT Austin and was designated professor of the year for the State of Texas from the Carnegie/C.A.S.E. Foundation.
In 2016, Texas State Senator Judith Zaffirini was the recipient of the Moody College of Communication Alumna of the Year award. During her inspiring remarks, she shared moving stories of her time as a student in Moody College, specifically honoring six faculty members who supported her and mentored her education. Zaffirini made a generous donation to help aid current Moody College students while honoring the memory of her six favorite professors including DeWitt Carter Reddick, Jack Whithead, Ernest Sharpe, James Tankard, James Kinneavy, and J. Rex Weir.
The six winners include Stan Richards School of Advertising's Garrett Mireles, Department of Communication Studies' Casey Brennan, Communication Sciences and Disorders' Paige Kubena, School of Journalism's Josefina Mancilla, Radio-Television-Film's Nathan Berkowitz, and Radio-Television-Film and Public Relations double major Layla Wehbe.
Zaffirini is the first Hispanic woman elected to the Texas Senate, the second highest-ranking senator, and the highest-ranking woman in the Texas Senate with a 100 percent voting record. She is also an award-winning communication specialist with 13 years of teaching experience, including at the college and university levels. She also owns and provides professional services through Zaffirini Communications and holds a bachelor's, master's and Ph.D. from Moody College.