Candler's "Hellion" picks up national distribution en route to SXSW
Film stars "Breaking Bad" actor Aaron Paul, actress Juliette Lewis

Kat Candler is an impact filmmaker in an indie town—and for more than 15 years, she's written and directed her own films in the Capital City. Upon hearing about the film scene in the late '90s from a college roommate in Florida, Candler moved to central Texas and hasn't strayed since.
"In New York, the cold is bad—and L.A. just isn't my scene," said Candler, who has lectured aspiring filmmakers in the Department of Radio-Television-Film at the Moody College of Communication since 2008. "I looked into the Austin Film Society and heard about filmmakers moving here or coming out of The University of Texas at Austin. It's the right place for me because you can have a balance between a film life, a work life, and a real life."
Threatening to unseat her delicate balance is the media attention offered to Candler's latest release "Hellion," a 98-minute feature film that premiered in January at the 2014 Sundance Film Festival. The motion picture will make its Texas premiere at this year's South by Southwest (SXSW) film festival on Sunday, March 9. Sundance Selects recently signed the feature for North American distribution in theaters and video-on-demand. Written and directed by Candler, the film was produced by Lecturer Kelly Williams (RTF '99), Jonathan Duffy (RTF '00), and co-produced by Andrew Logan (RTF '04).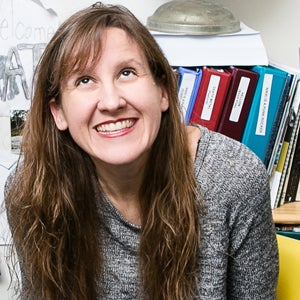 The narrative follows the struggles of Jacob Wilson, a troubled teen and latchkey kid and the relationship with his father played by Aaron Paul, who tries to drink away the pain of being a recent widow. When Jacob starts to influence his younger brother Wes, the plot thickens to include a custody battle with Child Protective Services, landing Wes with his aunt played by Juliette Lewis.
Originally only six minutes and with a smaller and less star-studded cast, Candler premiered "Hellion" as a short at the 2012 Sundance Film Festival with the storyline of three hell-raising kids who get in major trouble when their dad comes home to a trashed house.
Inspiration for the film came from Candler's three uncles on her mother's side, who as children intentionally set fire to their grandfather's Jeep. Following the release of another short, "Black Metal," in 2013, Candler revisited her desire to pursue the characters in "Hellion" further.
"I wanted to explore that single, blue-collar dad and his boys grappling with the death of their mom and pulling through all those circumstances," said Candler. "When someone suggested the setting should be in Port Arthur, Texas, it got my story wheels spinning. My favorite part of writing is the discovery of new people and new places and finding honesty and authenticity in that world."
"Hellion" since grew into a full-length feature and received an added bump of $70,000 for postproduction from the San Francisco Film Society.
Co-taught by Candler and Williams, most preproduction for the film was prepared through a "developing an independent feature" course offered by the Department of Radio-Television-Film in the spring of 2013.
To participate, each member of the class was required to sign a non-disclosure form and placed in teams of three or four. Groups were assigned tasks to accomplish such as organizing casting calls, conducting location scouts, researching distribution deals, finalizing production crews, tracking budgets, scheduling meetings, and communicating with agents and managers.
"The whole class went to southeast Texas and had a casting call for kids while others did location scouting," said Candler. "They went through all our ups and downs, triumphs and defeats. The students were heavily invested and at least a quarter of the class became a part of film's actual production."
While Candler's script is lauded for its engaging story, the film gained much of its attention through the ensemble Candler and Williams were able to attract. In casting for the feature, Candler had a very small pool of actors in mind. While she had seen little of Aaron Paul's performance in "Breaking Bad," she was a huge fan of his acting in the indie "Smashed," so she sent along a script to James Ponsoldt, director of "Smashed" and Paul's friend.
"I was over the moon concerning his performances," said Candler. "And then I had to check what I always tell my students—the first rule of filmmaking is to work with nice people—and Aaron checked out."
Paul swooned over the script and in April 2013, Candler was on a plane to Macon, Ga., where Paul was shooting "Need for Speed," to meet the actor and discuss the film and its evolving characters over chocolate milkshakes.
Subsequently, Paul accepted the role and following his commitment, Juliette Lewis signed on to the project.
The production filmed in locations across southeast Texas, where according to Candler, refineries and small-town living provide an odd beauty she's never seen captured on screen. Shoots stretched from towns such as Beaumont, Groves and Nederland, to Port Bolivar and Baytown.
The feature was nominated for a "Grand Jury Prize" at the 2014 Sundance Film Festival and will screen twice at this year's SXSW Film Festival. Following rave reviews of her recent work, Candler's recognition is keeping pace with her films.
"Having the shorts helped put me on the map and made people's ears perk up—now with the feature, we have a lot more attention," said Candler. "You work your butt off for well over a decade and that whole journey is a testament to why I make the films I make."
Candler added that she appreciates the timing of the attention at this point in her career. 
"I've learned so much about storytelling since I started and the movies I've made in the last five years are the ones that give me the most pride," said Candler. "The added exposure means more trust to make a movie—more doors have opened."
Candler's future plans include continuing to lecture in the Moody College and expanding her 2013 short "Black Metal" into a feature.
"Hellion" will screen at SXSW 2014 on Sunday, March 9 at 2:15 p.m. at the Topfer Theatre at ZACH at 1510 Toomey Road and on Wednesday, March 12 at 7 p.m. at the same venue.