BeVote app informs students to be voters
University-created voting app available for free download
An old-fashioned phone call led to a digital-age innovation that could inspire the next generation of voters.
Last spring, College of Liberal Arts professor Hannah Wojciehowski and Computer Science Associate Professor of Instruction Paul Toprac dialed Susan Nold, director of the Annette Strauss Institute for Civic Life, to brainstorm possibilities to help engage college students in the voting process.
That one conversation sparked a University of Texas cross-campus collaboration that has produced a free cellphone app designed exclusively for UT students. The BeVote app provides accurate, non-partisan information to not only enhance the voting experience but actively inform university students to become voters.
BeVote is free; the IOS version is available on the Apple App Store, and the Android version is scheduled for release on Friday, Nov. 2.
Following the initial brainstorming session, Toprac worked with Kassie Barroquillo of the Strauss Institute to understand what research and data indicated about why students were not voting. The team also used a bottom-up approach, talking to students directly on campus.
With user information in hand, Toprac enlisted a group of students to work on design and programming.
School of Information graduate student Mona Mishra and Kathy Vong from the College of Fine Arts sketched out the app's design. Computer Science students Morgan Lawless and Robert McInvale engineered the programming.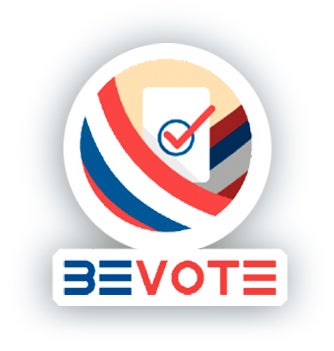 BeVote brings information to students' fingertips, such as:
Candidates and propositions
Custom, downloadable ballots
Push notifications for early and Election Day voting
Map of Travis County polling stations for early and Election Day voting with wait times
Social media links   
"College student voters are often first-time voters.  BeVote is built to reinforce the idea that voting is important, to meet real needs for information and to spark interest in taking part in an important civic act," Nold said.  
BeVote is sponsored by the College of Liberal Arts, the SAGA Lab, the Moody College of Communication, the Annette Strauss Institute for Civic Life, University of Texas Libraries, the Cockrell School of Engineering, the Division of Diversity and Community Engagement, the Office of the Vice-President for Student Affairs, TX Votes and UT Student Government.