Radio-Television-Film alumnus makes Forbes list of movers and shakers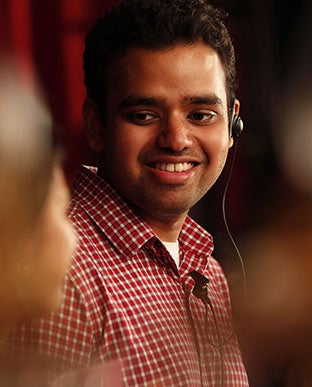 Kovid Gupta graduated from the Moody College of Communication in 2010 with a bachelor of science from the Department of Radio-Television-Film in addition to degrees in business and Asian cultures and languages, and set off to make a career in film on the other side of the world.
Less than a decade later, the 29-year-old head of business development at Vinod Chopra Films made the Forbes 30 Under 30 list of young professionals specializing in media, marketing and advertising. The listing is for honorees from 24 countries across Asia Pacific chosen by 30 judges who are highly respected in their fields.
The publication listed the native of Houston as an Indian-American author, screenwriter and filmmaker. The profile states: "He is best known for his two nonfiction books: "Kingdom of the Soap Queen: The Story of Balaji Telefilms" and "Redrawing India: The Teach for India Story." Gupta is also in charge of business development at Bollywood studio Vinod Chopra Films."
We caught up with Gupta to see what he's been up to since leaving the Forty Acres and his travels to and from Houston and Mumbai, India.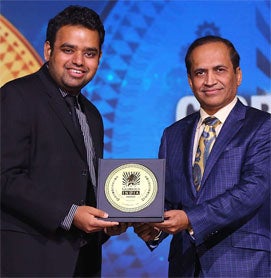 How did you get started after graduation?
I had no connections in Bollywood, an industry infamous for pampering nepotism and family legacies. Still in Austin, I started penning down names of writers, directors and producers of Indian television programs by watching opening credits. I friended nearly 100 professionals on Facebook and started messaging them for guidance. This process went on for months with the vast majority unresponsive. Rajesh Dubey, one of the head writers of "Balika Vadhu," which ended up becoming my first TV show, asked me to meet him if I ever came to Mumbai. In my young ambition I went halfway across the world with two suitcases and met him. He was kind enough to let me come to his scripting sessions and I slowly started working with him on the writing. Two months later, my uncle called me at the time the show aired at 8 p.m. and gave me the big news – he had seen my name as a writer on the opening credits. 
Why did you decide to work in Bollywood?
I've been obsessed with Bollywood since early childhood. The idea of portraying a larger than life, nearly too-good-to-be true world fascinated me immensely. I loved watching families break into massive dance numbers in weddings or couples profess their love in melodious nuggets atop Swiss mountains. I was amazed by how much happiness the escapism of Bollywood provided to people across income, age and race brackets. 
Describe what you do in business development for Vinod Chopra Films? 
With Vinod Chopra Films, I am involved with budgeting, consultation, and contracts and negotiations with technical and acting talent. I additionally work on IP rights involving our previous films, which range from music, television broadcast, and brand licensing rights. I work on some of our largest properties including blockbuster films such as "3 Idiots," "Munnabhai M.B.B.S," "Parineeta," and "Mission Kashmir." With our sister company, Film Companion, I develop financial strategy. My work also entails distribution with a strong focus on finding various film, television, Web and radio outlets to broadcast our content.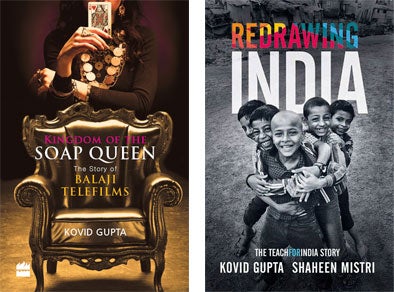 Please tell me about the two non-fiction books you authored. 
My first book, "Kingdom of the Soap Queen: The Story of Balaji Telefilms," tells the story of Asia's largest television studio and its climb to success. Writing the book gave me a chance to meet some of India's biggest television giants and learn the ins and outs of running a television program.
The second, "Redrawing India: The Teach For India Story," brings the Teach For India story to light. Teach For India was started almost a decade back, inspired by the success of Teach For America. I joined the organization right after UT, and got to see it through its inception phase. The book tackles the many struggles and learning opportunities that the team has witnessed as it has battled India's illiteracy crisis.
How did you make the Forbes Asia 30 Under 30?
I got an e-mail from Forbes one day mentioning that I was in the nomination list. A few weeks later, I saw the final list in the newspaper and was shocked.
What professors/classes had an impact on you in Moody College?
I remember working very hard through a Screenwriting for Television course but receiving a C as my final grade. It was the only class in the college that I got less than an A. As a wannabe television screenwriter, I was incredibly frustrated and had multiple discussions with my professor who had a different viewpoint. When I look back, I realize just how ironic it is that I ended up becoming a TV writer. That class strengthened my resolve and made me more determined to refine my writing skills.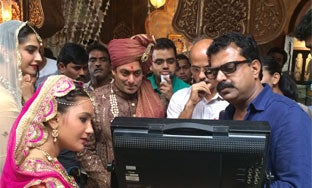 How did the RTF program and your time at UT Austin prepare you for your career?
Two professors that impacted me were Shanti Kumar and Anthony Penta. Dr. Kumar is a film scholar in the true sense. I wrote two major research dissertations under his guidance and continue to write about the social impact of cinema today based on what I learned from him. Anthony taught me the art of using the camera to tell a good story. His was my only RTF class that involved directing film projects and it was magical to sit in a studio and have a class every week surrounded by lights and cameras. All three of my majors at UT: business, radio-television-film, and Asian cultures and languages worked beautifully in tandem. As a creative storyteller in the Indian film industry, I can't think of a better amalgamation of education. 
What advice would you offer to current students?
I read a quote recently that I would recommend all students to follow: "Work until you no longer have to introduce yourself!" Mass communication by nature is a difficult path to navigate. We don't have standardized exams that we keep passing to achieve our career goals or a set of companies that recruit us every year; we have to carve our own path. It is important to be persistent through your journeys and to keep your eyes on your end goals.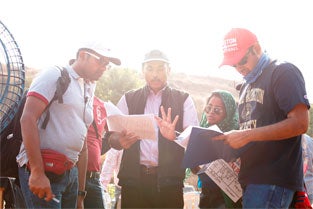 What are your future plans?
I'm currently writing a historical biopic on Queen Padmini, an Indian royal whose beauty launched a thousand ships and led to one of India's greatest wars. I am additionally setting up Kovid Gupta Films, a production company that will create content for Indian audiences in America by utilizing homegrown U.S. talent. The goal of the studio is to provide a launch pad for creative people that want to be a part of major motion pictures and television shows and to provide a Bollywood-like platform in America.