Strauss Institute receives national recognition for excellence in student voter engagement
The University of Texas at Austin led the nation with the most-improved undergraduate student voting rate for the 2106 election, winning a champion award from the ALL IN Challenge, a nonpartisan organization that promotes civic engagement. UT Austin's undergraduate voting rate increased to 53 percent from 39 percent in 2012.
Led by the Texas Votes student organization in Moody College's Annette Strauss Institute for Civic Life, the university was among 294 institutions and 582 campuses participating in the challenge. The entire campus saw a 15 percentage-point improvement, increasing its voting rate to 57 percent from 42 percent in 2012.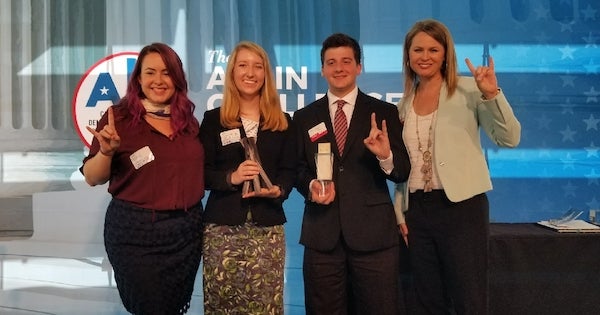 As part of the challenge, members of Texas Votes — along with individuals from academic and student affairs — organized various Get Out the Vote activities including registration booths, deputization sessions and campus competitions. 
"The Annette Strauss Institute is proud to receive this national recognition of the efforts of participating students, faculty and staff," said Susan Nold, director of the Annette Strauss Institute. "It is the mission of the Annette Strauss Institute to reduce civic apathy, increase engagement and graduate civic-minded students prepared to solve the country's and the world's most pressing challenges."
The All IN Campus Democracy Challenge is a national awards program that encourages higher education institutions to help students form the habits of active and informed citizenship, and make democratic participation a core value on their campuses.
The awards were announced at an event at the Knight Conference Center today at the Newseum in Washington, D.C. A full list of award winners can be viewed here.
"I am proud to honor The University of Texas at Austin with an ALL IN Challenge award in recognition of their dedication, hard work and achievement," said Zaneeta E. Daver, director of the ALL IN Campus Democracy Challenge. "UT Austin is not only ensuring that a more representative population participates in our nation's democracy, but is educating students to be civic-minded. They are an example to be emulated."
For more information, contact: Nick Hundley, Moody College of Communication, 512-471-7209; Susan Nold, Annette Strauss Institute for Civic Life, 512-471-7254.