Free Speech Week celebrates freedom of speech, of the press, and of expression in its many forms. These freedoms are core to the teaching, research, and values of the Moody College of Communication.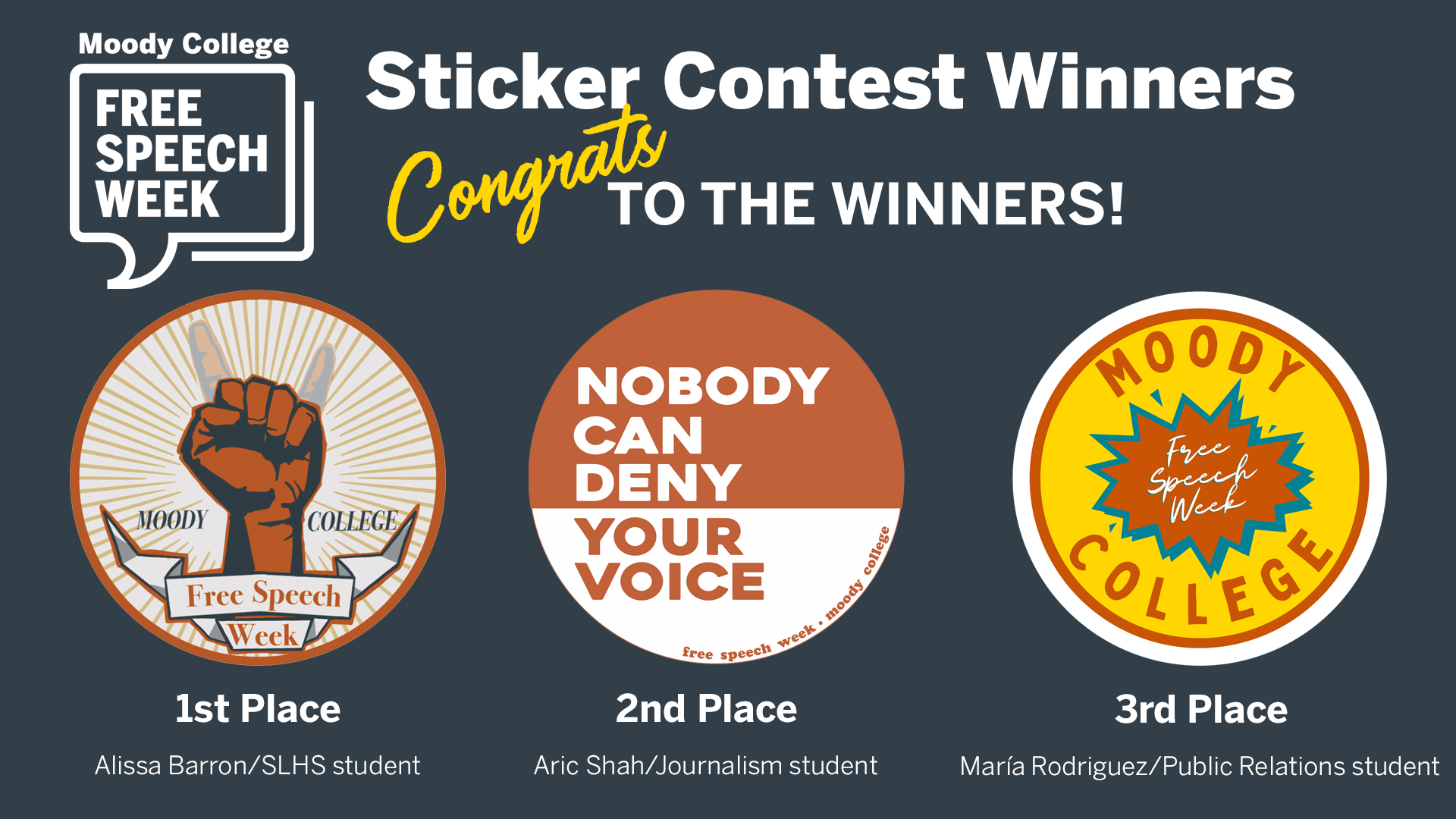 2022 Schedule
Monday, Oct. 17
10 a.m. | CMA 5.136
Workshop in Integrating Free Speech into the Classroom
Tuesday, Oct. 18
6 p.m. | DMC 5.208
UT Debate Team Public Debate
"Resolved: the United States Congress should repeal and replace Section 230 of the Communications Decency Act." Free pizza and water provided.
All Day | DMC & CMA Front Entrances
FSW tables with free stickers and sweets to celebrate free speech.
Thursday, Oct. 20
4 p.m. | DMC 1.202
"The First Amendment and the Regulation of Social Media" by Media & Entertainment Lawyer Michael Lambert. Reception to Follow.
Friday, Oct. 21
11:30 a.m. | DMC 5.208
"The End of Digital Democracy and What We Can Do About It" by Gina Neff from University of Cambridge. Free box lunches for the first 40 attendees.
Hear Why Free Speech Matters
Chloe Young: Journalism and Media Student
Dr. Craig Scott: Communication Studies Professor
Dr. Johanna Hartelius: Communication Studies Professor
Dr. Angela Bock: Journalism and Media Professor
Michaela Urban: Communication Studies Student
Dr. Scott Stroud: Communication Studies Professor
Dr. Stacey Sowards: Communication Studies Professor
Dr. Roderick P. Hart: Communication Studies Professor
Justin Pehoski: Communication Studies Doctoral Student