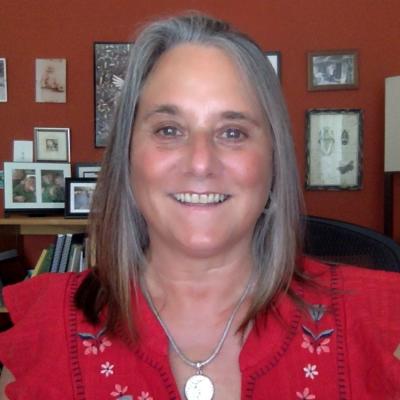 ---
Department of Radio-Television-Film
Email:
Phone:
Office:
CMA 6.148
Karen Kocher is an Austin-based media producer. For over two decades, she has been creating media work for digital platforms, broadcast and physical installations.
Hot off the press comes Barton Creek Time Stream, an interactive digital scrapbook chronicling 50+ years of citizen efforts to create the Barton Creek greenbelt and preserve its flora, fauna and water quality. The research generated by this project will inform an upcoming historical documentary.
In 2021 "Origins of a Green Identity," chronicling Austin's first open space advocates debuted on the Austin PBS and has been viewed by over 23,000 households.
Over the past decade she has been producing an on-going series, Living Springs, about the culture, history and science of Barton Springs pool. Living Springs' home base is the interactive theater at the Beverly S. Sheffield Education Center, a science education center at Barton Springs visited by over 90,000 people each year. Big plans are afoot for the Barton Springs bathhouse and Living Springs will continue to serve an international community when the bathhouse is renovated in 2022.
Living Springs also reaches an international audience through its media-rich website and You Tube Channel. The website engages young adult and adult learners in an interactive exploration of Barton Springs in Austin, Texas fostering a greater understanding of the ways that the natural environment interacts with human culture. Local environmental groups tap the content to train their staff, interns and volunteers. The site also engages the Barton Springs user community through its Profiles, a platform for the community to submit their Barton Springs stories and imagery.
In recognition of her work on the Living Springs, the Lonestar Chapter of the Sierra Club awarded Kocher with their 2020 "Art in Service of the Environment" award. In 2015 her work netted the SXSW Interactive "Community Service Award" for outstanding use of digital media in commitment to the community.
As an extension of Living Springs, Karen has helmed on two interactive exhibits at the rotunda of the Barton Springs bathhouse, the 2018 interactive installation, Faces of Barton Springs and her current Barton Creek Time Stream exhibit.
Faces of Barton Springs (Spring-Fall 2018) a multi-sensory installation for all ages celebrating the Barton Springs swimming community. Featuring a 9-foot long collage of of swimmer "selfies," including a printed booklet of personal statements to accompany over 130 community submissions. A wall-sized magnetic poetry tree with customized words provided a backdrop for visitors to compose poems and haikus. A 4-sided, free- standing kiosk invited visitors to leave a note about their Springs experiences. Listening stations fashioned from old telephones showcased Barton Springs-themed poetry and music. Cartoonist, Sam Hurt created foam core sculptures of birds, bats and other natural ephemera providing a whimsical touch to the entire space and providing the subject matter for a children's seek-and-find game.
Barton Creek Time Stream exhibit (Spring 2020-present)
In conjunction with the 50th anniversary of Earth Day, this interactive installation explores 50+ years of stewardship on Austin's beloved Barton Creek. The installation includes: The Time Stream: a 12-foot artistically-rendered timeline, that tells the story—through images and ephemera—of the major events that have led to the creation of the Barton Creek Greenbelt and protection of the creek. A Stewards Gallery features a wall-sized photomontage celebrating over 80 the stewards of Barton Creek with an accompanying binder featuring a combination of first and third person stories. A 4-sided interactive kiosk utilizes magnetized images where visitors can learn about native and invasive species by playing an interactive game. A large screen video loop features original drone footage of the Barton Creek watershed.
(Both exhibits will be adapted for the web in the near future.)
Kocher's interest in fusing digital technology and the natural world further manifests in the project Zilker Trek (2009), an immersive, mobile-media scavenger hunt and nature- journaling activity. Zilker Trek was initially designed for the Sunshine Camp in Austin, Texas to help these underserved kids and their counselors find greater meaning in their natural surroundings in Zilker Park through guided and direct interactions with the natural environment.
In 2009 this project was developed for the web and is available to homeschoolers and others interested parties free-of-charge. www.zilkertrek.org
Ms. Kocher's other work includes, Austin's first interactive digital history, Austin Past and Present (2006) Austin Past and Present was installed in kiosks in public buildings from 2006-2012 and is still available on computers in local libraries, and integrated into the social studies curriculum throughout the Austin Independent School District.
The video portions of the project aired on PBS in a feature length documentary format that was nominated for a Lonestar Emmy in the historical documentary category. This feature length documentary was also screened at part of the Austin Film Society, Texas Documentary tour. Austin Past and Present contains over 1600 screens of image and text and over two hours of edited documentary content. The project drew on 160 archival sources and involved more than 150 community members in its production. The Austin History Center Association awarded Kocher the 2003 Katherine Drake Hart Award for her work on the project.
In conjunction with The Texas Environmental Center, Kocher worked as an instructional designer and associate producer on Barton Springs Interactive, a CD-ROM based documentary about the history, culture and science of Barton Springs in Austin, Texas. This CD-ROM has been distributed to schools was on display in the SPLASH! exhibit at Barton Springs, a science exhibit that is visited by thousands of school children each year from 1997-2017.
Kocher has also worked on nationally broadcast PBS documentaries including the award-winning series, Chicano! a History of the Mexican American Civil Rights Movement, and Songs of the Homeland, a documentary about the history of Tex-Mex music.
Kocher has been teaching digital post-production, and occasionally documentary production and documentary history, for the Department of Radio, Television and Film at the University of Texas at Austin since 1998. In 2004, she created the first course in interactive documentary within the Department of Radio-TV-Film. She taught documentary short course workshops as part of the UT Austin/Portugal CoLab in Lisbon, Portugal and Porto, Portugal from 2007-2011. In the summer of 2010, Ms. Kocher helmed a course in Video Poetry at the world-renowned Anderson Ranch Arts Center in Snowmass, Colorado.
Production
Editing/Post-Production
Interactive/Gaming
Documentary filmmaking
digital media