Featured Interns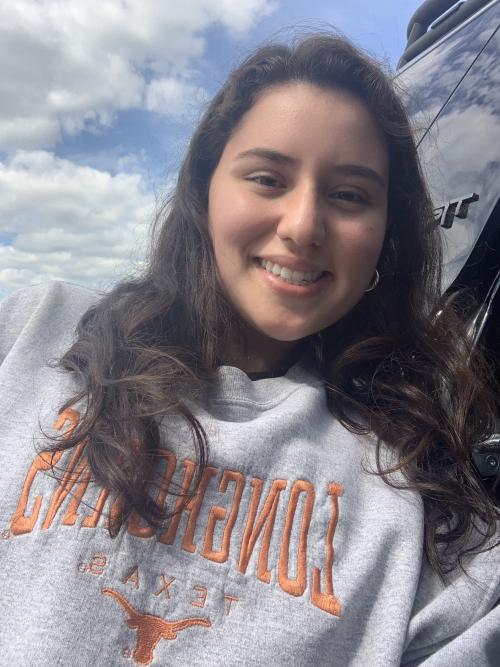 Cristina Pablos, Texas Music Office
Hey everyone, my name is Cristina Pablos. What a crazy couple of years it has been. Even though we have been in and out of zoom classes and quarantining, I am so grateful that I had the opportunity to intern at the Texas Music Office (TMO) here in Austin and take UT's for-credit internship class. I am a junior economics major – economics, I know, weird, right? What does that have to do with music? It turns out a lot. During my two semesters interning at the TMO I gained practical skills such as data entry and developing fluency with Word, Excel, and Access (which nowadays are "highly encouraged" skills in every job application). I also learned how music is a huge player in Texas economic development!
I am not a performer/artist, but I love the music industry and what better place to learn about music than Austin, TX. The TMO has taught me that there are dozens and dozens of ways to contribute to the growing realm of the Texas music industry. At the TMO we are a powerhouse of information for everything Texas music. We are active in growing the Texas music industry in bigger cities like Austin and hidden gems like New Braunfels, Waxahachie, Vidor, El Paso, and many more through our Music Friendly Communities Program. This program strengthens the Texas music community and helps each city develop and attract music lovers, musicians, music executives, etc. All to make Texas the GO-TO for music and showcase our incredible state!
After getting the opportunity to observe all that the TMO is doing for the Texas music industry, an idea arose for a project where I interviewed Texas music industry professionals that work behind the scenes. With the help of my amazing supervisors Marc Fort, Steve Ray, Bredon Anthony, and Chip Adams, I created an interview series called Texas Music Makers! I had the pleasure of interviewing a CEO of a vinyl manufacturing plant, a guitar luthier, a concert photographer, and two entertainment attorneys. They are all active members of the Texas music community and contribute to making Texas a hub for the worldwide music industry.
My internship helped me gain confidence in engaging in conversation with incredibly successful people and in growing my network. I learned firsthand about the many opportunities that the music industry holds. Ultimately, I learned that my skills as an economist ACTUALLY COULD contribute to the Texas music industry, even if I wasn't making music or doing stage dives into a sold-out crowd (that would be cool, though).
With that said, I hope you consider pursuing not only a fun internship through UT-Austin but one that will help you grow and get you out of your comfort zone! Hook' em!