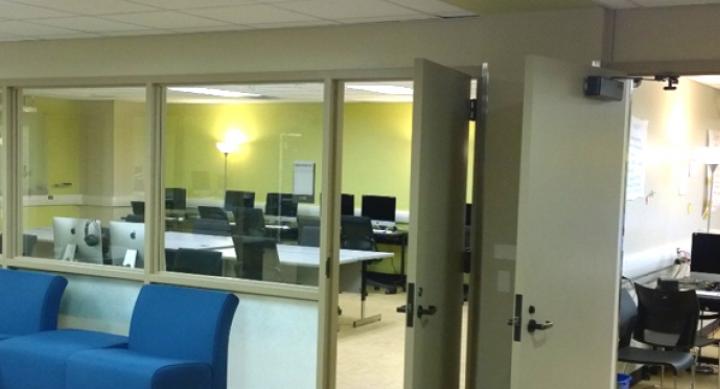 The Digital Media Labs are available only to students who are currently enrolled in courses in the Moody College of Communication.
Access to workstations is on a first-come, first-served basis
Facilities
The labs feature:
Adobe Creative Cloud Suite 2021 - Premiere, Photoshop, After Effects, Audition, Media Encoder, Illustrator, Animate, Character Animator etc. . .
Avid Media Composer Version 2021.6
Avid ProTools Ultimate 2021.6
Blackmagic Davinci Resolve 
Izotope Plugins for Audio
Autodesk Maya and Mudbox
Salt
Epic Games Unreal
Card readers
Wacom tablets
DV/HDV, Umatic 3/4, BetaSP video decks for digitizing to QuickTime via Blackmagic Teranex
CMA 4.148 is equipped with Windows Dell Precision Workstations with Nvidia GForce Video Cards to support Unity and Unreal 3D Gaming Design software
CMA 4.144 contains classes and open lab times. Helpsheets are available on the Wiki.
CMA 4.142 and CMA 4.138 are full-time student labs. Helpsheets are available on the Wiki.
CMA 4.140 is a PodCast audio suite used for recording of voice-overs, group panels, etc..
Media Duplication
The DML enables you to duplicate a wide variety of media formats.  Equipment is available at a first-come, first-serve basis.  Staff and handouts are on hand to help get you going.
Fall Semester 2021
Hours of Operation -
NOTE Labs are closed for all Observed University Holidays
https://hr.utexas.edu/current/leave/holidays
Monday thru Thursday 8AM to 10PM
Friday 8AM to 5PM
Saturday 12PM to 5PM
Sunday 12PM to 10PM
Students should bring:
Headphones
Thunderbolt or USB 2 or 3 Hard Drive for Media Storage and Editing