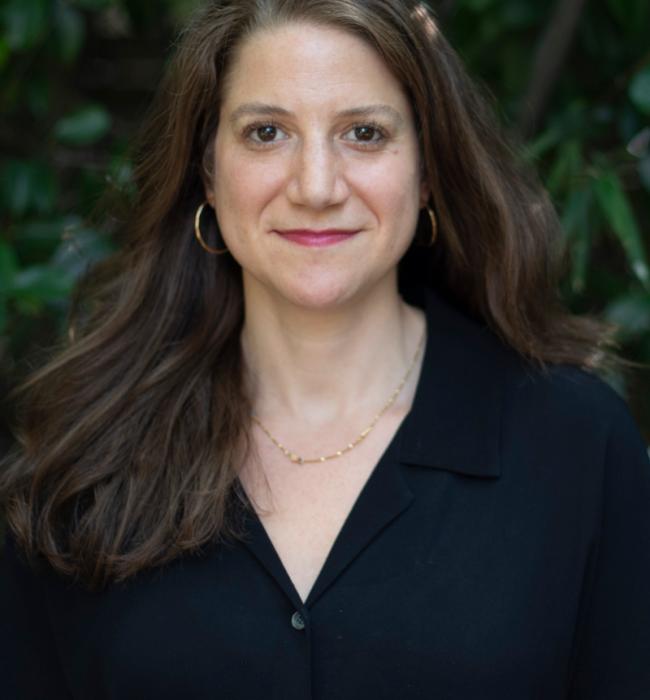 Sarah Spitz
---
Vice President
Public Relations, Stan Richards School of Advertising & Public Relations
Class of 2008
Growing up in Houston, Sarah Spitz was always drawn to the energy of cities. 
After doing a summer internship in New York during college, she immediately knew she had to move there. Following graduation from Moody College's Stan Richards School of Advertising & Public Relations, what started as a two-year stay in New York turned into 10 years.
"In two years, I felt I had only scratched the surface of the city," said Spitz, who earned her public relations degree in 2008. "I took away the timeline and decided to just enjoy my experience until I wanted something different."
She eventually became vice president for the Brooklyn, New York branch at Bateman Group — a PR firm based in San Francisco, California — and works in the life sciences unit. In January 2019, she returned to Austin solo to start another branch of the firm.
Spitz said the university's communication degree provides a foundation useful in any professional pursuit. 
"It doesn't really matter what your first job is," Spitz said. "There's so many more jobs out there than people think there are."
By following something that interested me, now I get to build something that other people want to do every day.
How did you end up back in Austin?
It had been on my mind for a while. I had set my sights on eventually coming back to Texas, and last summer, I proposed moving here to my boss. We're still testing it out. I'm the only one working here right now, and the plan is to hire some people and open a little office in 2020.
What do you do in the life sciences practice?
We founded the life sciences practice three years ago, and we work with life sciences companies and help them distill down their messaging so a mainstream audience can understand what they do and promote the work they're doing to the media. I feel like we get to be a small part of something really important happening in our world right now, which is biology being the next big technology that's going to impact every part of our lives. Having the opportunity to help communicate that to people and help people understand how this technology is going to impact them is very exciting.
How is having curiosity helpful in PR?
If you keep asking questions, then you'll probably get to what's interesting, even if it's not on the surface. The more you ask people about themselves, what they're working on, topics you don't know about, the more likely you are to uncover something. Usually, the first thing people tell you isn't the most interesting thing.
How do you build up confidence for the work you're doing?
It's a lot of preparation and not being afraid to ask questions. Especially with life sciences and trying to start this office, I've been asking a lot of questions. The more you know about something, the more confident you feel about expressing it. I think you lose confidence when you try to pretend like you know everything. Actually having a bit less confidence in some areas can be helpful. If you ask more questions instead of assuming the answer, you can actually gain the confidence that you want.
What's the most impactful lesson you've learned starting your career?
A lot of the work you do as an entry-level position can seem very rudimentary and basic, but you truly need to go through that process in order to have the foundation you need to be successful.
In public relations, you'll spend a lot of time reading the news, flagging articles, making media lists in an entry-level position. It seems boring at the time, (but) it can be the most important work. If you never learn how to do that, then you can't teach people how to do that or understand what it takes to do the job, which is what you need as you become more senior.
What classes or experiences taught you skills essential for your career?
In one of my classes, we had to do an advertising and marketing campaign for a local nonprofit. Our team put on a benefit concert at a bar on Sixth Street and promoted it. I think actually having those "real world" learning experiences without having the pressure of my paycheck associated with it was really helpful.
Terry Hemeyer and Lee Ann Kahlor used real-world experiences to teach their classes. I think hearing about what the jobs were and what we might encounter was helpful. Dr. Kahlor also had a class where we had to write a press release in an hour, and that was the most useful thing I did in college for my job. I really hated it then, but it's something I actually teach people I manage to do.
How did you make the transition from college to the "real world?"
I wanted to try out New York for a finite period of time, so I thought a summer would be good. I applied for a bunch of internships in New York. I got one, which enabled me to be there for a summer. I worked really hard at that internship, and that company hired me back before I graduated college. It made the decision to move into the "real world" a lot easier.
I think the transition is harder than people think. You go to high school, then apply to college and then after college you get a job, but nobody ever really tells you what that entails.
The world becomes your oyster. At a young age, it could become easy to feel like you're stuck in a certain path. I think everyone goes on their own journey of figuring out what the real world is. It takes a lot of time and patience to get used to that.
Any last words of wisdom?
Communication degrees, any of them, are really good for people (who) don't know exactly what they want to do. I think in communications, there's so many jobs and different modes of communication that you don't know (of) until you're out in the working world. I think knowing what your strengths are, not worrying too much about your weaknesses, trying to build those strengths and find a job where you can accentuate the strengths is all that matters — not worrying so much about your first job and using an opportunity to just see what's out there.