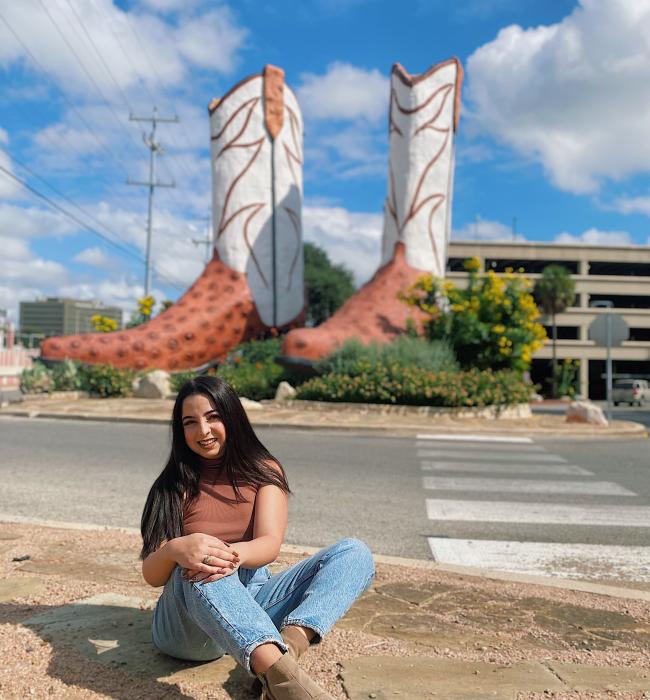 Rebeccah Macias
---
Social Media Editor
Journalism, School of Journalism and Media
Class of 2020
How are you using the skills that you learned at Moody in your current position/grad school?
The skills I learned at Moody I truly use everyday, from fact-checking, creating and scheduling content, to enhancing audience engagement strategies across our social media platforms.
What advice do you have for#TEXASMoody students?
My advice to #TEXASMoody students is enjoy your time on campus, get involved in organizations that pertain to your interests and remember it's a marathon, not a sprint! You do not need to feel pressured from those around you.
As someone that transferred into Moody from a community college, I was overwhelmed in a good way, but also felt like I had to rush doing everything I could in two years compared to my peers who had been there already two years and that's not the case. I found myself in an entirely new space and it was both scary and exciting at the same time.
I found myself in an entirely new space and it was both scary and exciting at the same time.
Tell us about your career path
My career path began my junior year on campus as a social media staffer at The Daily Texan. During the summer entering my senior year, I became the social media editor. It was that fall semester I interned both at Austin Woman Magazine as a social media intern and at the Knight Center for Journalism in the Americas asa social media intern. In spring 2020, I continued to lead the social media department before and during the pandemic while also interning as a digital intern for the Austin American-Statesman. In September 2020, I was hired full-time with the Statesman as a community news reporter covering Round Rock and Pflugerville.
What classes or professors helped the most?
Oh man, there's so many classes and professors to choose from that helped me so much. If I had to pick a top three it would be Digital Storytelling with Robert Quigley, Social Media Journalism with Katey Psenick Outka and Reporting Words with Emily Quigley. I grew so much as a journalist because of those classes and I learned how to establish my brand as a journalist utilizing social media.