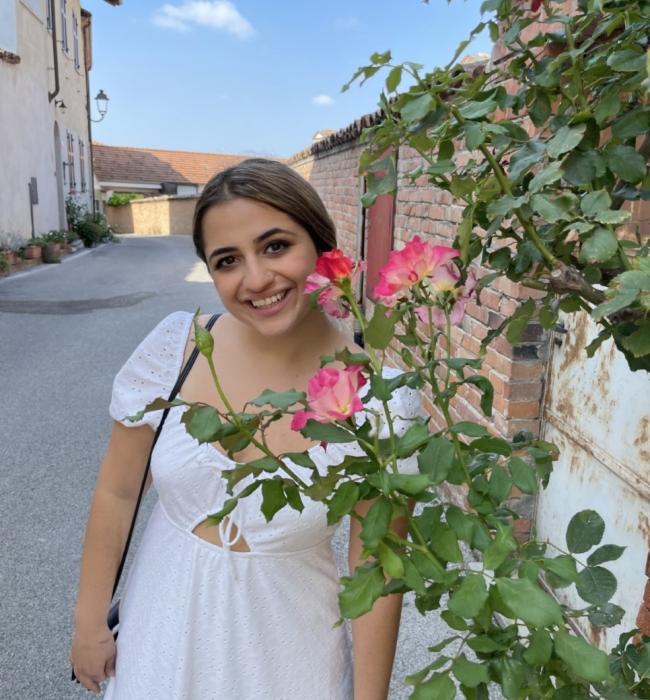 Natalie Sfeir
---
Acute Care Speech Language Pathologist at Main Methodist Hospital
Speech, Language, & Hearing Sciences
Class of 2021
How are you using the skills that you learned at Moody in your current role? 
During my time at Moody, I had the opportunity to learn from world-renowned clinicians and researchers regarding skilled & best therapeutic practices, cultural and linguistic diversity, and collaboration to ultimately provide the best outcomes for patients and families.  
Do you like working as a SLP at the Methodist Healthcare system? 
I love working as an SLP at Methodist, it has allowed me to experience connection and humanity with the patients and families I have the privilege of serving. I truly learn something new every day and work on being flexible as things are always changing in a hospital setting.  
How do you like working in a hospital setting? What do you specialize in? 
Working in a hospital setting allows me to refine my critical thinking skills and "keeps me on my toes" - I never know what I am going to encounter for the day! I love the collaboration with other rehabilitation professionals, physicians, nurses, and critical care teams. I specialize in diagnosing and treating dysphagia/swallowing disorders, speech & language disorders, and cognitive-communication disorders for critically ill & intensive care unit patients, trach and ventilator dependent patients, acute stroke/CVAs, and patients with head and neck cancer. 
Don't be afraid to step out of your comfort zone academically and professionally.
Were you involved in student orgs on campus? 
I served as the Speech, Language, and Hearing Sciences Representative on the Graduate Student Assembly. In addition, I was the 2020 Cohort representative on UT Austin's Speech and Language Sciences Diversity, Equity, and Inclusion Task Force. I worked part-time as a Graduate Assistant at the Texas Union and was a TA (Teacher's Assistant) for Dr. Czimskey's Phonetics course. I was selected as a Bill Archer Fellow for the 2021 cohort.  
What advice do you have for #TEXASMoody students?
Don't be afraid to step out of your comfort zone academically and professionally - a professor once told me, "you already have the no" - just go for it! In addition, make connections with your professors as they will support you and serve as lifelong resources as you navigate your career. Most importantly - get involved with student orgs!! 
What do you miss most about Moody College? 
I miss walking into Moody and feeling a sense of comfort - it served as a home away from home! I really miss bonding with my cohort as we navigated a new city, coursework, and clinical practicum. 
Can you talk about your career path? 
My career path is a bit unique in the sense that following the completion of my coursework in SLHS, I was selected as a 2021 Bill Archer Fellow and relocated to D.C. the summer prior to graduation and worked in legislative policy for aging populations as a Campaign Management Intern for AARP's National Office. Following this, I completed my Clinical Fellowship at Methodist Hospital, a certified comprehensive stroke and cardiac center as an acute care SLP for 9 months and have obtained my Certification of Clinical Competence.  
What classes/professors helped the most? 
I am so thankful for Dr. Courtney Byrd, Dr. Mirza Lugo, Dr. Corrine Jones, Dr. Natalie Czimskey, and Dr. Jesse Franco for constantly providing academic support and professional guidance! I learned so much about the field as a whole and about the importance of communication.  
IG/Twitter handle/LinkedIn: IG: natmasphere | Twitter: Natalie-Sfeir | LinkedIn: Natalie Sfeir