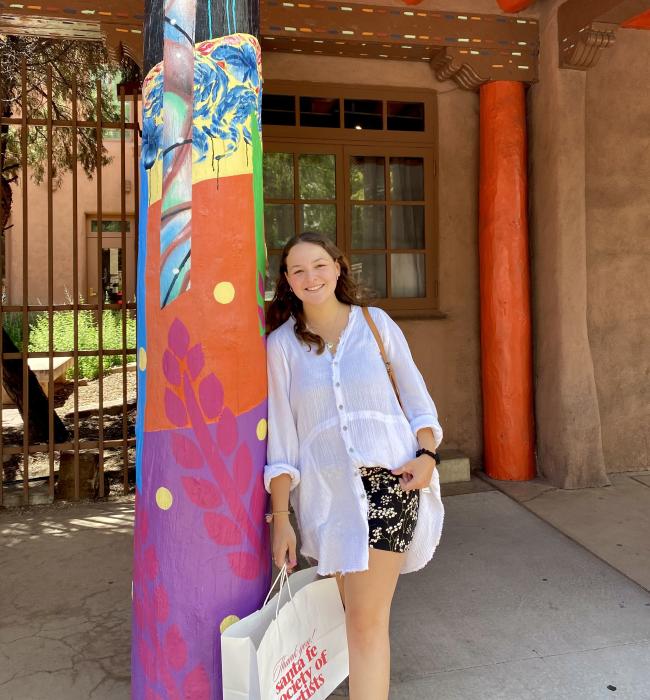 Natalie Deller
---
Policy Advisor with a focus on land use and mobility
Communication Studies
Class of 2021
How are you using the skills that you learned at Moody in your policy advisor role?  
A large part of what I do requires communication. I know that "communication" is a given in any job, really. But working as a policy advisor for a council member, I have to be quick, adaptable, and on top of how I communicate with constituents, other staffers, and elected officials. Moody really prepared me for those things.  
What is next for you?  
Good question. I quickly learned in the world of government you never really know what is next. One day you are field directing a local judicial campaign and the next you're interviewing to be a policy advisor at Austin City Hall (my story!). The council member I work for has two more years left for her term and what happens after that I have no clue. That's what is exciting about this field though! You never know who you will meet and what opportunities are available until it's in front of you. Aside from the uncertainty of the career field, I know graduate school is somewhere in my future. I'm thinking about pursuing a Master of Global Policy Studies or Master of Urban Planning-- who knows! 
Have you always wanted to go into government/policy work?  
I think I always knew I would work in some type of political scene. I don't know if "policy advisor" ever crossed my mind when I was younger though. I always thought maybe I would be a speech writer or spend my time managing campaigns.  
What advice do you have for #TEXASMoody students?  
I'm not sure if this is the *best* advice you're going to hear, but something that really helped me throughout my time at UT was actually talking with professors. I found it extremely beneficial to form and maintain these relationships. My professors really helped me succeed at Moody, especially in times when I needed extra support or wisdom. They are there whether you talk with them or not. Just pop in and say hello sometime and who knows, you might end up with some amazing mentors that stay with you beyond your time at Moody as I did. 
It can be stressful knowing the career field you're in is uncertain, but I try to stay excited about it because, at the end of the day, I'm doing what I love.
What do you miss most about Moody College?  
I can't lie, I miss Communication Council very much!!! I spent a lot of my time in college invested in that organization. I met some of my best friends there and I would not trade my experience in CC for anything. S/o to @utcommcouncil, much love. 
Can you talk about your career path?  
My career path is in no way linear. You never really know where you will end up and what your responsibilities will look like even day to day as a policy advisor. In an ideal scenario, once I finish the term with the council member I currently work for, I either start working for another council member/another City of Austin department or I switch gears entirely. It can be stressful knowing the career field you're in is uncertain, but I try to stay excited about it because, at the end of the day, I'm doing what I love. I'm writing policies, initiating change for people in my community, working with extremely passionate and brilliant people, and seeing the real-time effects of these policies.  
What classes/professors helped the most?  
I want to give a HUGE shoutout to Dr. Talia Stroud. I remember taking Media Effects and Politics as a sophomore and feeling completely overwhelmed the first few weeks. By the time the class came to an end, I found myself fascinated with communication studies and research. I remember sending an email to her asking if there was an opportunity to work on something similar to the studies we reviewed throughout the class. Little did I know she was the director of the Center for Media Engagement! She offered me an opportunity to interview for an undergraduate research assistant role and I am beyond grateful I took it. My time at the CME cultivated a lot of my current interests and I greatly appreciate her support throughout my time at Moody. 
The same goes out to Dave Junker and Brad Love, my honors symposium teachers. I am so proud to see what the Moody Honors program has turned into because of their care for students as people who also have real life to deal with, not just school. There are so many others that influenced me (Diana Dawson, Dr. Stephen Reese, Dr. Josh Barbour!) and supported me throughout my time at Moody and I am beyond grateful for that support!  
IG/Twitter handle/LinkedIn: @natadeller/@_ndeller/https://www.linkedin.com/in/nataliedeller