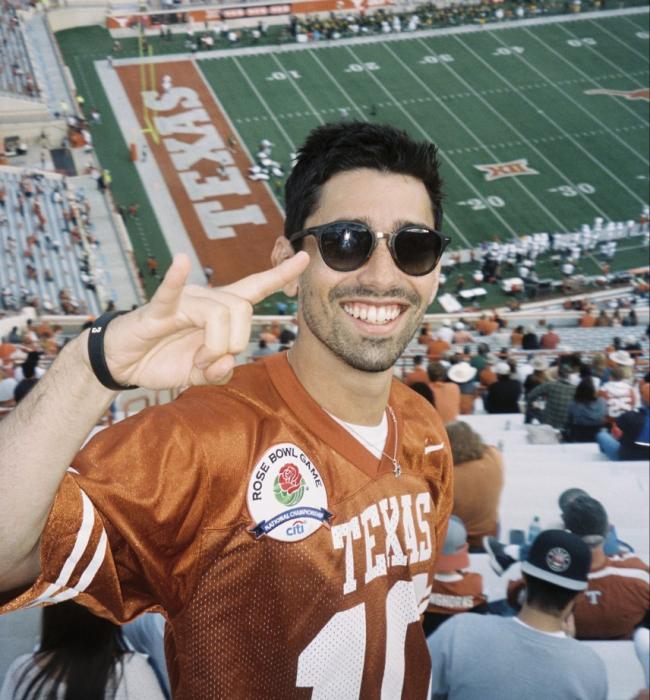 Max Harberg
---
User Experience Strategist
Advertising, Stan Richards School of Advertising & Public Relations
Class of 2019
How are you using the skills that you learned at Moody in your current position?
Moody has taught me many things, from understanding how to structure briefs and pitch ideas to thinking quickly and feeling confident when working with clients. I not only use these skills for individual projects but have created processes for Offbeat. Some notable examples include implementing a standard pitch structure for our client presentations (background, insight, idea, strategy); PowerPoint and mock-up designing; competitive research and analysis to uncover opportunity; planning, producing, and speaking at in-person events and conferences; and working successfully with a team of other creatives.
What advice do you have for #TEXASMoody students?
Looking at the past six years, a lot comes to mind. Regarding school resources, take advantage of every opportunity you have at your fingertips: add an extra class that sparks your interest; take time to get to know your professors; and network with speakers who come to campus. Regarding your time in college, use your unique position as a student to your advantage. Executives and distinguished people in the industry tend to be more receptive to taking an informational interview or mentorship meeting with students. Relationships are everything. You never know if it will lead to your next internship, job, investment opportunity, or a long-lasting mentorship.
Why did you decide to go to grad school?
I explain more below in the career path question, but in short, the Covid-19 pandemic was the catalyst for me to go back to school. Going back to study with professors in the master's program at Moody was one of the best decisions I've ever made. I will forever tell people to go back to get their master's in something they love.
Relationships are everything. You never know if it will lead to your next internship, job, investment opportunity, or a long-lasting mentorship.
What are your plans after grad school?
Following my graduation from the Master's in Advertising program, I began my role as a user experience strategist at PwC Experience Center. At PwC, I continue to grow my career as a creative strategy consultant and stay at the forefront of the industry. I use my experience to help brands evolve their marketing plans and build meaningful immersive activations to interact with consumers.
Tell us about your career path
Funny enough, I was never planning on going back to graduate school. I had already found an apartment in Nashville, Tennessee, that I would move into with my best friend from growing up. I planned to use my experience from Moody, UTLA, and my internship at C3 Presents to dive head-first into the music industry. As the Covid-19 pandemic halted the music industry, I quickly looked for a way to pivot my career. After speaking with Dr. Gary Wilcox and writing my application and essays, I jumped right back into school. During my time in the master's in advertising program, I simultaneously pursued Texas Creative and Texas Immersive. I served as the President of the Advertising Graduate Council, Class Lead of the TXADPR Publication, Co-Founder of the Texas Immersive Institute's student club, Texas Immersive Institute Fellow, and a graduate assistant for several sports and entertainment advertising classes. The summer after my first year (2021), I began an internship at Offbeat Media Group, an innovative start-up digital media agency, as a production coordinator. After our June retreat, I was asked to join the team full-time as the social strategist. In my role, I structured the creative strategy for all our campaigns and presented them to clients, including the C Suite. I worked on projects forMcDonald's, OMD, The Cheesecake Factory, Formula E, Samsung, TikTok, Captain Morgan, and Door Dash. Additionally, I was recognized internationally and recently spoke at Blockchain World–Abu Dhabi about the future of brand integration within the metaverse, Web 3.0, entertainment, and virtual influencers.In my final weeks at Offbeat, I coordinated all our SXSW2022 events, including a panel, a pitch, and a happy hour/networking event. I'm super excited to take everything I've learned from Offbeat and my master's program to PwC.
What classes and professors helped the most?
Erin Reilly, Texas Immersive Institute; Lea Ladera, Texas Creative; Dr. Gary Wilcox, John A. Beck Centennial Professor and Director of Master's in Advertising Program; Dr. Liza Stavchansky Lewis, Assistant Professor of Practice
IG@mharberg https://www.linkedin.com/in/mharberg