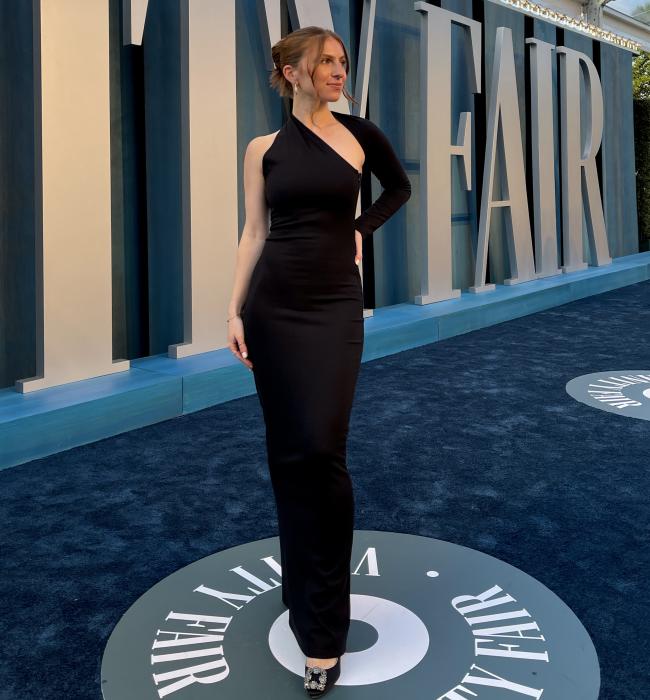 Lea Donenberg
---
Entertainment Associate at Condé Nast Entertainment
Communication & Leadership
Class of 2021
How are you using the CLD skills that you learned at Moody in your current role? 
CLD prepared me for the different types of leaders that exist in the world, and taught me how to work effectively with each of them. I was encouraged to be a leader in my own right, whether I was an entry-level employee or a CEO. I will always remember the lesson of creating your own brand, maintaining brand integrity, and marketing yourself to the world the same way a company would to a client. The skills I gleaned from CLD have supported me in conflict resolution, ethical participation in business, and advocating for myself. 
Why did you study CLD at Moody? 
I was looking for a double major to accompany my Theatre and Dance degree, and CLD had a courseload that was a perfect complement. The entire major revolves around interpersonal skills and human interaction; skills I could strengthen as an actor. As I moved further along in the degree, I realized how applicable the lessons were in any career trajectory I was going to embark on. 
Were you involved in student orgs on campus? 
I was in a sorority as well as an active participant in the UT Department of Theater and Dance productions. I was also a member of the Leadership Education and Progress (LEAP) Seminar program. 
What advice do you have for #TEXASMoody students, particularly CLD students? 
Now is the time to take risks in your career! Try out different roles - finding out what you don't like is just as helpful as finding out what you do like. 
What do you miss most about Moody College? 
I have wonderful memories from my group projects within CLD! It was a great way to connect with classmates that I might not have had quality time with otherwise. 
Now is the time to take risks in your career! Try out different roles. Finding out what you don't like is just as helpful as finding out what you do like.
Can you talk about your career path? 
Upon graduating UT Austin, I received a job offer at Condé Nast Entertainment in New York City. As an Entertainment Associate, I support the beginning to end process of creating video content published by each legacy brand. This includes research on upcoming talent, concept brainstorming, episode ideation, budgeting and production. I have helped produce video content across brands Vogue, Vanity Fair, GQ, Teen Vogue, Architectural Digest, Wired, Pitchfork, Allure and Tatler. I've been lucky enough to produce work on the ground at major tentpole events such as the Vanity Fair Oscar Red Carpet, Vogue's Met Gala, and Pitchfork Music Festival. 
What classes/professors helped the most? 
Writing in Digital Environments was incredibly beneficial, as my entire job focuses on creating content online. Condé Nast Entertainment publishes content across all digital media platforms, and learning how to manipulate language to serve each platform is key to successful performance. The Internship Course was also an excellent gateway into a full time job experience, and I want to start weekly journaling for my current job the way we were tasked to that summer! It was a nice way to reflect and contextualize the work I produced each week. Jennifer L. Jones Barbour was a wealth of knowledge during my time in CLD and I remember her thoughtfulness towards each individual student. 
LinkedIn: https://www.linkedin.com/in/lea-donenberg-382bb9171/