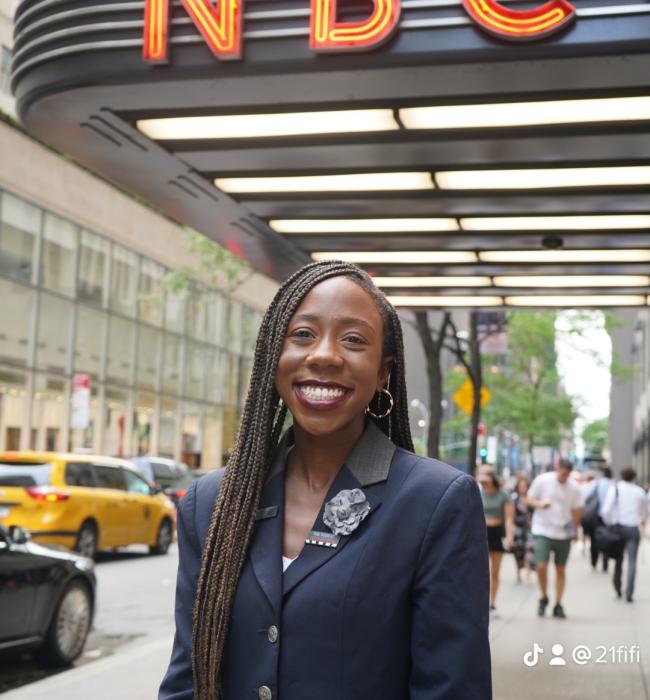 Faith Castle
---
Bravo & E! Social Media Marketing Coordinator at NBCUniversal
Journalism and Media
Class of 2021
How are you using the skills that you learned at Moody in your current role?  
In so many ways! Communication is key in this role. It's important to be a strong writer, have an eye for relevant topics, and work around social sensitivities. Also, this has been a wonderful opportunity to use my graphic design and video editing skills.  
What are some favorite projects you've worked on at Bravo & E! ? 
My favorite opportunity was working the Grammys and Golden Globes. While I only started this role a month ago, I was a page on this team last year where I worked a variety of shoots. My favorite was an opportunity to interview UT alum Sanya Richards Ross who I interviewed in undergrad as well. I love a good full circle moment!  
Were you involved in student orgs on campus? 
The Video Department Head & Internal Relations Director at The Daily Texan 

Co-Founder & Co-Editor-in-Chief of BlackPrintATX 

President of UT's National Association of Black Journalists Chapter 

Website Director for University Fashion Group 
The Drag Audio Production House 

First-Year Interest Group Mentor 

Orange Magazine 

Spark Magazine  

Moody Media Scholars  
Texas Women of Excellence  

The Friar Society  

Gamma Beta Phi Honor Society  

Onyx Honor Society  
Work with your peers! They're not competition. You can learn and grow so much by having an open mindset.
What advice do you have for #TEXASMoody students?  
Work with your peers! They're not competition. You can learn and grow so much by having an open mindset. When I moved to NYC, I was so happy to see many of my peers chasing their dreams here, too! You never know where you may end up.  Also, nothing is permanent. I came into college thinking I would have a particular path, but I was open to exploring new opportunities. What's yours will find you, so don't compare your journey!  
What do you miss most about Moody College?  
The amazing professors! They offered so much wisdom and guidance. I will forever be grateful!  Also, I loved getting the opportunity to work with my friends. I made many great relationships at The Daily Texan (s/o the video department), NABJ, and BlackPrint.  
Can you talk about your career path?  
Two days after I graduated, I was accepted into NBC's Page Program. Through this program I worked for USA & SYFY Promotion Scheduling, NBC's Advertising and Program Standards, Weekend TODAY Social Media, Bravo & E! Social Media Marketing and the TODAY Show. Plus, I've worked shows like The Tonight Show with Jimmy Fallon, Late Night with Seth Meyers, and Saturday Night Live  This opportunity allowed me to gain a load of experiences in the news and entertainment industry. Since graduating, I've worked directly with talent, developed my communication skills and built a large network. This led to the next step in my career, and I'm excited to continue working in the media industry. I'm grateful for the opportunity to continue working at NBC. This is just the beginning!  
What classes/professors helped the most?  
It's difficult (basically impossible) to the narrow down one professor or class that helped the most. I definitely want to shoutout Digital Storytelling Basics. This class opened me to how you can utilize your journalism skills in a variety of aspects. Thank you to Past-Professor Dahlby, Professor Diana Dawson, Professor Kate Dawson, Professor Robert Quigley, Past-Director Dr. McElroy, Professor Erna Smith, and so many more!  
IG/Twitter handle/LinkedIn: IG: @faithcastle21/Twitter: @faithcastle21/LinkedIn: Faith Castle