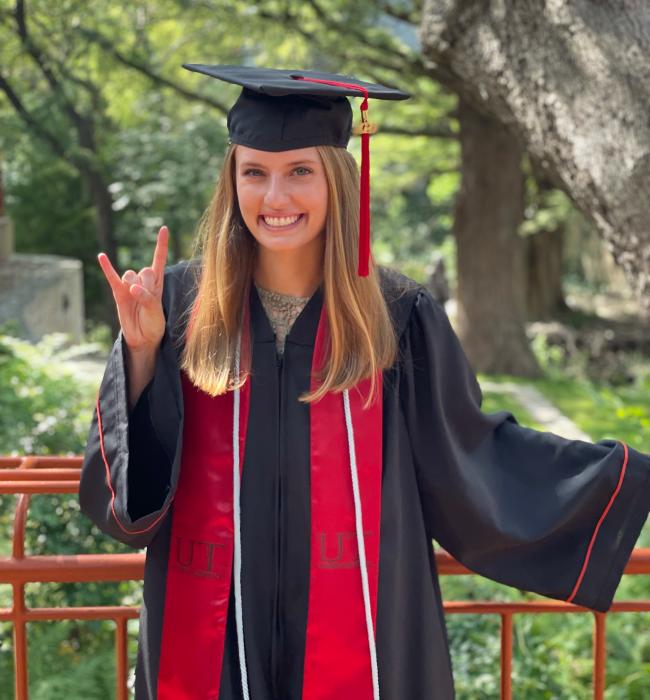 Bonnie Bliss Sacco
---
Speech Language Pathology Graduate Student
Speech, Language, & Hearing Sciences, Department of Speech, Language, and Hearing Sciences
Class of 2020
Tell us about your career path
My path was unique to me, as everyone's should be. In the year between graduation and graduate school I worked at Capitol School of Austin as a teaching assistant. I made life-long friends, learned an invaluable amount about teaching, caring for children with language and learning differences, and learning to adapt at a moment's notice. No child or situation is the same and for that reason, each one deserves individualized care and attention.
I graduated from Moody College in May of 2020 and immediately took to job hunting during one of the craziest times in my life. While I was busy searching, the right job for me was just around the corner. I like to think they found me just like I found them. Soon I was employed with the incredible non-profit, Capitol School of Austin. Everything was so new to me, it was my first full-time position and I was nervous, but UT and Moody prepared me well for any challenges that followed. I grew in so many ways as I became a part of the workforce. I gained new experiences, I worked with children across varying ages, and I learned to work in a professional environment.
All of that was leading me to my next stage in life: graduate school. I loved every moment I spent on the 40 acres, and am eternally grateful for the opportunities I was presented with throughout my time there.
How are you using the skills that you learned at#TEXASMoody in your current position?
The skills I learned while I was a Moody student will carry on with me forever. Moody helped me evolve into a strong communicator, an adventurous learner, and taught me to never stop learning, especially once I am out of school. There is always room to grow, whether it is as a student, a teacher, or anything in between.
All of that was leading me to my next stage in life: graduate school. I loved every moment I spent on the 40 acres, and am eternally grateful for the opportunities I was presented with throughout my time there.
What do you miss most about Moody?
What I miss most about Moody College is the community we had. No matter which major you were in throughout Moody College, I always felt a strong sense of belonging with those around me. I felt supported and as if I had people I could always lean on.
What classes or professors helped the most? 
Every class I took holds a special place in my heart, the ones in and out of Moody. If I had to pinpoint one person in particular who was a guide to me like no other, it would without a doubt be Dr. Natalie Czimskey, an incredible lecturer in the field of Speech, Language and Hearing Sciences. Dr. Czimskey has given her heart to UT to become the best at what she does, and she puts an equal amount of her heart into teaching, loving, and being an amazing human. She helped me in a way that was fundamental to my education and life beyond Moody. For that, I am so grateful.
What are your plans after graduate school?
After graduate school, I hope to become a competent Speech Language Pathologist (SLP) who can utilize the skills I am currently learning, and offer the best care possible to those in need. Communication is a basic human right that all deserve. I am elated to be a part of people's communication journeys, and hopefully make lasting impacts for humans of all ages. Graduate school is the path for many SLHS majors, but not for all, and that is completely valid. There is no right way to do things, or one right path to follow. That is the best part and what makes life after Moody so interesting and full of new experiences. Personally, graduate school is a stepping stone for me to become an SLP. I wanted to challenge myself, reach beyond my comfort zone, and step into an uncharted area.
I am hoping it is in this environment I will gain the knowledge, heart, and expertise to become the best Speech Language Pathologist I can be. But again, there are many other great options in our field that do not require you to attend graduate school, as it is not always an option for everyone. I did not go straight from my undergrad to graduate school and I feel I am the better for that. Take your time, really know yourself and what you want out of graduate school or whichever path you choose, and give it your all. That is all the world can ask of you.