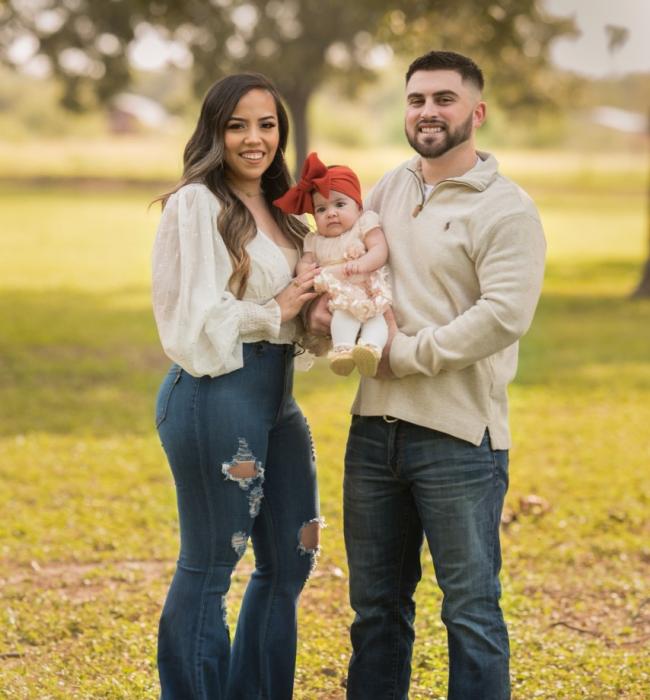 Alexis A. Martinez - Newbern
---
Speech Language Pathologist Assistant (SLPA)
Speech, Language, & Hearing Sciences, Department of Speech, Language, and Hearing Sciences
Class of 2020
**Alexis graduated with a bachelors degree in Communication Sciences and Disorders (CSD). In 2020, the name of this degree was changed to Speech, Language, and Hearing Sciences.**
How are you using the skills that you learned at Moody in your current position/grad school?
Moody was a stepping-stone in teaching me how to thrive in my higher education journey. Through my FIG, I learned how to navigate the campus and my identity as a college student. Through my courses, I learned how to provide the best therapy possible to my students. Now being a graduate student, I can say I use all the experiences and knowledge I have gained with Moody almost every day.
What advice do you have for #TEXASMoody students?
Plan for the best, but don't get discouraged when things take a detour. I thought I had my whole college career planned out to a tee. I feel like most of us as CSD students tend to be very goal-oriented and set this straight path for ourselves. Give yourself grace when things don't go as planned. Regroup, replan, and keep going. You will get there.
What do you miss most about Moody College?
I miss being on campus! With the pandemic going on, I know a lot of us have gotten used to online classes, but we can all agree it's a different experience getting to be in class in person. I am also doing a distance graduate program so I don't get to go on campus for class. I miss going to class in person and feeling inspired and motivated by my classmates.
Can you talk about your career path? What was your first job out of college?
After graduation, I applied for my SLPA license. Once I finally received it, the pandemic hit and I could not find a job. I was feeling very discouraged, and then in Mid-July I received a call back from a pediatric home health agency. They gave me my first opportunity to work out in the field, and I was loving it! However, in December I found out I was accepted into TWU's distance graduate program. This meant that I would be working in a school-setting and going to school full time. In January, I started working for the Jackson County Special Services Cooperative as an SLPA at Edna Elementary and I am loving it! My career goal was to become a school-based speech language pathologist, and now my graduate program and job are setting me on that path.
What classes/professors helped the most?
Dr. Czimskey has been a vital person in my college career. She is the most humble, knowledgeable, and personable professor. She is known to make students switch over to CSD/SLHS after taking her class, and that is because she is so passionate about the field. When I thought I wouldn't be able to go to grad school, she helped me navigate my options. She made me feel like I could, helped me get through the application process, and now I am a graduate student! She is the best!!
Give yourself grace when things don't go as planned. Regroup, replan, and keep going. You will get there.
What does it mean to you to be the first in your family to go to college and go on to graduate school?
Being the first in my family to go to college means that helped set the path for future generations in my family. My parents made so many sacrifices and pushed me to be the student I am today. They wanted me to do more, and thanks to their motivation they paved the path that lead me to want to get a higher education. However, I had to take the first step to get there. They were always cheering me on along the way, but I had to do the work to make it through. Now I will be able to pass down my experience to my daughter, and hopefully she will pass it down to her daughter. I hope the cycle will continue on for future generations to come.
What were some things you wished you knew about college as a first-gen?
Something I wish I knew about college as a first-gen was that it is okay to seek out help. I was so stubborn and set in my ways because I kept telling myself I had gone this far on my own. Pride isn't going to get you very far when you're struggling. Research the resources on campus and USE THEM! That's why they are there. Use the writing center if you're unsure about your writing skills. Look for tutoring at the Sanger Learning center. Ask your professor for clarification during their office hours. It is okay to need help during this transition of your life and it is okay to accept the help!
What were some hurdles or challenges you faced and how did you overcome that? Did faculty, advisors or fellow classmates help navigate college for you? What resources were helpful for you?
My last semester of undergraduate I was unsure whether I wanted to apply to graduate school. I thought the situation I was in was going to make it impossible for me to continue my education. I went to Dr. Czimskey (my CSD professor at the time) and she helped me explore my options. After her talking to me about what I could do and explaining to me what graduate school would be like, I was more sure than ever that I wanted to apply. She believed in my potential and in turn helped me believe in myself.
What advice do you have for current first-gen Moody students?
When things seem impossible, remember all the people cheering you on, wanting you to succeed. Your family, friends, past teacher/professors, other first-gen students, are all cheering you on. I am cheering you on. Most of you aren't just doing it for yourself, you're doing it to show others in your family and community that they can do it too. But you have to want it; keep pushing, the reward is worth it in the end.
Anything else you want to add about being first gen?
Being first gen, I was always jealous of other students who said their parents helped them through the process of getting into college. My parents put all the trust in me knowing what I was doing. I made it through my own hard work, and then once I got here, everything was so different than what I had imagined. It's hard going through this time of your life when you feel like you have no one to guide you through their experience of college. I think we can all relate to feeling like we're at a disadvantage when we start our journey. But think about how you're going to end that cycle. Think about how your children will be able to say their parent/s went to college. You'll be able to give them the help you wanted. Use that disadvantage as a drive to keep going.