Virtually learning to adapt
Moody College faculty and staff navigate new era of online education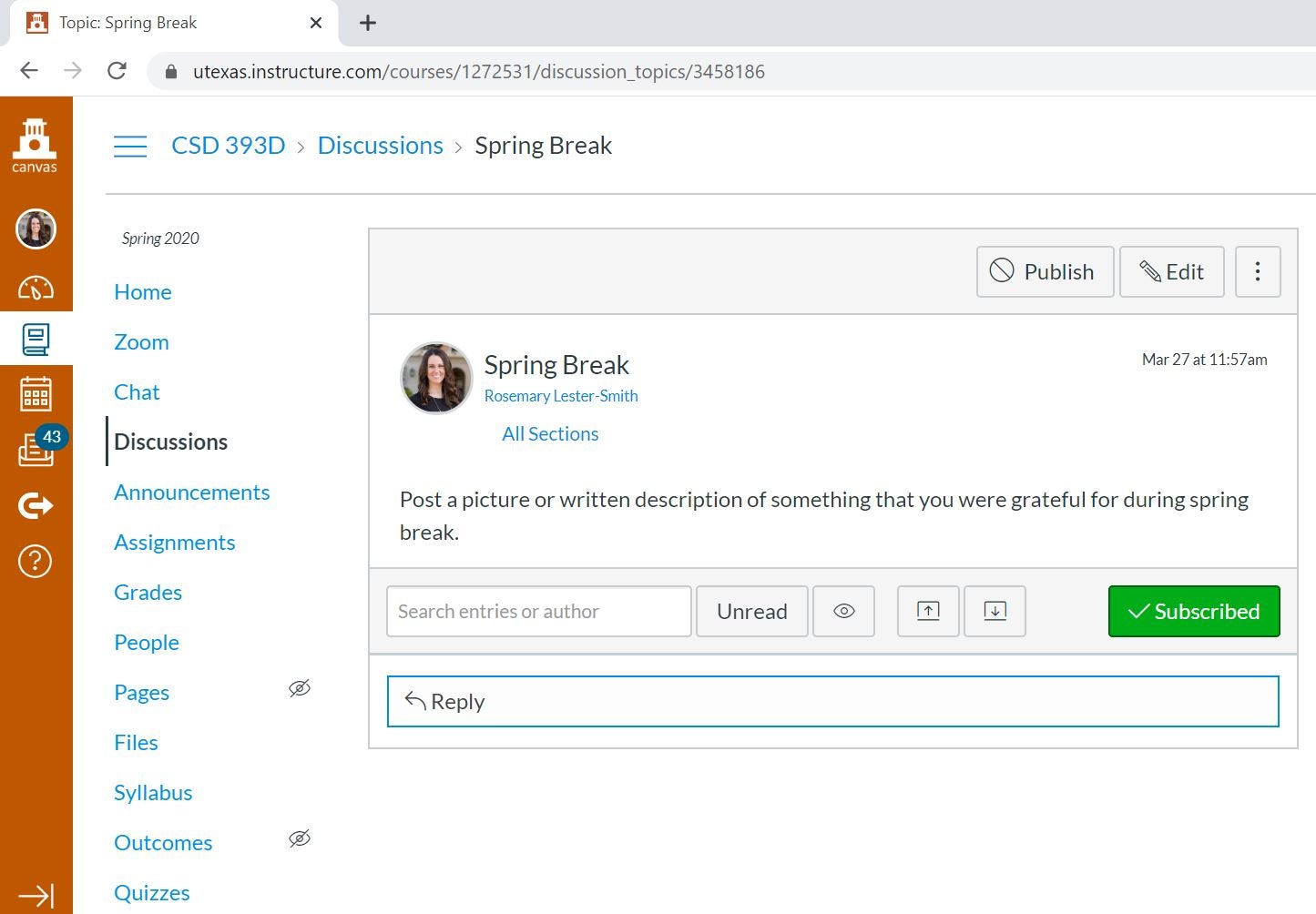 Students and instructors interact through Canvas to maintain relationships and continue teaching and learning.
As students, faculty and staff at The University of Texas at Austin readied for one more class day before a much-needed spring vacation, the global COVID-19 pandemic suddenly became locally familiar. Campus operations were abruptly cancelled on Friday, March 13, and the two-week break turned into a period of intense preparation.
All UT Austin classes had to transition online by Monday, March 30, including hundreds of courses at the Moody College of Communication.
To complete this Herculean task in 17 days, with almost everyone working remotely, Moody College faculty and staff spurred significant resources from instructional technology, technology teams and educational support and training.
Instructional designer and program manager Mary Crawford proved a beacon and guide for this evolving process. Crawford made resources available to help classroom leaders transition their lectures and course content to digital platforms, including the Moody College teaching continuity guide.
"The most challenging part is how fast everything is moving," Crawford said. "We continue to find ways to overcome challenges to teaching and learning using the tools at our disposal, but there is a lot of ground to cover. I'm inspired by how everyone is coming together and supporting each other—it makes you appreciate what's really important and the relationships we cultivate."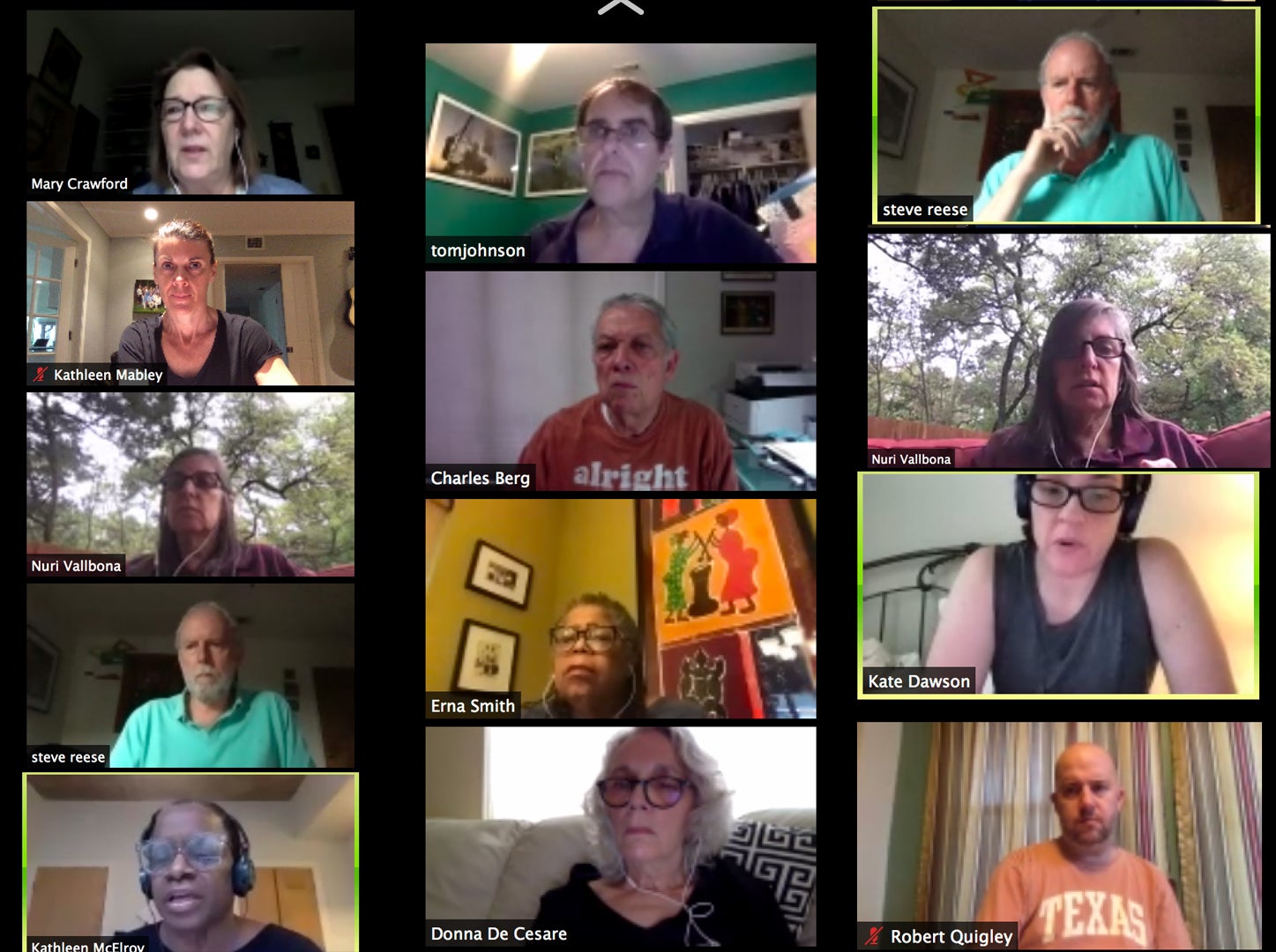 Crawford hosts virtual office hours for course instructors via Zoom Monday through Friday from 11 a.m. to noon and demonstrates Zoom and Canvas integrations, discusses online teaching issues, fields questions and provides advice on best practices depending on course rubrics. 
Common issues arise when it comes to Zoom and Canvas settings and accessibility. Class fundamentals such as attendance, grading and tutorials are now compounded with new digital options such as file sharing, video recording, editing, audio recording, PowerPoint lectures, screensharing and meeting options.
Crawford also helps instructors balance their course curriculum with synchronous learning, such as live-streamed lectures, and asynchronous pedagogy, which allows material to be accessible anytime.
To multiply teaching and training, Crawford recruited a Moody College Teaching Continuity Support team comprised of 16 faculty liaisons for online teaching design and distance learning and 13 staff liaisons for basic Canvas and Zoom support. Departments also created a Canvas Sandbox where faculty in their respective departments can ask questions and share information.
Operational continuity
Moody College has been staffed almost completely off-site through remote working environments since March 16. Executive Director of Business and Technology Services Kimberly Biar said her teams are diligently paving the way for online learning while also making sure the college pays its bills and supports employees during this difficult time.
"There have been so many questions about how to approach the business, technology and human resources side in addition to the urgency and critical importance of getting classes online so students can complete their semester," Biar said. "This is uncharted territory, and everyone's been great and responded so quickly—I couldn't be more pleased."
Director of Moody College Technology Services Charles Soto and his teams helped mobilize equipment including desktop and laptop computers, hard drives, software and training resources to faculty, staff and students. Soto's team recently created the "Moody College Covid-19 Online Learning Urgent Help" online form to provide immediate technology support for students, instructors and staff.
Obtaining licenses to operate software for students to be able to work at home has been a challenge. In response, the university is working with students on borrowing or buying hardware, and Adobe lowered its one-year license rate for students using the Creative Suite from $99 to $17.75 until April 15.
Digital classrooms
Classes are creatively responding to the closure of clinics, labs, studios and equipment checkout, which suspended operations on March 13.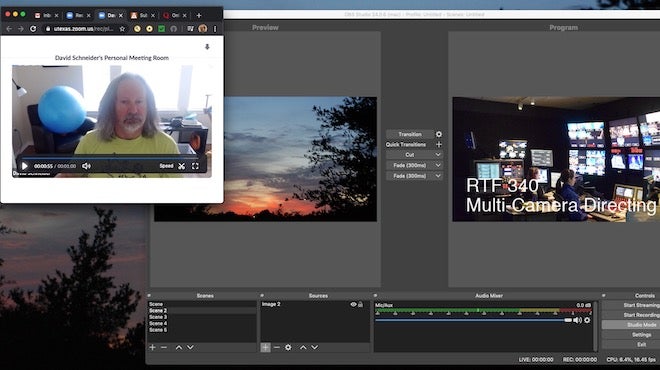 Department of Radio-Television-Film lecturer David Schneider teaches a course titled "Multi-Camera Television Directing" that traditionally uses Studio 4B in CMB to learn the production of television programs, including the use of a multicamera format. Schneider said the change in curriculum will affect about 60 percent of how he planned to evaluate students and class assignments.
"I describe the situation for me like being a basketball coach whose team is communicating in different rooms, has no gym and no basketball," Schneider said. "The lecture part will be pretty straightforward to complete online, but the lab section will call for creative measures."
Schneider said he plans to alter subject material by using open source broadcast software that allows for downloading versions of a video switcher, critiquing the work of others in case studies and observing how many traditional format television shows such as "The Today Show" have pivoted and are broadcasting from the homes of hosts with little studio involvement.
In addition, changes in policy will be necessary as resources of the university change due to the demands of online learning. Wifi connections, worldwide internet traffic, availability and sharing of devices among other issues complicate the virtual learning environment.
The Office of the Provost has recommended instructors limit live teaching to no more than 30 minutes for each three-hour course session.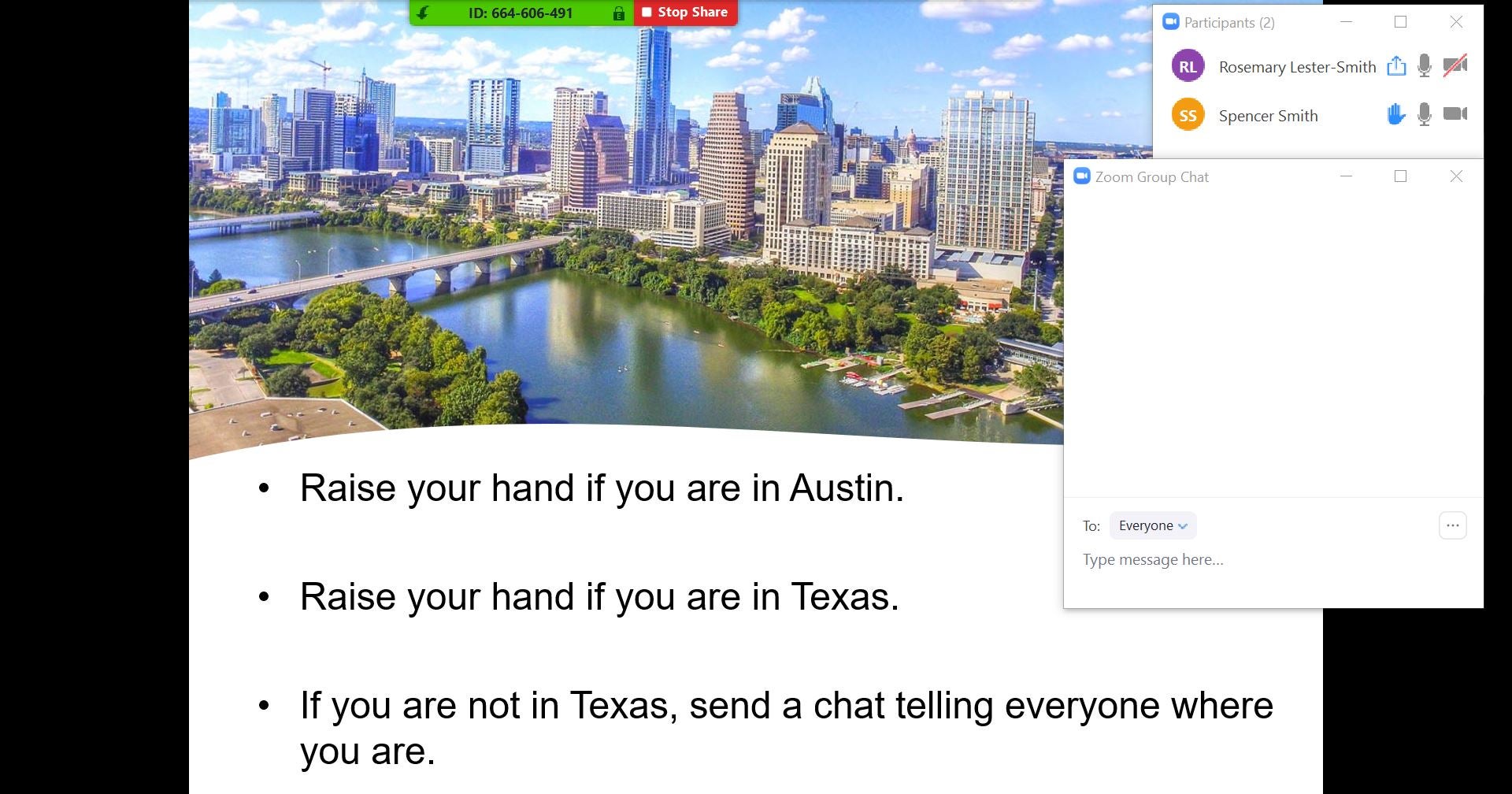 Department of Communication Sciences and Disorders Assistant Professor Rosemary A. Lester-Smith teaches a graduate speech-language pathology class titled "Voice Disorders" that typically involves case-based discussions and hands-on activities.  
"I'm thinking of ways to reduce the demands of synchronous (live) interactions by posting videos of case examples and demos on Canvas and using Canvas Discussion and Canvas Chat," Lester-Smith said. "The department, college and university response has been very supportive on how to navigate this so we can adapt."
With many faculty and staff working around the clock in the preparation and launch of an unprecedented learning environment, the expectation is that everyone at Moody College will be affected.
"I expect instructors will start working their plan next week and have hiccups. Everyone needs to be flexible and agile and willing to pivot if something is not working to ensure students have every opportunity to engage with content, their instructors and fellow students," Crawford said. "Students are anxious and feel isolated and stressed by financial and other pressures, but there's still a lot they can learn this way."
"In fact, they might be exposed to a wider range of potential challenges and solutions."