Texas Speech Wins National Championship
Longhorns take crown and unprecedented six individual titles

Texas Speech talked its way into the record books this week, winning the 2016 American Forensic Association (AFA) National Individual Events Tournament in Gainesville, Fla. on April 4.
In addition to the Longhorns winning its first team national championship since 2002, students won five out of 11 national championships for individual events plus the top overall speaker award, capturing six individual titles overall and breaking a national record. Students winning national titles include Farrah Bara, who won the top overall speaker award and two other individual titles, along with Kevin King, Abigail Onwunali, Lizzy Marrero, and public relations senior Alexa Thomas. For a list of all winners from the team, please visit the Texas Speech website.
Senior Lecturer Martin "Randy" Cox (B.A. '91, M.A. '94), director of the university's Individual Events Program, known as "Texas Speech," has also coached three other Texas Speech squads to national victory.
"This is one of the most extraordinary groups of students that UT Austin has ever produced," said Cox, who has coached Texas Speech since 1991 excluding a five-year stint in Boston from 1994 to 1999. "They've worked harder than any other team I've ever had before."
Established in 1988, Texas Speech also won national titles in 1994, 1995, 2001 and 2002 and has finished in the top six programs nationally every year since 1989. This year's team consists of 32 students from disciplines across UT Austin with a large representation of members from Moody College. Tournaments traditionally begin in mid-September and end in early March culminating in the national contest in early April.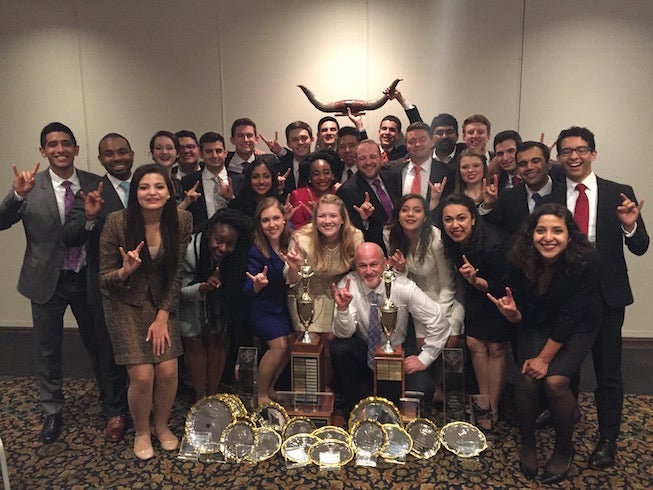 Typical topics addressed at tournaments include issues of politics, identity, culture, social understanding, current events, presidential politics, and international affairs.
Some of the trips the team took this year include visits to the University of Alabama, Ball State University, Bethel College, Bradley University, the University of Oklahoma, and Rice University. Cox said the majority of his students progress to graduate, law or medical school and often become academics or use their skills in the nonprofit sector.
"Speech is one of the most important activities a student can learn because it teaches high-level communication skills and an ability to understand and empathize with an audience," said Cox. "The programs we compete against inspire and motivate us because they are run by extraordinarily talented individuals and we have to get better every year to keep pace with them." Cox said the camaraderie of everyone connected to the team and their competitive spirit continues to inspire and encourage him.
"Thanks to all the coaches and alumni that have helped the team throughout the entire year," said Cox. "We couldn't be more appreciative."
Later this month, Texas Speech will compete at Ball State University in Muncie, Ind., at the nationwide tournament of the National Forensics Association from April 14 to 19.