Teaching with a learning curve
Instructor adaptability, empathy vital to online pedagogy
The Spring 2020 semester has produced significant change throughout higher education, yet despite adaptations to structure and routine, faculty members in Moody College report unsurprisingly similar daily schedules of waking early, checking in with students one-on-one through Zoom conferencing, conducting class, reviewing assignments and answering questions during office hours.
Blending work and life
Department of Communication Sciences & Disorders Assistant Professor Rosemary Lester-Smith is balancing work and family under the same roof. Her family includes husband and fellow Assistant Professor Spencer B. Smith and their baby girl, who celebrated her second birthday a couple of weeks ago.
"It's been challenging for my husband and me to be working from home, keeping our labs running remotely, maintaining research collaborations and teaching online, all while taking care of our daughter," Lester-Smith said. "She has been such a light to have around, keeping us distracted from reading too much news, motivating us to get outside for fresh air and exercise, and initiating sing-alongs and dance parties!"
As work and life have blended together, Lester-Smith said students also adapted resiliently. During audio and video interactions, they can ask and answer questions by raising a virtual hand or sending a chat message, in addition to utilizing Canvas discussions and Zoom breakout sessions to discuss clinical cases.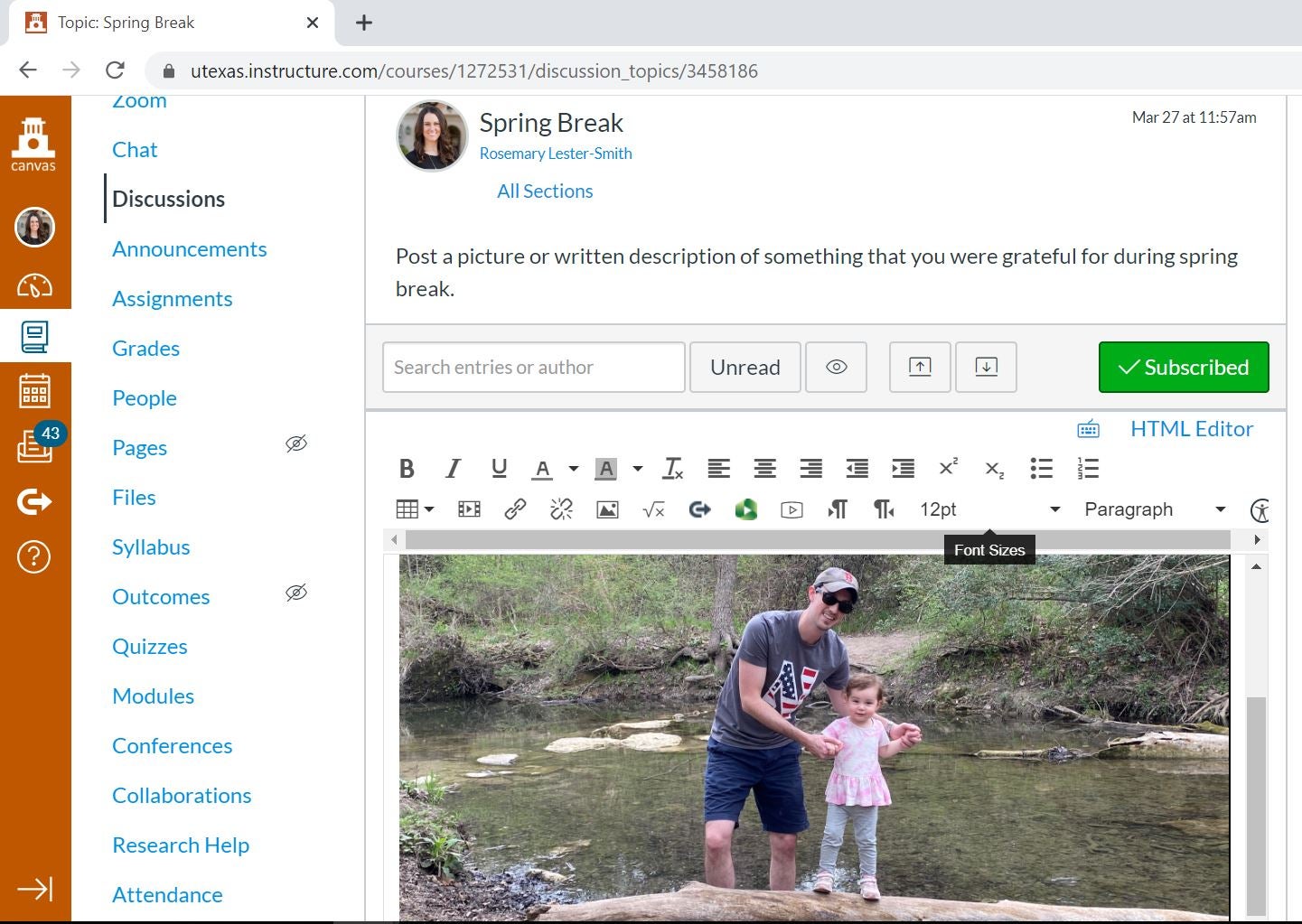 Internet connection issues compound audio and video interactions, but students are quick to resolve and find different methods to stay involved.
"The greatest challenge has been that live discussions and live activities take at least two times as long to facilitate online," Lester-Smith said.
Clinical application and practice are central to learning for communication sciences and disorders students. Patient-care paradigms and evaluations are addressed via follow-up questions and comments on Canvas and on Zoom breakouts and full class sessions.
"Because discussions and activities are so valuable for clinical learning, I've adapted the amount of content I cover in lectures to allow extra time for discussions and activities both on Zoom and Canvas," Lester-Smith said.