Mark Bernstein wins William David Blunk Memorial Professorship

Long before Mark Bernstein became associate dean of student affairs for the Moody College of Communication at The University of Texas at Austin or made an appearance on "Jimmy Kimmel Live," he was an elementary school teacher for deaf students.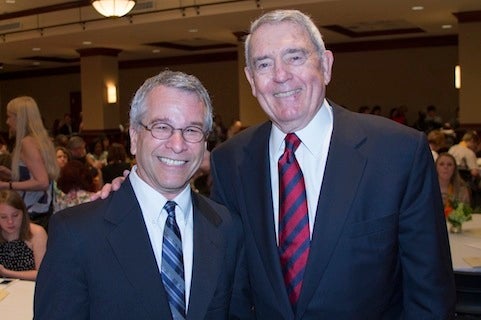 "I wanted to learn more about what was going on inside the kids' minds as we taught them," said Bernstein, who has taught in the Department of Communication Sciences and Disorders since 1982, previously served as graduate advisor in the department and is in his tenth year as associate dean for student affairs. "As I was teaching I was serving on several committees developing curriculum for deaf children for English language skills and literacy skills and we weren't satisfied with what we had—so we set out to change it."
In recognition of both his undergraduate teaching related to deafness and deaf education in the Department of Communication Sciences and Disorders and his efforts to ensure student success, Bernstein was awarded the William David Blunk Memorial Professorship for 2014-2015. The professorship is given for one academic year and Bernstein was selected as winner with one nomination granted per college with 18 colleges and schools participating at UT Austin.
Growing up in New York City, Bernstein earned an undergraduate degree in political science at the University of Pennsylvania, a master's in deaf education at New York University, and a doctorate of education in applied psycholinguistics from Boston University. 
He teaches a course in deaf education plus a one-hour seminar each semester and plans to continue teaching and working with students as associate dean for student affairs.
"I'm basically the person who oversees student affairs, student services, career services, honors day, commencement, progress towards degrees and advising," said Bernstein. "Our mission is to help our students be successful. I thoroughly enjoy what I do and I couldn't be more proud of our staff—they're dedicated and do a great job."
Bernstein also noted that the Moody College is in what he called a "golden age."
"I've been here long enough to have seen the Moody College go through a variety of phases and right now—I'd say it's as strong as I've ever seen it," said Bernstein.
Since its inception in 1978, four other faculty members of the Moody College have won the award including John Daly, Charles Ramirez Berg, Mark Knapp, and Deborah Morrison.