Preparing for the 2014 Sochi Olympics
Radio-Television-Film and advertising students intern for NBC Sports

The leopard, polar bear and hare may be the official 2014 Sochi Olympics mascots, but the Longhorns also have a presence in Russia this February.
When celebrities and business leaders flock to Sochi, graduate advertising student Aleksandra Utterback will greet them on behalf of NBC Sports and usher them to events throughout the Olympic Park. At one of the Olympics' media centers, sophomore radio-television-film major Kadriya Gizatullina will prepare offices for executive producers, run errands for editors and videographers and translate information from-and-to her native Russian language.
The students are serving as NBC Sports interns – highly competitive posts they landed after an intense application and interview process. Department of Advertising and Public Relations lecturer Joel Lulla helped facilitate the interview process for the internships, which fulfill the Moody College Sports Media Certificate's internship requirement. Developed by the Department of Advertising and Public Relations, the Sports Media Certificate consists of a sports media-focused internship and 18 hours of coursework.
The internship also complements Moody College's Texas Program in Sports and Media (TPSM), which supports sports-related curriculum development and hosts discussions related to the intersection of sports, media and society.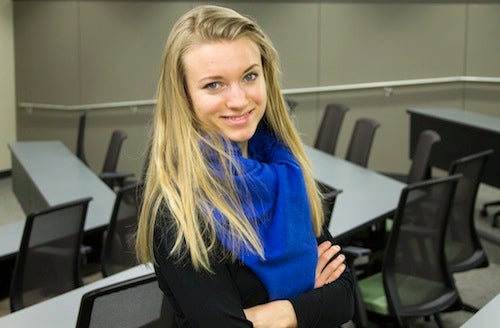 1. How did you hear about this program, and why did you apply?Gizatullina: My friend told me that NBC was looking for interns, especially those who know Russian and study communication. Since the Olympic Winter Games are taking place in Russia, in my home country, I could not miss that opportunity. I feel proud and honored that my country is holding the Olympic Winter Games, so I wanted to take a chance and apply for the internship.
Utterback: I believe we all received a mass email about the internship opportunity from our advisors. I then was approached by fellow students and professors about applying, as it seemed a perfect fit for me. I love sports and am originally from Warsaw, Poland but am a permanent resident of Texas. I suppose I applied due to the encouragement of my family, peers and professors. However, I also am very passionate about sports and find the Olympics to be the greatest honor of all. My aunt and my mother were also training for the Polish Olympic Track & Field team back in the 80s for the Seoul Summer Olympics. Although both of them didn't end up going to the games for personal reasons, it has been a great honor to have made the team in the first place and is always mentioned at family events.
2. What was the application process like?
Gizatullina: I filled out application documents, and I was called for a few Skype interviews. The questions were diverse; such as why do I want to do this internship? And what Russia is like? Also, an interviewer from Russia talked to me about general subjects to examine my knowledge of the Russian language.
Utterback: The application process was very long. We went through several rounds of interviews and when I heard of my acceptance in June, I was back home in Poland. It was right after my birthday so I considered it the best birthday present ever! I happened to be at my day job and just started screaming and celebrating with my boss and co-workers.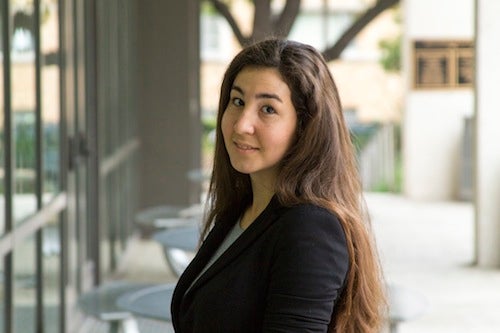 3. How do you feel about being selected for this program?Gizatullina: I consider it once-in-a-lifetime opportunity and unforgettable experience. I feel very excited and happy, as the Olympics will be always seen as the symbol of peace, tolerance and global solidarity.
Utterback: I cannot express the amount of pride and honor I felt when I read the acceptance letter on that day in June. I was so overwhelmed with positive emotion that I probably looked like I had a hanger in my mouth for months afterwards! I still have a huge smile anytime I get to talk about it! So, how do I feel? Unbelievably happy, accomplished and satisfied.
4. Which classes and internship experiences have best prepared you for this program?
Gizatullina: I was lucky to intern for international film agencies in the U.S., France and Russia. Moreover, my remarkable professors from The University of Texas at Austin were truly inspiring and supportive.
Utterback: A lot of my classes, work and internship experiences have prepared me for this position. It's hard to pinpoint the exact ones. However, I will do my best. I believe that in terms of courses, I took a lot of sports advertising courses during my master's program that will be relevant at the Olympics. Most of my courses that reflected presentation work and group collaborations helped me grow and tone my presentation, teamwork and leadership skills. I have interned at many film studios and production companies, which helped me understand how to get the most out of internship experiences. I also had a lot of jobs in which I had marketing and touring experiences. Essentially, during those jobs, I had to speak to a group of people and learn how to cater to my audience. In addition, I was on the Division One Track & Field team at Boston College before I transferred to UT my junior year. Sports are a big part of my life as they are in my blood, but they also make me feel fulfilled.
5. Because the internship takes place at the beginning of the fall 2014 semester, will you be studying abroad for the next few months?
Gizatullina: I am planning on going to Australia for one semester, as they start their semester in late February (because their seasons are all opposite, as they are under the equator).
Utterback: I ended up taking an overload of courses in the fall 2013 semester to free up my schedule for spring 2014. And I spoke to the professors of my spring 2014 courses a year in advance to make sure that I could take their courses and miss the three weeks in February. Once I received approvals, I went ahead with my plan. So, essentially, I will be taking my classes normally as a full-time graduate student. However, the courses I chose mainly focused on online coursework so that I can study from anywhere in the world. Therefore, I should have no problems!