New Advertising & Public Relations Director
Digital Advertising Executive JoAnn Sciarrino named Director of Stan Richards School
AUSTIN, Texas — JoAnn Sciarrino, an advertising and marketing executive with more than 28 years of experience in digital advertising and marketing, has been chosen to lead the Stan Richards School of Advertising & Public Relations at The University of Texas at Austin starting Aug. 1, 2018.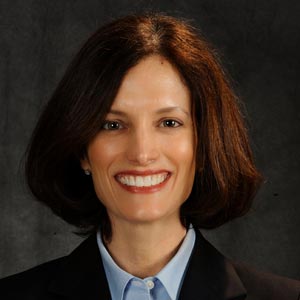 Sciarrino currently holds the Knight Chair in Digital Advertising and Marketing at the University of North Carolina School of Media and Journalism. She has held the position since 2012 and teaches digital marketing and market intelligence. Sciarrino also teaches digital marketing to M.B.A. students at the UNC Kenan-Flagler Business School. In 2016, Sciarrino received the University of North Carolina Tanner Award, which recognizes excellence in inspirational teaching. 
Her research interests are in the areas of digital marketing, digital advertising, marketing analytics and brand attachment. Her research has appeared in several academic journals, including Journal of Marketing Theory and Practice and Journal of Digital and Social Media Marketing.
She's a frequent invited speaker at numerous client and professional organizations on her digital advertising and marketing research, including the Association of National Advertisers, the Advertising Research Foundation and Content Marketing World. With Penny Abernathy, she co-authored "The Strategic Digital Media Entrepreneur," which will be released by Wiley Publishing in July 2018, and is currently authoring a second book on advertising intelligence to be released by Routledge in 2019.
"I am honored and thrilled to work with the amazingly talented faculty, staff, students, alumni and partners to help the Stan Richards School of Advertising & Public Relations continue to be the most respected, influential and innovative school in the world," Sciarrino said.  "My vision is to build upon the Richards School's highly successful 'TheoryxPractice' approach by expanding interdisciplinary programs and courses in creativity, analytics and technology, as well as strengthen and grow industry partnerships and entrepreneurial opportunities."  
Prior to academia, she served as executive vice president for BBDO North America for 12 years, where she provided research, analytics and modeling solutions for more than 30 global clients, including AT&T, Starbucks, Hyatt, FedEx, GE, L'Oreal, Proctor & Gamble and Bank of South Asia. Sciarrino focused on building relationships within highly matrixed agency, client and holding company organizations through research and modeling initiatives that solved complex brand and advertising challenges. 
During her tenure at BBDO, she was awarded the prestigious Batten, Barton, Durstine and Osborn medal for superior employee recognition of individual contribution, attitude and performance. Sciarrino holds an M.B.A. in decision science from Emory University's Goizueta Business School and a bachelor's in business and social science statistics from Michigan State University.
"There is no greater person in the country to lead the top-ranked Stan Richards School of Advertising & Public Relations than JoAnn Sciarrino," said Moody College of Communication Dean Jay Bernhardt. "The combination of her deep industry leadership, understanding of media analytics and trends, and her outstanding academic experience will strengthen and build upon the outstanding work being done in the Richards School."