Q&A with Radio-Television-Film chair Noah Isenberg
Much like the creative department he now leads, Noah Isenberg brings together a cross-section of disciplines and talents to produce work, expand thought and understand cultural context.
Isenberg is widely regarded as a film historian who joined the Moody College of Communication as the George Christian Centennial Professor and Chair of the Department of Radio-Television-Film in January; however, those titles provide a limited view of Isenberg's breadth as an author, leader and teacher.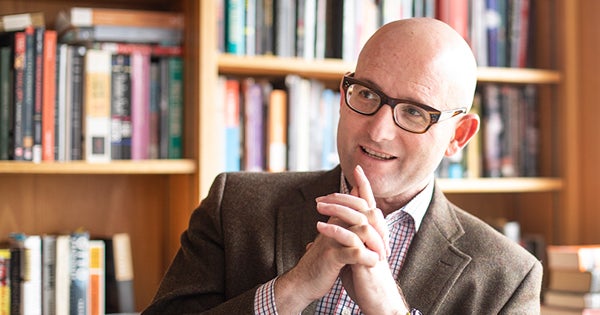 For the past 15 years, Isenberg served as a professor of culture and media at the New School in New York City, where he also founded and directed the Screen Studies program. He is the author of multiple books, most recently, "We'll Always Have 'Casablanca': The Life, Legend, and Afterlife of Hollywood's Most Beloved Movie."
His writing has also appeared in diverse publications such as The Nation, The New Republic and the New York Times Book Review.
"My work, if there is a through line to it, is a combination of history and storytelling," Isenberg said.
---
What inspired your journey into storytelling?
I'm very anecdotally driven in general. Even going back to high school, I was the features editor for the school newspaper. What's strange, when I went off to college at UPenn, I stupidly didn't join the student newspaper. That's one of my regrets. I think I was just too caught up in having a great time.
When you tell academics that journalism is something that has influenced you, they look askance. But the truth of the matter, from the very beginning, the great critics and journalists, whose work I admired most, that has really been what's shaped me, even more than great theoretical figures I had to knock heads with, especially in graduate school.
Now the public humanities are pushing us to make our academic work interface with the world. It's breaking through the model where you create for your peers and don't penetrate those walls and reach outside.
Why were you interested in pursuing film as a specialty?
I've always been intrigued with cultures that were not my own. Cinema is a way to do that. I can watch a movie that takes me to Argentina, or suddenly I'm in the middle of Tehran, or in India. That's one of the beauties of film.
I was not a strong student my first three years of undergraduate school. My senior year, I figured out I could compete academically and decided I wanted to go to Berkeley for graduate school, but I did not get in. The University of Washington took me. I did a master's in German literature. I really proved myself there and landed a Fulbright to Germany and then re-applied to Berkeley and got in. My thesis advisor at Berkeley was also the director of the film studies undergraduate program. He was a film scholar, and I knew I wanted to do film. I studied with him.
How did you discover a passion to be in the classroom?
I joke sometimes that I teach for free. The teaching is such a joy, they don't need to pay me for that. They pay me to go to meetings.
When I finally came out of the other side of adolescence in my 30s, I realized I wanted almost nothing more than to impart knowledge and be in the classroom. In a strange way it's like a belated discovery of something I probably should have discovered my first three years at Penn when I was having fun.
After more than a decade at the New School, what was intriguing about The University of Texas?
The little film program I founded within liberal arts and got off the ground at the New School is very close in spirit, very much a kindred spirit, to Radio-Television-Film here at Texas. Both are an integrated mix of production and theory, criticism and history.
It's a true honor to be here in a leadership position. It's been a steep learning curve, but I feel like I'm always learning new things. Right now, in Radio-Television-Film, it's a very exciting juncture.
Do you see opportunities to innovate across various disciplines for the purpose of creating and criticizing film?
Radio-Television-Film as it has historically existed and will continue to exist as inherently and necessarily multi-disciplinary. The medium has evolved so radically that either you adapt, or suddenly you become obsolete.
Coming up, I'll be teaching a film history course for the MFA screenwriting students. I'm very excited to cross that discipline, to give a tour of film history to students who are crafting current-day screenplays.
We're drawing on methodologies, traditions and material that travel across divisions. So even if your original training is in literature or history, those disciplines are not siloed. Film is not restricted; it's free and in many ways liberating.