Moody College's Knight Center to host annual International Symposium on Online Journalism
The symposium will be held online and in person April 14-15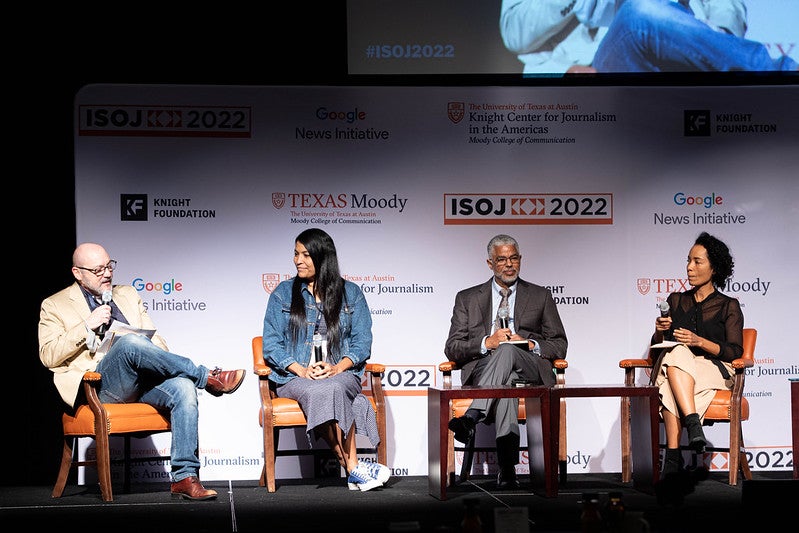 Hundreds of journalists, media executives and scholars will head to the University of Texas at Austin this April, and thousands more will tune in virtually, to discuss the impact of the digital revolution on journalism around the world. 
The Knight Center for Journalism in the Americas, which is part of the Moody College of Communication, is hosting the International Symposium on Online Journalism (ISOJ) April 14-15.
Registration for ISOJ is now open. Those interested in attending can participate in person or virtually. Additionally, the symposium has discounted registration fees for students and faculty and UT staff. 
This year, ISOJ features more than 70 speakers from 17 countries.
Keynote speakers include Joseph Kahn, executive editor of The New York Times; Janelle Rodriguez, executive vice president of NBC News; Jon Kelly, co-founder and editor-in-chief of Puck; and Sumaiya and Yusuf Omar, founders of Seen.tv.
Symposium panels will explore the impact of generative artificial intelligence, like ChatGPT and Bard; the future of opinion journalism; the state of news media and press freedom around the world; learning from and responding to the infodemic; improving coverage of the climate crisis; how philanthropy is funding local news in the U.S.; decreasing news organizations' dependency on social media; responding to news avoidance; and how exiled journalists cover the countries they were forced to abandon.
Research is also an important part of ISOJ. During this year's conference, the Knight Center will launch Volume 13 of the #ISOJ Journal. Authors whose papers were selected for the journal through a peer-reviewed process will present their original research on online journalism at the symposium. There will also be a research breakfast where journalism scholars will present their latest research in online journalism.
ISOJ participants can also benefit from workshops. Mar Cabra, investigative journalist and co-founder of The Self-Investigation, will offer sessions in English and Spanish on how to incorporate mental health and wellbeing in newsrooms. Additionally, Kourtney Bitterly, global news partnerships lead at YouTube, will lead a workshop on optimizing the news experience and telling stories with YouTube Shorts.
As is tradition, ISOJ will feature simultaneous interpretation to Spanish, which increases participation by journalists around the world.
ISOJ is a unique program of the Knight Center for Journalism in the Americas that bridges the gap between the news industry and academia. It was founded in 1999 by Rosental Alves, professor in Moody College of Communication's School of Journalism and Media. More information can be found at isoj.org.