Moody College welcomes new leadership for its top programs in advertising and public relations
Dr. Natalie Tindall, intersectional scholar and administrator, joins as school director
Moody College of Communication conducted a national search to find an individual to guide and lead its top ranked programs in advertising and public relations. After extensive interviews, consultations, discussions and reviews, Dr. Natalie Tindall was selected, and she began as school director and professor on Aug. 15.
She previously served as the chair of the Department of Communication and Media at Lamar University. A tenured professor and administrator, Tindall was previously graduate director for multiple doctoral and master's areas at Georgia State University.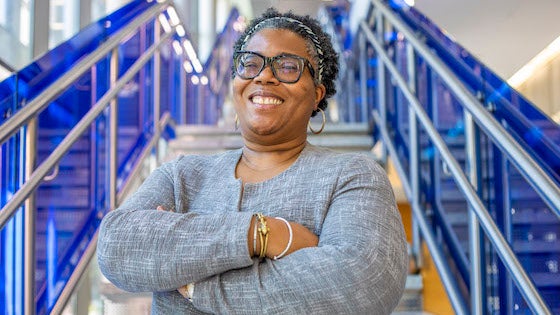 Tindall's appointment not only enhances the college's culture of teaching, research and practice, but her expertise also expands its focus in the areas of diversity, equity and inclusion. She is also the school's first director with a research emphasis on public relations.
"My research has always centered on diversity and difference, and I follow that path in my work," Tindall said. "Over time, I may dig into new places, looking for untapped veins of topics to study. However, I always drift back to looking at and considering how those who are marginalized in whatever way experience public relations as either a practitioner or a public."
While maintaining a full-time teaching load at Lamar, as well as working as the internship coordinator, Tindall also led innovative curricula reforms to more adequately meet student demands and industry needs. She introduced major curriculum changes and built two new major concentrations, and she elevated learning potential with industry-seasoned instructors and experiential classroom opportunities.
"My teaching philosophy aligns with my research beliefs. Care, compassion, and concern guide my work and interaction with students," Tindall said. "I believe that classroom spaces can be a place for change and that a classroom is a safe place for experimentation and failure. Not one teaching strategy works for students, so I believe in using multiple learning approaches."
Said Moody College Dean Jay Bernhardt: "We are thrilled to welcome Dr. Tindall into our big Moody family as Director of the Stan Richards School of Advertising & Public Relations. Her expertise and experience will continue our commitment to excellence and her vision and values will help lead our top-ranked school to even greater impact and accomplishments."
Tindall has served in numerous leadership positions, including as an editorial board member on several of the discipline's leading journals; she is also a member of the Emerging Scholars Program Steering Committee of the Association for Education in Journalism and Mass Communication (AEJMC) and serves as the co-chair for the Institute for Public Relation's Center for Diversity, Equity, and Inclusion. She serves in mentorship roles for undergraduate and graduate students in organizations such as AEJMC, the National Association of Black Journalists, and the Public Relations Society of America.
Throughout her career, she has consistently invested time in mentoring underrepresented faculty, first-generation undergraduate and graduate students, and other marginalized groups to develop a leadership style that evokes excellence and produces progress. She also cultivates a climate that invites full participation for all faculty, staff and students.
"Faculty, staff, and students are all experiencing the pandemic -- we are teaching, working, doing, and learning through a pandemic that has exposed deep health disparities and deepened political differences. No one is coming out of COVID-19 without being changed in some way," Tindall said. "We have not had respite time or space to reconsider priorities and adjust for the future. Leading and guiding through COVID-19, as well as leading during a time of heightened discussions and action regarding social matters, accessibility, injustice, climate change, and industry disruption, provides all of us with exciting opportunities to revise, reshape, and create new futures."