Moody College adds first Director of Innovation and Entrepreneurship
Erin Reilly will strategize courses, programs and partnerships
Erin Reilly, who has worked in higher education for more than two decades as an educator, researcher and creator, is joining the Moody College of Communication as its Director of Innovation and Entrepreneurship.
In this new role, Reilly will work closely with college leadership to ensure the Moody College is connected to entrepreneurial assets and initiatives throughout The University of Texas and the Austin communities. She will also lead strategic initiatives within the college to create new courses and programs that build upon Moody's strong innovative culture.
"Innovation isn't just about the newest 'thing.' It's about changing how we see the world we live in, identifying new patterns across different verticals and using creativity, communication and collaboration," Reilly said. "Together, these will bring about new roles and new companies that will help shape the Imagination Age."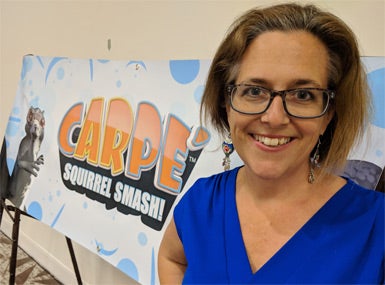 Reilly also holds an appointment as a professor of practice in the Stan Richards School of Advertising and Public Relations.
"Many, if not most, of the biggest ideas and billion-dollar startups of the last decade have their roots in communication and media. I firmly believe that the next transformational idea that can change society and generate enormous resources can very well come from our students, faculty and staff – and Professor Reilly will help make that happen," said Jay Bernhardt, Dean of the Moody College of Communication.
Austin has grown into one of the country's entrepreneurship centers, and UT Austin plays a significant role as an engine of innovation.
"Moody College has an important role to play in the entrepreneurial ecosystem at UT and in Austin through our creativity and talent, expertise in all aspects of communication and deep connections within booming industries in the digital media landscape," Bernhardt said.
Reilly built a career working at the intersection of academia and industry. She specializes in helping others understand and strategize storytelling, engagement and play through emergent technology. She was on the founding team for the Annenberg Innovation Lab at the University of Southern California, where she bridged relationships with partners such as IBM, Havas Media, HBO, FOX, Warner Bros. and BET.
Prior to that, Reilly was the research director for Project New Media Literacies at MIT. She also has teaching experience at Harvard University's Project Zero Institute and the Art Institute of Dallas, where she was a full-time faculty member in the school of media arts.
Reilly is a graduate of Emerson College and has a Masters of Fine Arts from Maine Media Workshops + College.
"I'm inspired by Dean Bernhardt's vision of the future for Moody College and excited to connect with the UT community of media artists, entrepreneurs, hackers, scholars and students," Reilly said. "I look forward to asking the questions of "What if?" and "Why not?" and help build innovative and entrepreneurial conversations, courses and programs."