Peer-reviewed article explains how brain stimulation offers insight into music, language
The brain is always active, and this complex organ is often involved in multiple functions at the very same time.
For instance, as you play the piano, the brain is directing the motor movements that turn into keystrokes and pedal pushes, as well as the sensory processes that perceive the sound of music.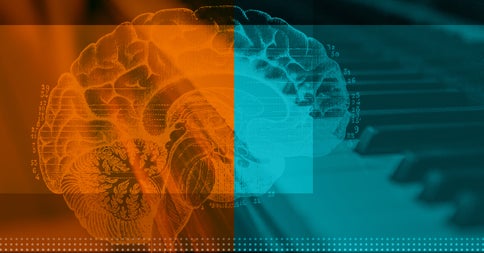 Read Desai's article in Frontiers for Young Minds
"For the vast majority of us, music is very much a part of our daily lives, whether it's listening to music on the radio, going to a concert or even practicing an instrument," said Maansi Desai, a doctoral student in the Department of Communication Sciences & Disorders.
She grew up dreaming to one day become a classically-trained concert pianist, a pursuit that sparked Desai's initial curiosity about the relationship between the brain and sound.
"My first piano teacher had volunteering opportunities for students from her studio to perform at Laguna Honda Hospital, a skilled nursing facility in San Francisco," Desai said. "I remember that the vast majority of the elderly patients appeared listless, slumped in their wheelchairs, eyes closed.
"However, upon performing, I saw how so many of these patients came to life."
Her current research focuses on how the brain processes speech, particularly in the presence of noise, with the hope that a better understanding of the auditory system can ultimately improve hearing assistive devices.
One technique to enhance knowledge is a procedure called electrocortical stimulation mapping, and it serves as the inspiration behind Desai's article, "Brain stimulation can help us understand music and language," in Frontiers for Young Minds, an open access, peer reviewed journal.
Desai worked with Rachel Sorrells, an undergraduate mentee, to author the article, which was also based on a previously-published research article.
Q&A with Maansi Desai
What did you learn during this work that might lead to further research or investigations? I think this work really ties into my initial interests of music and the brain and now speech and speech-in-noise as well. While I am interested in learning more about how the brain processes speech sounds, I am also curious as to how the brain processes non-speech sounds. If we are able to understand how our auditory system processes all different sorts of sounds such as speech, music and background noise, then we can ultimately help improve technology or build better hearing assistive devices. 
What was the collaborative process like in creating this article? There was generally a lot of overlap in the preparation and writing process of this article. Rachel and I compiled a number of papers concerning speech, music and neuroscience and eventually narrowed down the ones we felt would be most important for this article, including the original paper I published with former colleagues during my time at UCSF.
We both brainstormed and worked on an outline for this article. I also asked Rachel to work on some of the figures as well, and I then took the lead on writing the first draft. We, along with the other co-authors on the paper, frequently passed the article back and forth to provide feedback and more importantly, made sure the writing style was understandable for kids. Before the initial submission and also before the re-submission process (once we got comments from the reviewers), all of the authors on the article read through each draft, provided feedback and gave their approval for submitting.
How did you also become involved in producing a podcast? Garret Kurteff, my fellow doctoral student in the Hamilton Lab, initially mentioned this idea about a year ago. The content of the podcast focuses on the field of auditory and computational neuroscience, communication disorders, as well as translational research to encompass topics such as epilepsy, different ways we can record neural activity from the brain, research being conducted both at UT Austin as well as other institutions, and life as a graduate student (just to name a few).
What do you hope the audience experiences when they engage with podcast content? We both feel that as graduate students and researchers, it is important to be able to talk about our work and explain it in a way that the public can appreciate it. Particularly for me, it's easy to get bogged down in all of the highly technical papers and all of the jargon in the field.
A lot of the time people will ask me "What exactly do you do in graduate school?" I sometimes find myself explaining my work in an extremely technical manner.
It's important to be able to step back and think about the big picture of our work and the implications it has for humans in general.
How can we find and listen to it? You can find the podcast here: http://brainwaves.buzzsprout.com/642316 
Brainwaves is also linked to Apple podcasts as well as Spotify.