'Longhorn Bar' expands distribution
New product takes a bite out of the snack market

Late last year, Christopher Kennedy decided to pursue a passion for entrepreneurship, food and a love for his alma mater in the form of the "Longhorn Bar." The risk has paid dividends thus far, with the product line of energy and protein bars continuing an expansion of wide-scale distribution at H-E-B grocery stores and other outlets across Texas.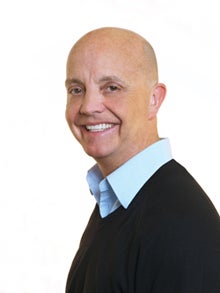 Kennedy, operations manager for the Longhorn Bar and alumnus of the College of Communication at The University of Texas at Austin, said the snack is now sold in more than 100 locations in Texas, including campus convenience stores and the University Co-op.
As operations manager, Kennedy establishes the systems and processes needed to sustain the production, distribution, fulfillment, licensing and reporting obligations for the company as it grows.
The company acquired a license to use the Longhorn brand from the UT administration in November 2011 and gives back 12 percent of the product's royalties to UT academics. According to Kennedy, the Collegiate Licensing Company (CLC) oversees the agreement with an annual review of terms each year.
In only seven months, Kennedy said the company's distribution model has proven successful in large part due to the product's three-fold appeal.
"In addition to being great tasting and nutritious, the Longhorn Bars support UT academics," said Kennedy, a graduate of the Department of Radio-Television-Film, '84. "We want folks to know it's the smart snack that gives back."
He added that the company has plans for increased expansion.
"This summer, we will be expanding with a larger presence into the Dallas and Houston areas with a goal to be in 300 retailers by the end of the year," said Kennedy.
Linda Addison and Martha Smiley, also alumni of the Forty Acres, launched the product shortly after the duo created Lin-Mar Partners, the parent company of the Longhorn Bar and recruited Kennedy in September. The startup made orders and distribution available through MyUniversityBar.com in November 2011 and have since found retail shelf space in areas such as Austin, Houston, San Antonio, Dallas and Fort Worth.
The company recently signed UT alumna Cat Osterman, Olympic gold medal winner and pitcher of the USA Women's Softball Team, as its first spokesperson.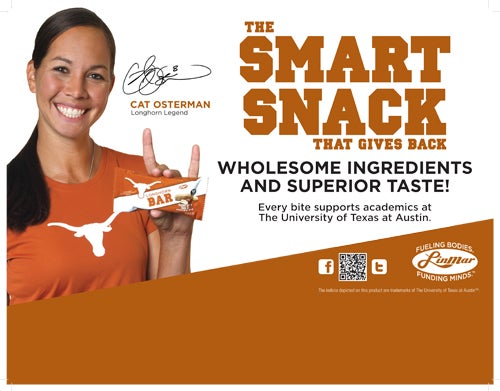 While television commercials are not currently in works, Kennedy said that the company plans to make radio ads and other forms of media an important part of the fall promotions and that Osterman's role as spokesperson is to push the brand.
"Cat's history as an incredible All-American athlete and her family roots in education are a perfect fit for our 'fueling bodies and funding minds' company mission," said Kennedy.
The product is currently available in four varieties. The protein bar comes in two flavors: chocolate chunk with cinnamon, and peanut butter trail mix. The energy bar also has two kinds: roasted peanut with chocolate, and mixed berries.
The RTF alumnus also showed appreciation for the College and said it's where he learned how to package, market and tell a story.
"The College of Communication at UT provided me with a firm understanding of how to craft a clear and concise message and determine the most effective channels for delivering that message," said Kennedy. "With today's media in a constant state of flux, it's even more important to engage your audiences frequently – on multiple platforms – and work tirelessly to be different and authentic."
He added that film professor Charles Ramirez Berg left a particularly positive impression on him.
"I remember many class discussions where time was spent on reviewing a film's ability to tell an authentic story," said Kennedy. "This understanding about the clarity of storytelling again reinforces the importance today of getting your point across in this oversaturated communication society."