MFA graduate wins top industry award for 3-D film created in UT3D program
Radio-Television-Film graduate Deepak Chetty (M.F.A. '15)  has won "Best Live-Action Short" at the 19th Advanced Imaging Society Creative Arts Awards – a top 3-D and animation industry award ceremony – for his film "Hard Reset."
The film, Chetty's thesis project made in the UT3D program while he was a student in the Department of Radio-Television-Film, was honored alongside big budget industry films including "Star Wars: The Force Awakens," "Inside Out" and "The Martian" produced by 3-D and animation fixtures such as Disney/Lucasfilm, Pixar, Fox, Atlantic Productions and Sony/Legend 3D. 
The award was given on Jan. 27 at Warner Bros. Studios in Los Angeles.
"Very few student films win awards of this caliber," said Don Howard, associate professor and director of UT3D. "The film was made entirely by students with only limited additional support for the production from our 3-D faculty."
The 38-minute science-fiction action film – the first 3-D graduate student thesis film at The University of Texas at Austin – centers around a young detective investigating an impending artificial intelligence revolution. He is forced to choose between humanity and his android girlfriend after she is infected with a virus that gives her full consciousness.
"When we set out to make this movie we felt we were taking a huge risk and at the end of the day, it took amazingly talented people working together to get it done," said Chetty. "When we submitted 'Hard Reset' we didn't think it would get an award of this stature—and of course—we were blown away and want to use the film as a pitch piece to complete a full feature."
Chetty completed principal photography over 11 days in April 2014, and he and his crew spent another year tweaking more than 300 special effects shots and making edits before premiering the film in April 2015.
Also involved in the creation of "Hard Reset" were numerous other alumni including co-writer and producer David Bukstein, co-producer and editor Taylor Michelle Thompson, cinematographer Patrick Smith, production designer Javier Bonafont, art director Emily Haueisen, co-editor Jordan Kerfeld, and post production lead Simon Quiroz, among others.
Chetty said he wanted to use the 3-D effects to intensify moments on screen during action sequences or to amplify distance and increase depth to show vulnerability and isolation in more melancholy scenes between characters. Using directors James Cameron and Ridley Scott as inspiration, Chetty studied 3-D films and how they're constructed differently from 2-D films by using cinematographic composition and editing, allowing more time for the viewer to absorb the environment of the scene.
In addition, editing for special effects in 3-D is often overwhelming for a single computer running Adobe After Effects software, with short scenes lasting only a few seconds taking upwards of 12 to 14 hours to render and successfully process.
"Deepak's effects work competes with what is going on in full production houses coming out of Hollywood," said Howard. "It's really very technically ambitious and quite remarkable along with having a creative, compelling story."
The short was created in tandem with the Department of Radio-Television-Film's UT3D unit, a program teaching 3-D production techniques which launched in fall 2013 as the only comprehensive 3-D program taught to students in the nation.
Led by industry professionals such as Buzz Hays, Matt Blute, Gregg Atwell and Shannon Benna, the hands-on instruction and production is taught with state-of-the-art equipment in the CMB on campus.
The UT3D program plans for upcoming screenings of "Hard Reset," tentatively scheduled for the first week of April, to promote the program along with an exhibition of new stereoscopic equipment.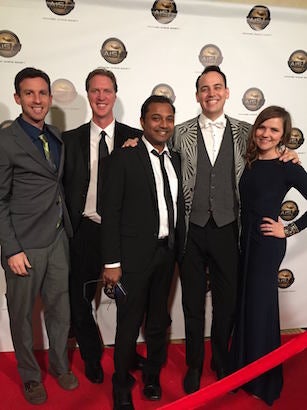 Chetty currently teaches "Immersive Media Production" in the Moody College, an advanced production course involving 3-D production, stereoscopy, artificial environments and virtual reality. While Chetty continues to teach and work in film in Austin, he plans to pitch a feature-length version of "Hard Reset" and is writing an additional two feature-length scripts.
"I came to grad school because I realized I wasn't making anything for myself because I had no time for it and I made it a personal goal and objective to make something I could not have done on my own," said Chetty. "I have to credit my colleagues and UT for giving me the access, opportunity and facilities to make it happen."
The trailer can be viewed here. Banner image provided courtesy of Shelby Tauber.