From Green Beret to NFL Prospect
Advertising master's student defies the odds

Nate Boyer hasn't let anyone deter his dreams through the years. He's lightly shrugged off those who questioned his ability to join relief efforts in Africa, become a Green Beret and join the Texas Longhorns football team. Now, Boyer has added more seemingly insurmountable goals to his list: play in the NFL, and pursue a career in the film industry. Don't count him out.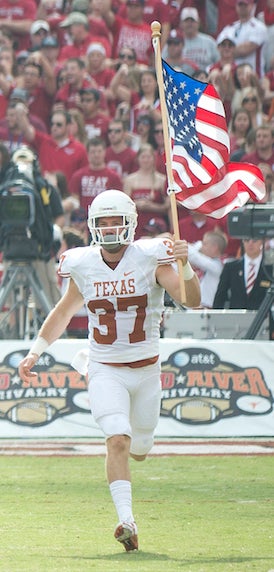 As a young man, Boyer said he lacked direction. While he tested well, his grades were lackluster. After high school, he searched for purpose as he worked as a deck hand on a sport fishing boat, trained to be a firefighter and tried to make it as an actor in Hollywood.
Upon reading about the genocide in the Darfur region of the Sudan, Boyer tried to convince any relief organization with ties in the territory to hire him—with no success. Not to be discouraged, Boyer went uninvited to the nation of Chad, which borders the Sudan, and talked his way onto a United Nation's charter flight that led him to working for Catholic Relief Services.
"It was audacious and probably a little bit stupid to just show up," said Boyer. "But I saw they needed help, so I figured they wouldn't say no if I was right there."
The experience inspired him to join the U.S. Army Special Forces, where he earned a position as a Green Beret in a class with a 7 percent completion rate. While enlisted, he trained indigenous people in Iraq and Afghanistan to fight against insurgents, winning a Bronze Star along the way.
In 2010, Boyer decided to enroll at The University of Texas at Austin and play football, despite never having played the sport.
At the age of 29, the 5-foot-11, 180-pound Boyer walked on the team and secured a full scholarship as a long snapper, a precision spot that usually requires training as a center.
Boyer learned how to play the position by watching YouTube clips and practicing every moment he could muster while spending his summers with the National Guard in Afghanistan.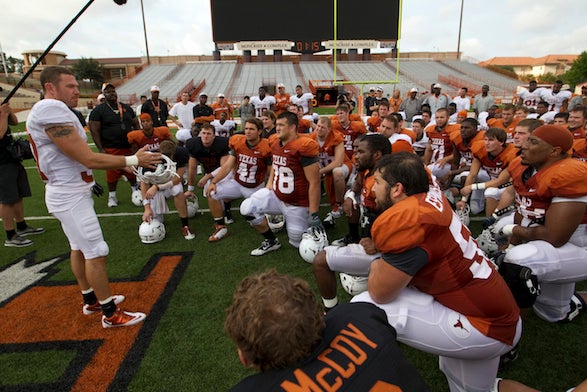 His last tour in Afghanistan followed his senior year in the summer of 2014 when sniper fire missed Boyer's face by a mere three inches in a firefight. He retired from the military in February 2015.
"Anything I could control wasn't going to be left short of how hard I worked," said Boyer. "I just did those things to the utmost and the fullest. And with the coaches and the players, I didn't tell anyone I'd never played football—sometimes you don't want to show all your cards. "
After graduating with a bachelor of science in kinesiology in 2013, Boyer decided to continue his studies in the Moody College of Communication through the Stan Richards School of Advertising & Public Relations, where he is scheduled to graduate with a master of science in advertising this May upon completing the UTLA Semester in Los Angeles program.
In total, he played 38 straight games for the Longhorns. At home games, he would run out of the tunnels holding the U.S. flag.
At 34, Boyer is an unlikely NFL prospect. But don't tell him that. Of more than 500 long-snaps he made at Longhorn football games, he had zero inaccurate tosses.
Indianapolis Colts long-snapper Matt Overton reached out to Boyer last fall and connected him with a sports training facility in Los Angeles to train for an invite to one of 32 NFL camps.
"This was my chance to see if this was just a good story or if he has a legitimate shot to make it," said Overton in an interview with Sports Illustrated. "There is no question in my mind he can do it. None. He can legit long-snap at the NFL level."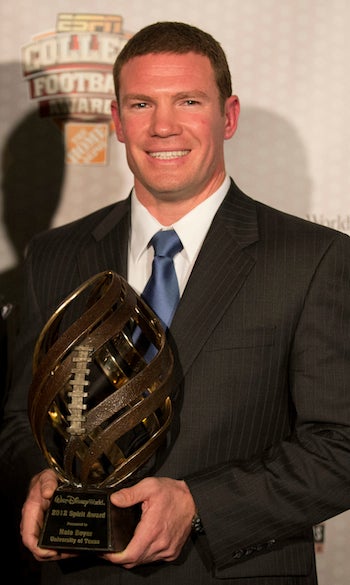 Boyer continues to train with other current NFL players in Los Angeles and has bulked up to 220 pounds. He will have a local tryout on April 17 with the San Francisco 49ers, his first and only shot with an NFL squad so far.
The draft begins April 30 and Boyer said he doubts to hear his name. An audition at an NFL team's camp—and free agency—may be his only hope.
He is currently interning with Peter Berg's Film 44 production company in L.A. and looking to work with more non-profits involved with veterans and in third-world nations. But Boyer said he'll give the NFL a chance first.
"I don't know if I'll make it but it's worth a shot. And I'm going to give it all I got."
UPDATE: On May 2, it was reported that Boyer signed with the NFL's Seattle Seahawks as an undrafted free agent. He is currently competing with Seahawks' long-snapper Clint Gresham for a starting position.