Alumna leverages advertising career to launch line of snacks made from cricket flour

After graduating from Moody College with an advertising degree, Leslie Ziegler (B.S. '03) built a successful career as an art director. She worked at agencies including at McCann Erickson and Tribal DDB, and helped start Rock Health, a venture fund focused on digital health.
Her career took an unusual turn when Ziegler heard about a friend's visit to Southeast Asia. Megan Miller told Ziegler about her trip to Cambodia and mentioned all of the delicious insects she ate there.
Ziegler listened to her friend describe the numerous ways insects are prepared and eaten as common practice in most of the world and the UN report stating they were the key to future global food security.
After subsequently holding several insect snack sessions in Miller's kitchen, the pair decided to pursue their passion for entrepreneurship, food and sustainability by creating Bitty, a company founded on creating foods with flour made from crickets. Ziegler has been able to leverage her training and experience in advertising to make the venture a success.  
"We tried a few different insects, but crickets are tasty and have a good brand," said Ziegler. "You associate them with warm summer nights, chirping and Jiminy Cricket. We put a lot of research and development into the texture and taste and are very proud of our products."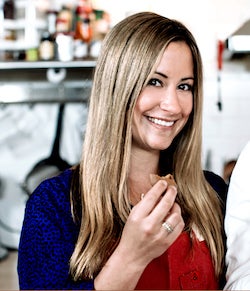 The risk has paid dividends thus far, with the product line of gluten and grain-free cricket flour snacks receiving positive reviews from such outlets as The New York Times, Vogue, Elle, Zagat, and Food & Wine.
The goal of the San Francisco-based venture is to introduce protein-rich edible insects to the American diet, selling their product online and at grocery stores and other outlets across the country.
The company has seven products including three kinds of cookies, baking flour and the recent launch of Chiridos chips, currently available in three flavors: salsa verde, baja ranchero and spicy mole. The chips were a finalist for "Best New Snack" at the 2016 Natural Products ExpoWest and won a "Top 5 Food Trend Award" at the 2016 Winter Fancy Food Show.
Ziegler said Bitty products will be sold in nearly 100 locations nationally by 2017, and are locally available at Wheatsville Coop near the UT campus.
As co-founder of Bitty, Ziegler travels the U.S. to attend trade shows and events, ensures retailers display and market products appropriately, and is involved in public speaking, fundraising, packaging and Web design, marketing and sales for the company as it grows.
According to Ziegler, there are 2,000 species of edible insects and one of the challenges of the product line is introducing Americans to eating insect-based flour. Bitty's all-purpose baking flour is processed from a fine powder blended with cassava and coconut. Ziegler said 80 percent of the world's cultures currently consume insects and Americans and Europeans are coming around to the trend.
"If you're going to eat chips, eat ours because there is three times the protein," said Ziegler. "They're far healthier than traditional chips, and it's not obvious that the chips are made with crickets. They even taste fried even though they're not."
Since 2013, Ziegler said the company's business model has proven successful in large part due to both the quality of product and selling the public on the need to stabilize a global food supply citing that by 2050, there will be a projected 9 billion people on the planet and a short supply of protein to feed them.
"We take sustainability and humane processes very seriously and freeze the crickets before processing them, essentially putting them to sleep," said Ziegler. "They are then dry roasted and milled into a fine powder to be mixed into grain-free baking flour."
Ziegler said one of her roles is as a spokesperson to push the brand and prioritize the company's plans for increased expansion.
"This year we are expanding with a larger presence on both coasts," said Ziegler. "The key to success is to really focus on our relationships with retailers and partners who are interested in sustainability, education and promotion."
Ziegler said Bitty Foods spends no money advertising outside of Facebook because the company's story of women introducing insects to the country attracts notable media attention. The advertising graduate also showed appreciation for Moody College and said it's where she learned how to package, market and tell a story.
"We think it's most effective to host demos in stores and at events so people can actually try the product. An advertising degree is very useful in any line of work because you will have to sell your image," said Ziegler. "Whether you're going out to influence people or raise money, you have to sell the company and yourself. We think we have a great product and we think we present it well."
Ziegler said her time in the creative sequence left the biggest impact on her education and that she admires the Richards School because of its ability to teach students how to think, bounce back from stumbles and solve any problem.
"I learned how to present my work and not be emotionally attached. I remember spending hours and hours on a piece for class just to have someone completely eviscerate it," said Ziegler. "It taught me to give good feedback and not take criticism personally. UT prepared me for the challenges of the real world, from pitching big campaigns in advertising to starting and growing my own company."