Communication Sciences & Disorders holds bilingual symposium and research blitz

Scholars and students from across the country convened at the Moody College of Communication earlier this week to participate in the Department of Communication Sciences and Disorders' bilingual symposium and research blitz to further work in the field of bilingual language acquisition.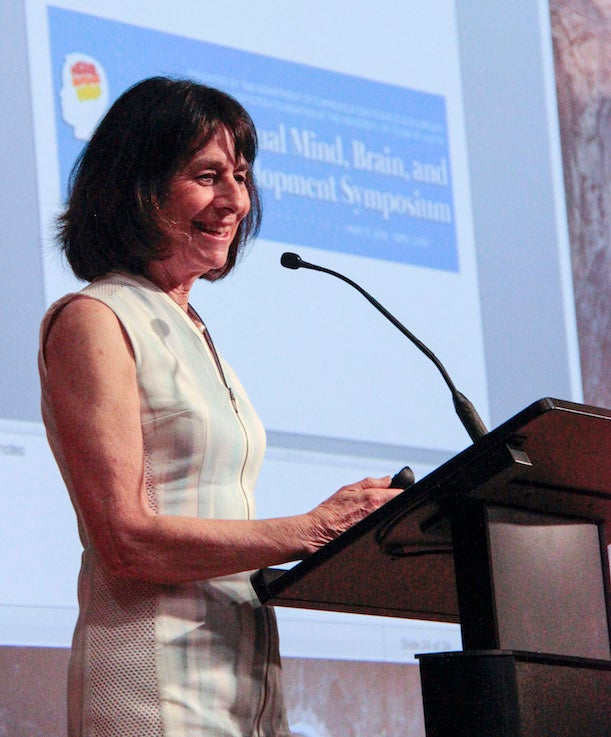 The "Bilingual Mind, Brain and Child Development Symposium" on May 9 included presentations by professors from Harvard University, York University, the University of Michigan, San Diego State University and Stanford University alongside UT Austin faculty from the Department of Communication Sciences and Disorders, the Department of Linguistics and other units from the College of Liberal Arts and the College of Education. The event was sponsored by the Harrington Foundation at The University of Texas at Austin. To view the full-day symposium, visit the Moody College Livestream channel. 
Bharath Chandrasekaran, associate professor in the Department of Communication Sciences and Disorders and director of the SoundBrain (Chandrasekaran) Lab, said it's unclear if the benefits of bilingualism have been addressed in mainstream news and this confusion may lead individuals and families to make misinformed decisions. He cited an April 26 article from the UK publication the Daily Mail that claimed bilingual individuals may be injuring their brains by acquiring more than one language followed by another article from the Daily Mail the next day, suggesting the brains of bilingual individuals function more efficiently.
"You may wonder if the coverage of bilingualism is any different from the 1970s," said Chandrasekaran. "The good news is there's a tectonic shift in research that's taken us to where we are right now."
Among many subjects addressed, experts discussed bilingualism and attention, language impairment, the cognitive and communication advantages of bilingualism, educational expectations, the brain's ability to reorganize through neuroplasticity, and bilingual education methods for children and adults.
"We are a country who is on our way to becoming a minority-majority nation," said Professor Lisa Bedore, a director of the Human Abilities in Bilingual Acquisition (HABLA) Lab in Moody College. "And our society is changing in ways that continue to support the use of two languages and connections with the community."
Among other research, Bedore and the HABLA Lab tested about 1,200 pre-kindergarten children and their grasps of English and Spanish, showing that bilingualism does not place children at higher risk for delays in learning language. The results showed that the children who have been bilingual the longest and continued to use both their languages, showed the least amount of risk for language impairments.
When asked what headline about bilingual research she would like to see in 10 years, Associate Professor Li Sheng, who studies bilingual language acquisition in Mandarin Chinese and English, said, "I would like more recognition of the diversity of bilinguals other than Spanish and English bilinguals, as there are vast numbers of active languages in the world."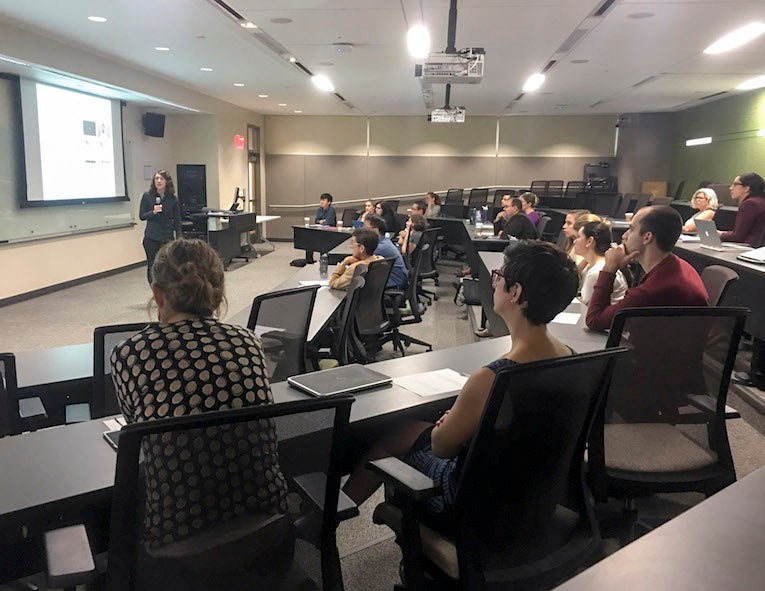 The following day on May 10, 21 speakers presented at a "Bilingualism Research Blitz" with submissions representing 10 laboratories stretching from UT Austin, UT Dallas, UT San Antonio, the University of Houston, and the University of Michigan. 
"This was designed with a focus on students to facilitate a lifelong interest in research to create the next generation of scholars in the field," said Ioulia Kovelman, organizer of the symposium, Harrington Faculty Fellow recipient and visiting psychology professor from the University of Michigan. "Groups from UT Austin as a whole attended and the visiting students and professors at the research blitz were able to exchange ideas and make connections to collaborate with each other."
Research topics included fluency, childhood development of speech, listener perception, vocabulary knowledge, audiovisual cues and perception, grammar development, language and literacy, learning variability, attention development, brain activity, and others.
Doctoral Department of Communication Sciences and Disorders student Han Gyol Yi said the blitz provided a valuable opportunity to hear critiques and feedback from experts in similar fields of study to sharpen the groundwork, analysis and results of individual research studies.
"It's rare to have so many people from different areas of study and from other universities come together to collaborate on their research," said Gyol Yi. "It's very exciting and helpful to learn of all the discoveries being made."